Alumni News

This is one of those times of year where things only appear quiet here at Clarion West. Like ducks, our feet are furiously paddling under the surface: working on selecting the Class of 2015, putting on One-Day Workshops and an upcoming special event, and putting together the Summer Reading Series and the annual Write-a-thon.
We have a few more Spring One-Day Workshops coming up: an encore of the sold-out Muse Management and Production in the Story Factory workshop with Ken Scholes on April 19, Flash Fiction with Cat Rambo on May 3, and the newly announced Point of View workshop with Paul Park on May 24. Space is limited, so if you want to sign up, now's the time!
Awards and Nominations
The Nebula Award nominations have been released. Congratulations to all of the nominees, and especially these Clarion West alumni:
Ann Leckie (CW '05), nominated for Best Novel for Ancillary Sword
Rachel Swirsky (CW '05), nominated for Best Novella for "Grand Jeté (The Great Leap)"
Usman T. Malik (CW '13), nominated for Best Short Story for "The Vaporization Enthalpy of a Peculiar Pakistani Family"
The Horror Writers Association has announced the final ballot for the Bram Stoker Awards. Congratulations to Usman T. Malik (CW '13), nominated in the Short Fiction category for "The Vaporization Enthalpy of a Peculiar Pakistani Family," and to Helen Marshall (CW '12), nominated in the Fiction Collection category for Gifts for the One Who Comes After.
Ian McHugh (CW '06) has been nominated for the Aurealis Award in the Best Collection category for his book Angel Dust.
Publications
"Bilingual," by Henry Lien (CW '15), appears in the March/April 2015 issue of the Magazine of Fantasy & Science Fiction. The story is about a teenage girl who figures out a way to save the dolphins in Taiji, Japan from being slaughtered by the thousands every year, by teaching them a meme to spread and warn each other with. It is told in the format of a Twitter feed. This was Henry's week five Clarion West story, workshopped under Kelly Link and Gavin Grant. The story was inspired by Henry's viewing of the Oscar-winning documentary "The Cove" on the plane up to Clarion West in 2012. After seeing the documentary, he resolved to write something during the coming six weeks that would help be a voice for the dolphins.
SF Signal featured an article on the women of Sharon Lee and Steve Miller's (CW '73) Liaden Universe in February.
J. Y. Yang's (CW '13) story "Tiger Baby" was reviewed at Tor.com in February.
Curtis C Chen (CW '14) has had his story "It's Machine Code" published in Unlikely Story #11: The Journal of Unlikely Cryptography.
Lambda Literary interviewed Craig Gidney (CW '96) about his new book and diversity in the speculative fiction field.
Alisa Alering (CW '11) has had her story "The Island of White Houses" appear on Drabblecast. The story was originally published in Heather Shaw & Tim Pratt's Flytrap #11.
Rich Larson's (CW '14) has several new stories out: "Meshed" in Clarkesworld, "The Sky Didn't Load Today" in Daily Science Fiction, and "The King in the Cathedral" in Beneath Ceaseless Skies.
Julie Steinbacher's (CW '14) story "Inter-Exo" appears in Terraform. (Please note that the link contains nudity.)
Indra Das (CW '12) has his story "The Supplicant" in Blink.
Adventures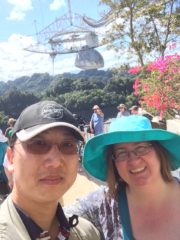 Curtis C. Chen recently visited the Arecibo radio telescope in Puerto Rico with his wife DeeAnn—that's the telescope in the background of the picture. (And it looks lovely and warm there!)
---

The weather might be cold and damp, but here at Clarion West our hearts are warm and our hands are busy—application season is in full swing! Applications for the 2015 Summer Six-Week Workshop close on March 1. If you're planning on applying but have been procrastinating, now's the moment to get in and apply.
Also, check out our upcoming One-Day Workshops with J.M. Sidorova, L. Timmel Duchamp, Ken Scholes, and Cat Rambo. These one-day intensives are a great way to prepare for your writing year.
Alumni, be sure to send your news—both personal and professional—to alumni@clarionwest.org for the monthly news. We all want to hear from you!
New Ventures
Alex Bear (CW '11) started a freelance copyediting business at Constellation Editing. She comes highly recommended by various authors in the field, and is happy to offer a discount to any Clarion West graduate.
Cat Rambo (CW '05) has also started a blog to address the dearth of speculative fiction event news in the Pacific Northwest, called Supernatural Seattle. If you're a Pacific Northwest author, editor, publisher, or publicist who'd like a login in order to post events and articles, drop her a line—contact information is on the site.
Alex Kane (CW '13) recently accepted the role of Managing Editor at film-criticism publisher The Critical Press.
Awards
Helen Marshall (CW '12) and Usman Tanveer Malik (CW '13) are on the preliminary ballot for the Bram Stoker Award.
Nisi Shawl's (CW '92) article "Reviewing the Other" was chosen as the top pick for articles in the Strange Horizons Readers Poll.
Maura McHugh (CW '06) was chosen as the Best Irish Writer in the 2014 Arcade Awards.
Publications
Cat Rambo's (CW '05) debut novel, Beasts of Tabat, will be published in late March from Wordfire Press and will be launched at Emerald City Comicon. Later this year, a second two-sided collection titled Neither Here Nor There will be published by fellow CW alumni Tod McCoy's (CW '10) publishing house, Hydra House.
Cat's forthcoming stories in 2015 so far include "Primaflora's Journey" and "Call and Answer, Plant and Harvest" in Beneath Ceaseless Skies, and "Bit Player" and "You Have Always Lived in the Castle" in Daily Science Fiction. Her 2015 anthology appearances include "Tongues of Moon Toad" (The Bestiary Anthology), "The Subtler Art" (Blackguards), "Marvelous Contrivances of the Heart" (Fiction River: Recycled Pulp), "The Threadbare Magician" (Genius Loci), and "The Ghost-Eater" (XIII). Her convention appearances this year include ICFA, Emerald City ComicCon, Norwescon, Griffcon, GenCon, WorldCon, and the Baltimore Book Festival. Visit her site for more details.
Robert Freeman Wexler's (CW '97) story "Darkness, and Darkness" has accepted by Postscripts and will be published later in 2015.
Sandra Odell (CW '10) has had her story "Curtain Call" published in Galaxy's Edge.
Marlee Jane Ward's (CW '14) novella has been shortlisted in the Viva La Novella 3 contest. This novella was expanded from a Clarion West story workshopped under Kij Johnson.
The Washington Independent Review of Books interviewed Craig Gidney (CW '96) about his new collection, Skin Deep Magic.
Lily Yu's (CW '13) story "The Pilgrim and the Angel", first published in McSweeney's and later reprinted in Jonathan Strahan's Best SF & F of the Year, is now available for listening at Podcastle.
Usman Tanveer Malik (CW '13) has had his story "Resurrection Points" selected for Year's Best Weird Fiction Volume 2, edited by Kathe Koja. The volume will be published by Undertow Publications/Chizine in October 2015.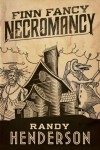 The first three chapters of Randy Henderson's (CW '09) novel Finn Fancy Necromancy are available to read at Tor.com, as well as a fun "interview" with the main character of the novel. Randy will also be appearing at venues across the Pacific Northwest to do readings and author events, including his book launch at the University Bookstore in Seattle on February 10 at 7 pm. For more information, see his schedule at his Web site.
Shannon Peavy's (CW '13) story "Animal Magnetism" was published in Urban Fantasy Magazine. The story was inspired by a bit of nineteenth-century pseudoscience—the pasilalinic-sympathetic compass—and was workshopped during her time at Clarion West.
---
Looking for news from past months? You can find it at the Alumni News Archive.
Send us your news
If you've attended Clarion West, we want to hear all about your accomplishments! Alumni news will be posted on this site on a monthly basis. We're interested in:
Book releases
Sales and publications
Awards and nominations
Appearances
Teaching engagements
Births, deaths, marriages, and all sorts of other life passages
Don't be shy – this is your chance to let everyone know what's happening! Send your news to alumni@clarionwest.org, and be sure to include your class year in your email. Deadline for the monthly news is the first of the month. Any news received after the beginning of the month will go into the next month's Alumni News.
Past News
Looking for news from past months? You can find it at the Alumni News Archive.