Alumni News

The cherry trees are in full bloom and the days are getting longer and warmer in Seattle, where Clarion West is busy getting ready for summer. The Clarion West class of 2016 has been announced and our workshop staff and volunteers are preparing for the workshop, the Summer Reading Series, and the Write-a-thon.
We have a few more One-Day Workshops coming up this spring:
Awards
Justina Robson's (CW '96) novel, Glorious Angels, was shortlisted for the 2015 BSFA Awards.
Alice Sola Kim (CW '04) won the 2016 Whiting Award. The Whiting Awards are based on "early accomplishment and the promise of great work to come," and each award comes with a prize of $50,000.
Deb Taber (CW '04) was selected as a member of the 2016 Tiptree Award jury. Anyone can recommend works for consideration here: http://tiptree.org/award/2016-james-tiptree-jr-award/2016-james-tiptree-jr-award-recommendations.
Publications
"You Are Not the Hero of This Story," by Caroline M. Yoachim (CW '06), appeared in Daily Science Fiction in late March.
David Levine (CW '00) has a story at Tor.com, titled "Discards." This story is set in the Wild Cards universe, created by George R. R. Martin.
Kelly Sandoval's (CW '13) story, "The Stories She Tells Herself," appeared in Daily Science Fiction on April 1.
Alex Kane's (CW '13) comic book, Asphodel #1, is now available on ComiXology, where it debuted on the best-sellers list and remained there for over a week after it was released. The comic began as a story written during Chip Delany's week at Clarion West 2013.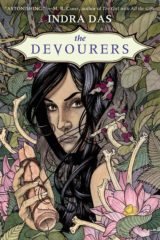 The cover for the North American edition of Indrapramit Das's (CW '12) novel The Devourers has been revealed. This edition will be published in the United States and Canada in July, and is now available for preorder.  The Devourers earned nominations for the Shakti Bhatt First Book Prize and the Tata Live! Literature First Book Award. It was also shortlisted for the 2016 Crawford Award.
Margaret Killjoy (CW '15) has a story in Strange Horizons, "The Name of the Forest."
Mimi Mondal's (CW '15) story, "And the Final Frontier is Heaven," was published in the Fiction issue of Kindle Magazine (India) in March. She also signed a contract with Juggernaut Books to publish her short story collection Other People as individual short stories in 2016 and as a complete book in 2017. One of the stories from the collection, "This Sullied Earth, Our Home," was published in PodCastle in February 2015, the first story from their Artemis Rising festival.
Michael Matheson's (CW '14) story, "Change as Seen Through an Orrery of Celestial Fire," was just published in the anthology Superhero Universe: Tesseracts Nineteen, edited by Claude Lalumière and Mark Shainblum. The anthology was published in Canada in March and will be published in the the United States in April.
Curtis C. Chen (CW '14) recently contributed guest posts to two writing blogs: "The Joy of Deadlines" on ShadowSpinners and "The Page as Performance" on NaNoEdMo.  Curtis also adds: "My wife and I celebrated our 11th wedding anniversary by completing some long-overdue homemaking projects, including putting up more bookshelves!" (The need for bookshelves never ends!)
Rhiannon Rasmussen (CW '14) has a story in the Spring 2016 edition of The Sockdolager: "As You Were, Aggie."
Marlee Jane Ward's (CW '14) story, "Phasing In, Phasing Out," also appears in the Spring 2016 edition of The Sockdolager.
Greg Beatty (CW '00) has had his poem, "Why Grandma Weeps," accepted for publication in Eye to the Telescope.
Henry Lien (CW '12) has sold his first novel, Peasprout Chen, Future Legend of Skate and Sword, along with its first sequel in a two book deal to Razorbill, an imprint of Penguin Random House. The first book will be published in 2017.
Sandra Odell's (CW '10) story, "Gina Starlight's Got The Blues," has been published in Perehelion.
Robert Guffey's (CW '96) essay, "Here Among the Dead: The Phantom Carriage (1921) and the Cinema of the Occulted Taboo," has been published in the collection Expressionism in the Cinema. He has also had a collaborative story published in Buffalo Zine No. 3, "Janelle's Key," written with Irvine Welsh, Fred Venturini, John Schoneboom, Arthur Mauritz, and John Keene.
Mark Pantoja (CW '11) has had his story, "The Redesign," published at NewMyths.com.
---

Here at Clarion West, the action is ramping up as we prepare for the Six-Week Workshop, the Summer Reading Series, and some great spring One-Day Workshops. We have exciting news about the Nebula Awards in this edition of the Alumni News, as well as new work from our alumni.
There's still space available in these One-Day Workshops:
Awards
The Nebula Awards nominations have been announced, and there's a Clarion West alumnus in almost every category! The 50th annual Nebula Awards will be presented in Chicago on the evening of May 14.
Our alumni nominees are:
Ann Leckie (CW '05) for her novel, Ancillary Mercy
Usman Tanveer Malik (CW '13) for his novella, "The Pauper Prince and the Eucalyptus Jinn"
Henry Lien (CW '12) for his novelette "The Ladies' Aquatic Gardening Society"
David D. Levine (CW '00) for his short story, "Damage"
Tina Connolly (CW '06) for her novel Seriously Wicked
Cat Rambo (CW '05) has been nominated for the 2016 Compton Crook Award for her novel, Beasts of Tabat.
Publications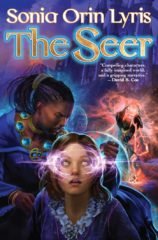 Sonia Orin Lyris' (CW '92) book, The Seer, is out now from Baen: "In a small mountain village, a young girl speaks prophecies to keep her older sister and infant nephew from starving. One night, a powerful, wealthy man pounds at the door, demanding answers. Dangerous answers. Now, in order to survive, the seer must do more than predict the future. She must create it."
Ibi Zoboi's (CW '01) YA debut, American Street, will be published in winter 2017 by HarperCollins/Balzer + Bray. American Street is part of a two-book deal.
Christopher Rowe (CW '96) has a story, "Brownsville Station," in the upcoming anthology Drowned Worlds, edited by Johnathan Strahan. It features stories set in futures wracked by a deluge.
Julie Steinbacher's (CW '14) story, "Territory", appeared in PodCastle in February.
Evan Peterson (CW '15) has a story, titled "The Moon and the Devil and the Ace of Wands," in the anthology The Myriad Carnival, out from Lethe Press.
Katrina Forest (CW '09) has had her story, "Pidgin," featured in the Flash Fiction Online 2015 Anthology.
Shawn Scarber's (CW '06) story, "The Opening of the Bayou Saint John,"  was published in Strange Horizons.
"Breaking Water," by Indrapramit Das (CW '12), was published on Tor.com.
Siobhan Carroll's (CW '09) story, "Travelling in the Grey Country," has been published in AE.
Caren Gussoff (CW '08) has a story, "Spring Forward," forthcoming in Black Static.
Rachel Swirsky's (CW '05) novelette, "Love Is Never Still," came out in March in Uncanny Magazine.
Caroline M. Yoachim's (CW '06) "Welcome to the Medical Clinic at the Interplanetary Relay Station," a Choose Your Own Adventure-style story, is this month's cover story in Lightspeed.
Nisi Shawl (CW '92) has an essay titled "The People Men Don't See" published for the People of Colo(u)r Destroy Science Fiction! anthology Kickstarter.
Cat Rambo (CW '05) has two new stories coming out: "Red in Tooth and Cog" will appear in the March/April Magazine of Fantasy & Science Fiction, and "Call and Answer, Plant and Harvest" appears in the science fantasy issue of Beneath Ceaseless Skies.
Robert Guffey's (CW '96) novelette, "The Wedding Photographer," will be out soon in the anthology Postscripts #36/37.
Kris Millering (CW '09) has a story, "Wildfire Sky," in Truth Beyond Paradox, an anthology of stories set in the world of Mage: The Ascension.
Appearances, etc.
Nisi Shawl (CW '92) and Cynthia Ward (CW '92) are teaching an online version of their fantastic Writing the Other workshop on March 14. You can find more information at Brown Paper Tickets.
Nisi Shawl (CW '92) will also host "Writers Under The Influence," an event honoring Octavia E. Butler, at Hugo House in Seattle on March 22. Vonda N. McIntyre and Caren Gussoff will read at the event, along with other Pacific Northwest writers. This event is a co-production of Clarion West and Hugo House.
We received a dispatch from Cat Rambo (CW '05 and current president of SFWA): "2016 marks plenty of travel for me, but all fun stuff. I'm off to the International Conference for the Fantastic in the Arts mid-March, then hitting Norwescon, then off to the Associated Writing Programs conference at the end of the month.
"In news from my volunteer role with SFWA, we've just unveiled a shiny new feature in the form of the Speakers Bureau. Please check it out! There is a ton of cool new stuff coming this year from SFWA plus a lot of the usual good features, so stay tuned for some of that. If you're looking for nonfiction writing opportunities, remember the SFWA Blog pays 6 cents a word and the SFWA Bulletin 10 cents a word. You can find the guidelines on the SFWA site.
"My online classes are going well, and I recently added an on-demand component, which you can see at http://catrambo.usefedora.com/."
---
Looking for news from past months? You can find it at the Alumni News Archive.
Send us your news
If you've attended Clarion West, we want to hear all about your accomplishments! Alumni news will be posted on this site on a monthly basis. We're interested in:
Book releases
Sales and publications
Awards and nominations
Appearances
Teaching engagements
Births, deaths, marriages, and all sorts of other life passages
Don't be shy – this is your chance to let everyone know what's happening! Send your news to alumni@clarionwest.org, and be sure to include your class year in your email. Deadline for the monthly news is the first of the month. Any news received after the beginning of the month will go into the next month's Alumni News.
Past News
Looking for news from past months? You can find it at the Alumni News Archive.