Alumni News

Clarion West is plunging headlong into workshop season!  If you're in the area, we hope you'll join us for our Summer Reading Series on Tuesday evenings. Locations vary, so check the Summer Reading Series page for more details. We also hope you'll join us for this year's Write-a-thon. You can meet your writing goals this summer and support the students and the workshop at the same time. Everyone wins!
Awards
David D. Levine's (CW '00) story "Damage," which appeared at tor.com in January 2015, is a nominee for the Sturgeon Award.
Karen L. Abrahamson's (CW '01) story, "With One Shoe," from the anthology Playground of Lost Toys edited by Ursula Pflug and Colleen Anderson (CW '87), has been nominated for the Arthur Ellis award. The anthology as a whole has been nominated for an Aurora Award in the Best Related Work category.
Ann Leckie (CW '05) is a finalist for the Hugo Award for her novel Ancillary Mercy.
Publications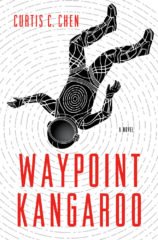 Curtis Chen (CW '14) has had two more articles published: "Special Synopsis Sauce" on the SFWA blog, and "My Murdered Darling — 'The Crazy Flirty Lady'" on Katrina Archer's blog.  He's also going on a west coast book tour to promote his novel, Waypoint Kangaroo , which comes out on June 21.
A novelette that Lawrence Schimel (CW '91) translated, "My Wife, My Daughter" by Domingo Santos, has been published in the anthology Castles in Spain. Castles in Spain collects ten science fiction stories published in Spain from the past 25 years.
Shannon Peavey (CW '13) and Kelly Sandoval (CW '13) have just launched a new online magazine, Liminal Stories.  Vince Haig (CW '13) contributed cover art, and, as of the next issue, Helena Bell (CW '13) will be the poetry editor.
Resurrection House has acquired Jessica Reisman's (CW '95) novel, Substrate Phantoms, a far-future science fiction adventure that opens on a haunted space station. The novel is slated for a winter/spring 2017 release.
Tina Connolly (CW '06) recently joined the staff of Escape Pod as a co-host.
Colleen Anderson (CW '87) has had a number of poems and stories published recently: "The Hedge Witch" in the Summer 2015 edition of On Spec (in which she was also the featured poet); "Beltane Fires" in Eternal Haunted Summer; "Book of Shadows" in Devolution Z; "I Dreamed a World" in Polu Texni (nominated for a Rhysling Award); "Freedom's Just Another Word" in Agnes and True; and "Buffalo Gals" in the anthology Clockwork Canada. She also co-edited the anthology The Playground of Lost Toys with Ursula Pflug.
"Suicide Club" by Amy Sisson ('00), which first appeared in Sybil's Garage, was translated into German for the March 2016 issue of Visionarium.  It is also slated to appear in Trigger Warning within the next few months.  Her story "On Not Noticing a Bear" was included in Podcastle's November 2015 bear-themed flash fiction issue, and her story "Minghun" was podcast by Glittership in October 2015.
Guy Immega (CW '06) has a story titled "Epilogue" forthcoming in Tesseracts Twenty: Compostela, which will be out in Spring 2017.
Poems from Neile Graham (CW '96) appear in the latest Cascadia Subduction Zone. It also has an essay by Daniel Abraham (CW '98), "Toward a Feminist Masculinity," responding to bell hooks' The Will To Change.
Geetanjali Dighe (CW '13) was one of three winners of the Octavia E. Butler-inspired flash fiction contest Door to a Pink Universe, with her story "Voice of Gravaar."
---

The cherry trees are in full bloom and the days are getting longer and warmer in Seattle, where Clarion West is busy getting ready for summer. The Clarion West class of 2016 has been announced and our workshop staff and volunteers are preparing for the workshop, the Summer Reading Series, and the Write-a-thon.
We have a few more One-Day Workshops coming up this spring:
Awards
Justina Robson's (CW '96) novel, Glorious Angels, was shortlisted for the 2015 BSFA Awards.
Alice Sola Kim (CW '04) won the 2016 Whiting Award. The Whiting Awards are based on "early accomplishment and the promise of great work to come," and each award comes with a prize of $50,000.
Deb Taber (CW '04) was selected as a member of the 2016 Tiptree Award jury. Anyone can recommend works for consideration here: http://tiptree.org/award/2016-james-tiptree-jr-award/2016-james-tiptree-jr-award-recommendations.
Publications
"You Are Not the Hero of This Story," by Caroline M. Yoachim (CW '06), appeared in Daily Science Fiction in late March.
David Levine (CW '00) has a story at Tor.com, titled "Discards." This story is set in the Wild Cards universe, created by George R. R. Martin.
Kelly Sandoval's (CW '13) story, "The Stories She Tells Herself," appeared in Daily Science Fiction on April 1.
Alex Kane's (CW '13) comic book, Asphodel #1, is now available on ComiXology, where it debuted on the best-sellers list and remained there for over a week after it was released. The comic began as a story written during Chip Delany's week at Clarion West 2013.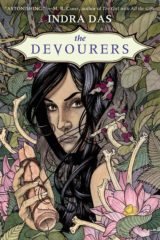 The cover for the North American edition of Indrapramit Das's (CW '12) novel The Devourers has been revealed. This edition will be published in the United States and Canada in July, and is now available for preorder.  The Devourers earned nominations for the Shakti Bhatt First Book Prize and the Tata Live! Literature First Book Award. It was also shortlisted for the 2016 Crawford Award.
Margaret Killjoy (CW '15) has a story in Strange Horizons, "The Name of the Forest."
Mimi Mondal's (CW '15) story, "And the Final Frontier is Heaven," was published in the Fiction issue of Kindle Magazine (India) in March. She also signed a contract with Juggernaut Books to publish her short story collection Other People as individual short stories in 2016 and as a complete book in 2017. One of the stories from the collection, "This Sullied Earth, Our Home," was published in PodCastle in February 2015, the first story from their Artemis Rising festival.
Michael Matheson's (CW '14) story, "Change as Seen Through an Orrery of Celestial Fire," was just published in the anthology Superhero Universe: Tesseracts Nineteen, edited by Claude Lalumière and Mark Shainblum. The anthology was published in Canada in March and will be published in the the United States in April.
Curtis C. Chen (CW '14) recently contributed guest posts to two writing blogs: "The Joy of Deadlines" on ShadowSpinners and "The Page as Performance" on NaNoEdMo.  Curtis also adds: "My wife and I celebrated our 11th wedding anniversary by completing some long-overdue homemaking projects, including putting up more bookshelves!" (The need for bookshelves never ends!)
Rhiannon Rasmussen (CW '14) has a story in the Spring 2016 edition of The Sockdolager: "As You Were, Aggie."
Marlee Jane Ward's (CW '14) story, "Phasing In, Phasing Out," also appears in the Spring 2016 edition of The Sockdolager.
Greg Beatty (CW '00) has had his poem, "Why Grandma Weeps," accepted for publication in Eye to the Telescope.
Henry Lien (CW '12) has sold his first novel, Peasprout Chen, Future Legend of Skate and Sword, along with its first sequel in a two book deal to Razorbill, an imprint of Penguin Random House. The first book will be published in 2017.
Sandra Odell's (CW '10) story, "Gina Starlight's Got The Blues," has been published in Perehelion.
Robert Guffey's (CW '96) essay, "Here Among the Dead: The Phantom Carriage (1921) and the Cinema of the Occulted Taboo," has been published in the collection Expressionism in the Cinema. He has also had a collaborative story published in Buffalo Zine No. 3, "Janelle's Key," written with Irvine Welsh, Fred Venturini, John Schoneboom, Arthur Mauritz, and John Keene.
Mark Pantoja (CW '11) has had his story, "The Redesign," published at NewMyths.com.
---
Looking for news from past months? You can find it at the Alumni News Archive.
Send us your news
If you've attended Clarion West, we want to hear all about your accomplishments! Alumni news will be posted on this site on a monthly basis. We're interested in:
Book releases
Sales and publications
Awards and nominations
Appearances
Teaching engagements
Births, deaths, marriages, and all sorts of other life passages
Don't be shy – this is your chance to let everyone know what's happening! Send your news to alumni@clarionwest.org, and be sure to include your class year in your email. Deadline for the monthly news is the first of the month. Any news received after the beginning of the month will go into the next month's Alumni News.
Past News
Looking for news from past months? You can find it at the Alumni News Archive.