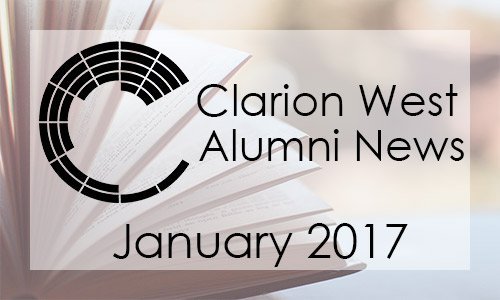 Welcome to the first Alumni News of 2017! Books, stories, and more abound this month.
Applications for the 2017 Summer Workshop are open. The application fee increases to $60 after February 10, so if you're thinking about applying, now's a great time. Most of our students hear about the workshop from friends, colleagues, and teachers, so if you know a writer who might want to apply, let them know.
Clarion West also has a great lineup of winter and spring One-Day Workshops on topics ranging from writing synopses and query letters to writing fantastic magic and technology.  Visit the One-Day Workshops page to learn more.
As always, we want to hear from our alumni! If you have news you'd like to share, drop us a line at alumni@clarionwest.org.
Clarion West Events
Join Clarion West for a reading from acclaimed author Geoff Ryman at 6 pm on January 14, at the University Book Store in Seattle. Ryman is an acclaimed teacher and a great reader who recently reported on the state of African speculative fiction for tor.com, so if you have questions about what's new and awesome in African SFF, this is your chance to ask them. For more information, see the University Book Store event calendar.
Publications
Rich Larson (CW '14) has had two recent publications: "We Are Destroyers" in Compelling Science Fiction, and "The Cyborg, the Tinman, the Merchant of Death" in Lightspeed.
Caroline M. Yoachim's (CW '06) story, "A Letter to My Best Friend on the Most Important Day of Her Life, Undelivered, No Known Forwarding Address," appeared in Daily Science Fiction in December.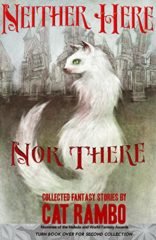 Cat Rambo's book, Neither Here Nor There, is now out and available for purchase. Rambo's (CW '05) collection is double-sided, with urban fantasy on one side (including a completely new story, "The Wizard of West Seattle") and secondary world fantasy on the other.  The book received a starred review in Publisher's Weekly, and you can purchase it at your local independent bookseller.
Kelly Sandoval's (CW '13) story, "A Menagerie of Grief," appeared in Flash Fiction Online in December.
Justin Key (CW '15) has sold his story, "Afiya's Song," to The Magazine of Fantasy & Science Fiction. The publication date for this story is forthcoming.
Lawrence Schimel's (CW '91) translation of Susana Vallejo's story, "Summer in Amber," appeared in Persistent Visions in December.
Mimi Mondal's (CW '15) essay, "Characters Are Not A Coloring Book Or, Why the Black Hermione is a Poor Apology for the Ingrained Racism of Harry Potter," appeared on the The Book Smugglers in December.
Doug Sharp (CW '02) has a new book out: Hel's Bet, available on Amazon.
"Children of Cronus," by Kristin Janz (CW '08), was published in Silent Screams, a new anthology of socially conscious dark fiction edited by Josh Strnad.
Kathleen Alcalá (CW '87) has a story in Latin@ Rising: An Anthology of Latin@ Science Fiction and Fantasy, available from Winds Press.
R. R. (Bob) Angell's (CW '04) story, "Moth to Flame," appeared in the Queer Sci Fi anthology Flight, published by Mischief Corner Books.
Jessica Reisman's (CW '95) SF mining colony novelette, "Bourbon, Sugar, Grace," will appear on Tor.com on June 7, 2017. This story was acquired by Ellen Datlow.
Neile Graham (CW '96) has two new poems out: "Persephone Crosses the Styx" in Eternal Haunted Summer, and "Behold and Beholden" in Liminality.
Cadwell Turnbull (CW '16) has had a story, "Loneliness Is in Your Blood," published in Nightmare.
New Ventures
S. Qiouyi Lu (CW '16) is now the editor of Arsenika, a quarterly journal of speculative poetry and flash fiction. The first issue, which features work by Betsy Aoki (CW '16), Lora Gray (CW '16), and JY Yang (CW '13) among others, is now online.
Lauren Dixon (CW '10) successfully defended her doctoral dissertation, "Throwaways: A young adult novel," a novel and researched essay, on December 20, 2016. She will graduate with a PhD in Humanities – Studies in Literature from the University of Texas at Dallas.
Caren Gussoff Sumption (CW '08) has signed a contract with Revolution Books UK to write one of four interconnected novellas set in Bram Stoker's Dracula universe.
---
December is here, and Summer Workshop application season is upon us!  If you'd like to apply, or know someone who does, you can find the details on the Summer Workshop page.
We've also just announced six new One-Day workshops for  winter and spring:
See the One-Day Workshops page for all the details.
Alumni, if you have news you'd like to share with the Clarion West community, send it to alumni@clarionwest.org. We want to hear about both personal and publishing news, and we love pictures. News received by the first of each month will be included in that month's Alumni News.
Publications
Kathleen Alcalá (CW '87) was interviewed in High Country News about her new book, The Deepest Roots: Finding Food and Community on a Pacific Northwest Island. She talks about the origins of the book as well as farming and climate change on Bainbridge Island.
"As Travelers in Sky Boats," by Kristin Janz (CW '08), appeared in Escape Pod in September.  The story is narrated by Ibba Armancas, and Kristen notes that the story's first draft was written during a story-a-week challenge with some Clarion West classmates a few years ago.
Helena Bell's (CW '13) story, "I've Come to Marry the Princess," appeared in Lightspeed in November.
Curtis C. Chen's (CW '14) story "Have Spacesuit, Will Travel" appears in the children's collection Oregon Reads Aloud.
The November edition of Analog brings with it stories by two Clarion West alumni: Gord Sellar (CW '06) and Nisi Shawl (CW '92).
"A Clean Start," by James Gordon Harper (CW '12) appeared in Amazing Stories in November.
Evan J. Peterson's (CW '15) memoir, The PrEP Diaries, is now available for preorder from Lethe Press.
"'Play you Must:' Villette and the Nineteenth-Century Board Game," Siobhan Carroll's (CW '09) article on 19th century board games and Charlotte Bronte's Villette, was published in the journal Nineteenth-Century Contexts.
Appearances
Curtis Chen (CW '14) recently did panels at a couple of local cons: the first-ever Nerd Camp and the 38th OryCon. He also appeared at Powell's Authorfest. The Vancouver, WA Barnes & Noble's SF/F book club is reading his novel Waypoint Kangaroo for their first meeting of 2017, and he'll be there to field questions. Anyone in the Vancouver, WA area can stop by on January 10th to join the discussion.
---
Looking for news from past months? You can find it at the Alumni News Archive.