For each of the six weeks of its summer workshop, Clarion West presents an evening featuring that week's instructor reading their best new work which could include selections from recently published books, unpublished stories, or novels-in-progress. The featured reader also answers questions about writing, teaching, editing, and other topics.
Join Clarion West in 2016 for programs on Tuesday evenings starting at 7:00 p.m. at the University Book Store, 4326 University Way NE in Seattle (unless otherwise specified).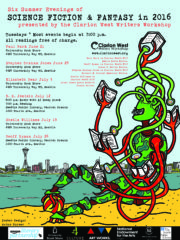 June 21: Paul Park
Paul Park's multilayered, surreal fiction uses familiar archetypes in unfamiliar ways to convey the depth and variety of human experience. He is the author of ten novels, including Soldiers of Paradise, Celestis, and his acclaimed Tourmaline Quartet, as well as a collection of short stories. His creative daring has gained him numerous award nominations and the praise of major writers and critics.
June 28: Stephen Graham Jones
Stephen Graham Jones writes with such a light touch that you don't realize until far too late that he's grabbed hold of you viscerally and shaken everything inside you around. He is the author of fifteen novels and six story collections. He has been the recipient of an NEA Fellowship in Fiction and has won the Texas Institute of Letters Jesse Jones Award for Fiction, the Independent Publishers Award for Multicultural Fiction, and the This is Horror Award.
July 5: Elizabeth Bear
Elizabeth Bear's multi-layered stories and novels invite the reader to look closer, taking the familiar and making it delightfully strange and fresh. She is the Hugo, Sturgeon, Locus, and Campbell Award winning author of 27 novels and over a hundred short stories. Her most recent novel is Karen Memory, a Weird West adventure from Tor.
July 12: N. K. Jemisin
Seattle Central Library, 1000 4th Ave, Seattle
6:00 p.m. Music with DJ Riz Rollins
7:00 p.m. Reading
N. K. Jemisin is a Brooklyn author whose short fiction and novels have been nominated for the Hugo and the Nebula, shortlisted for the Crawford and the Tiptree, and won the Locus Award for Best First Novel. Her themes include resistance to oppression, the inseverability of the liminal, and the coolness of stuff blowing up. In her spare time she is a biker, an adventurer, a gamer, and a counseling psychologist.
July 19: Sheila Williams
Sheila Williams is the two-time Hugo Award winning editor of Asimov's Science Fiction magazine. She started at Asimov's in 1982 and served as the executive editor of Analog from 1998 until 2004. Her most recent anthologies are Asimov's Science Fiction Magazine's 30th Anniversary Anthology, which was on the Locus Recommended Reading list, and Enter a Future: Fantastic Tales from Asimov's Science Fiction.
July 26: Michael Swanwick
Seattle Central Library, 1000 4th Ave, Seattle
Geoff Ryman is currently unable to travel to Seattle. Stepping in for him as the Week Six instructor is Michael Swanwick.
Michael Swanwick has received the Hugo, Nebula, Theodore Sturgeon, and World Fantasy Awards for his work. His books include In the Drift, an Ace Special; Vacuum Flowers; Griffin's Egg; Stations of the Tide; The Iron Dragon's Daughter, a New York Times Notable Book, and Jack Faust. His short fiction has been collected in Gravity's Angels, A Geography of Unknown Lands, Moon Dogs, Tales of Old Earth, and a collection of short-shorts, Cigar-Box Faust and Other Miniatures. His most recent novel, Chasing the Phoenix, which chronicles the adventures of confidence artists Darger and Surplus in post-Utopian China, is currently available from Tor Books. He is currently at work on a new novel set in Industrialized Faerie.
The Clarion West Summer Reading Series is sponsored by Amazon.com, the National Endowment for the Arts, King County 4Culture, Seattle Office of Arts & Culture, the University Book Store and the Seattle Public Library.
In addition to the Clarion West Summer Reading Series, every year the University Book Store hosts dozens of other readings of interest to fans of speculative fiction. Check out their events calendar for further information.