For each of the six weeks of its summer workshop, Clarion West presents an evening featuring that week's instructor reading their best new work which could include selections from recently published books, unpublished stories, or novels-in-progress. The featured reader also answers questions about writing, teaching, editing, and other topics.
Join Clarion West in 2015 for programs on Tuesday evenings starting at 7:00 p.m. at the University Book Store, 4326 University Way NE in Seattle (unless otherwise specified).
June 23: Andy Duncan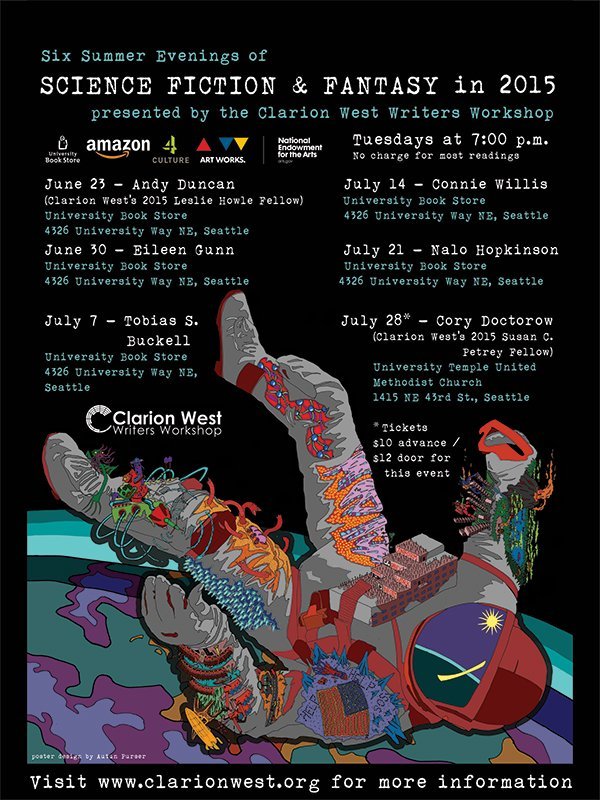 Andy Duncan has won a Nebula Award, a Theodore Sturgeon Memorial Award and two World Fantasy Awards for his short fiction, which is collected in Beluthahatchie and The Pottawatomie Giant. Recent work includes his 2013 Tor.com novella "Wakulla Springs," written with Ellen Klages, a Hugo, Nebula, and Locus Award finalist; and his Nebula-winning 2012 Fantasy & Science Fiction cover story "Close Encounters," which was reprinted in five year's-best volumes.
June 30: Eileen Gunn
Eileen Gunn is known for her wryly intelligent stories that consistently surprise and delight readers. She has received the Nebula award in the United States and the Sense of Gender award in Japan, and has been nominated for the Hugo, Philip K. Dick, and World Fantasy awards, and shortlisted for the James Tiptree. Jr. award.

July 7: Tobias S. Buckell
Tobias S. Buckell was born in the Caribbean, grew up in Grenada, and spent time in the British and US Virgin Islands, which influence much of his work. His novels and over 50 stories have been translated into 17 different languages. His work has been nominated for the Hugo, Nebula, Prometheus, and John W. Campbell Award for Best New Science Fiction Author.

July 14: Susan Palwick
Our original Week Four instructor, Connie Willis, is temporarily unable to travel due to health reasons. Stepping in for her is Susan Palwick.

Susan Palwick is an Associate Professor of English at the University of Nevada, where she teaches creative writing and literature. Her fourth novel, Mending the Moon, was published in 2013 from Tor Books. Her story collection The Fate of Mice appeared in 2007 from Tachyon Publications. She won the Crawford Award for Flying in Place, and has been a finalist for numerous other awards.
July 21: Nalo Hopkinson
Nalo Hopkinson, born in Jamaica, is a Jamaican-Canadian whose taproots extend to Trinidad and Guyana. She has published numerous books and short stories and occasionally edits anthologies. Her writing has received the John W. Campbell Award, the Locus Award, the World Fantasy Award, the Sunburst award (twice), and the Norton Award.

July 28: Cory Doctorow (at the University Temple United Methodist Church – 1415 Northeast 43rd Street, Seattle)
Tickets for this event are $10 advance/$12 at the door. Tickets can be purchased at Brown Paper Tickets.
Cory Doctorow is a science fiction author, activist, journalist and blogger — the co-editor of Boing Boing and the author of young adult novels like Homeland, Pirate Cinema, and Little Brother; and novels for adults like Rapture of the Nerds and Makers. He is the former European director of the Electronic Frontier Foundation and co-founded the UK Open Rights Group.

Learn more about this event here.
The Clarion West Summer Reading Series is sponsored by Amazon.com, the National Endowment for the Arts, King County 4Culture, the University Book Store and the Seattle Public Library.
In addition to the Clarion West Summer Reading Series, every year the University Book Store hosts dozens of other readings of interest to fans of speculative fiction. Check out their events calendar for further information.