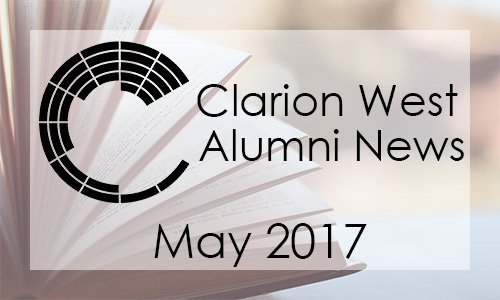 Welcome to the Clarion West May Alumni News! Here at Clarion West, we're getting ready for the Summer Workshop, putting all the details in place and anticipating meeting the students when they arrive next month. If you're in the Pacific Northwest, please join us for the Summer Reading Series, where you can meet our distinguished instructors and hear them read from new work.
The Clarion West Write-a-thon is coming, and whether you're a graduate, a supporter, or a friend of the workshop, we're inviting you to write alongside the students this summer. The Write-a-thon is our global community event and our major fundraiser, and we love seeing everyone's profiles and progress!
We also have some exciting announcements about the Write-a-thon coming soon, including some fantastic Tuckerizations from Ian McDonald. Stay tuned for more information.
Awards
Many congratulations to our alumni who are finalists for the Hugo and Campbell awards!
Best novella: Kij Johnson(CW '87) for "The Dream-Quest of Vellitt Boe"
Best novelette: Carolyn Ives Gilman (CW '89) for "Touring with the Alien"
Best related work: Kameron Hurley (CW '00) for The Geek Feminist Revolution
Best semi-prozine: GigaNotoSaurus, edited by Rashida Smith (CW '05)
Best series: James S.A. Corey, half of whom is Daniel Abraham (CW '98) for The Expanse. The Syfy show based on The Expanse is also a finalist for Best Dramatic Presentation for the episode "Leviathan Wakes."
Sheree Renée Thomas's (CW '99) novel, Sleeping Under the Tree of Life, was named on the 2016 James Tiptree, Jr. Award "Worthy" Long List.
Octavia Cade (CW '16) is a finalist for the 2017 Sir Julius Vogel Awards (New Zealand's fandom award) in two categories: for her novella, "The Convergence of Fairy Tales," and in fan writing for her columns on food and horror in The Book Smugglers.
Dominica Phetteplace (CW '07) was awarded a Steinbeck Fellowship from San José State University in April.
Publications
Sheree Renée Thomas's (CW '99) novelette, "Aunt Dissy's Policy Dream Book," was published in Apex in April. She was also interviewed by Andrea Johnson for the same issue, which was guest edited by Maurice Broaddus. In that issue you can also find a podcast that Sheree recorded, as well as a story by Walter Mosley.
Her short story, "The Dragon Can't Dance," was translated by Alejandra Guarinos Viñals into Spanish and published by 2709 Books in Afrofuturo(s), featuring a foreword by Carlos Bajo Erro.
Louise Marley (CW '93) has a story, "Relics: a fable," in the anthology Alternative Truths (B Cubed Press). The anthology is edited by Bob Brown and Irene Radford, and features tales of possible futures in post-election America.
Anathema: Spec from the Margins is a new triannual online magazine that launched in April.  Michael Matheson (CW '14) is the editor in chief, and Chinelo Onwualu (CW '14) is the non-fiction editor.  Their first issue features a new story by S. Qiouyi Lu (CW '16), "A Complex Filament of Light."
S. Qiouyi Lu's (CW '16) story, "An Abundance of Fish," appeared in Uncanny Magazine in April.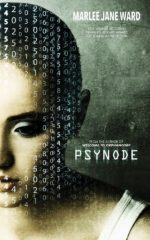 Marlee Jane Ward's (CW '14) second book, Psynode, was published in April by Seizure.
Uncanny Magazine's May issue includes several Clarion West alumni: "Read Before Use" by Chinelo Onwualu (CW '14), "Missive from a Woman in a Room in a City in a Country in a World Not Her Own," by Mimi Mondal (CW '15), and "What to expect from the Hadron Collider as a college roommate" by Betsy Aoki (CW '16).
Curtis Chen's (CW '14) second novel, Kangaroo Too, was given a starred review in Publisher's Weekly.
Michael Sebastian's (CW '15) article "The Weird in Music" was published in Gamut in April. Issue 4 of Gamut also includes work by S. Qiouyi Lu (CW '16).
An English translation of Lawrence Schimel's (CW '91) picture book Will You Read My Book With Me?, illustrated by Thiago Lopes, was published this month by Epigram Books in Singapore. He has also recently translated The Wild Book by Mexican author Juan Villoro. The novel will be published by Restless Books as the lead title of their new YA imprint, Yonder.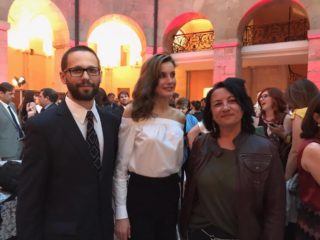 He also recently attended the Premios SM awards in Spain in April. The prizes are handed out every year by Her Majesty the Queen of Spain as part of her efforts to encourage and promote reading. Pictured (from left to right) are Lawrence, Queen Letizia of Spain, and Llanos Campos, author of The Treasure of Barracuda, which won the Barco de Vapor prize in 2014. Lawrence translated The Treasure of Barracuda into English for Little Pickle/Sourcebooks last year.
Issue 3 of Liminal Stories includes stories by two alumni: "Lares Familiares, 1981," by Rebecca Campbell (CW '15), and "The Falling Game," by Ian Muneshwar (CW '14)
Sandra Odell's (CW '10) story, "In His Armor Clad," was published in Pantheon Magazine.
The Librarians and The Mother Goose Chase, by Greg Cox (CW '84), a novel based on the television show The Librarians, was published in April by Tor Books.
"And In That Sheltered Sea, A Colossus," by Michael Matheson (CW '14), was published in April in Shimmer.
Christopher Caldwell (CW '07) has a story out in Fiyah: "The Beekeeper's Garden."
Caroline Yoachim's (CW '06) flash story, "Shadow Station," was published in Nature in April.
Susan Palwick (CW '85) has a new story out in Lightspeed: "Remote Presence."
Amy Wolf's (CW '92) novel, A School for Dragons, was published in April by Red Empress Publishing.
Meetups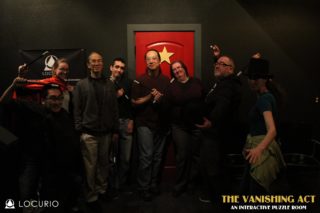 Curtis Chen (CW '14) met up with two of his Clarion West instructors in April.  He convinced Ian McDonald to join him and his wife for the Locurio puzzle room in Seattle. Their team solved the puzzle room and posed for a triumphant picture afterwards.  He also met up with Charlie Jane Anders, the other American author invited to the first Melon HK conference in Hong Kong. Curtis reports that they had a fascinating time at the cross-disciplinary, international event in one of the most futuristic cities in the world.
Left to right: Yang-Yang Wang (CW '14), Casey Blair, Ted Chiang, Raffi, Curtis Chen, DeeAnn Sole, Ian McDonald, Meg Rebecca Sinoff (CW '06).
---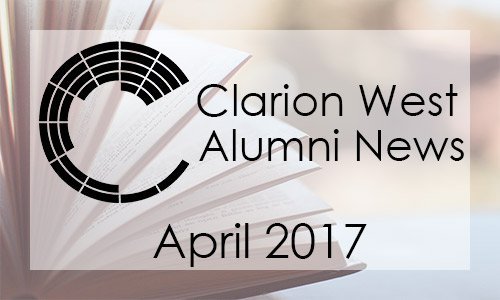 Welcome to the April edition of the Clarion West Alumni News! This month, we have some stunning alumni publication announcements, as well as news of awards.
The Clarion West Class of 2017 has been announced! We're in the throes of preparing for the Summer Workshop once more, getting all the details settled. Look for announcements in the coming weeks about the Summer Reading Series and the Summer Workshop wishlist.
We have two more spring One-Day Workshops: Level Up as a Writer, with instructor Randy Henderson, on May 21; and Landing the Gut Punch: Finding Emotional Resonance in Fantastic Fiction, with instructor Helen Marshall, on June 4. If you're in or near Seattle, we'd love to see you for these six-hour intensive workshops!
Alumni, if you have news you'd like to share with the Clarion West community, send it to alumni@clarionwest.org. We want to hear about both personal and publishing news, and we love pictures. News received by the first of each month will be included in that month's Alumni News.
Awards
Indrapramit Das (CW '12) is a finalist for the 29th Annual Lambda Literary Awards for LGBTQ speculative fiction for his book The Devourers.
David D. Levine (CW '00) is a finalist for the Oregon Book Award for his novel, Arabella of Mars.
Two Clarion West alumni are on the Honor list for the James Tiptree, Jr. Literary Award: Andrea Hairston (CW '99) for Will Do Magic for Small Change and Nisi Shawl (CW '92) for Everfair.
Publications
Indrapramit Das (CW '12) has a new story out in Lightspeed: "The Wordless."
E. Lily Yu's (CW '13) story, "The Wretched and the Beautiful," was published in February in Terraform.
Two Clarion West alumni were featured in March in the "Nevertheless, She Persisted" short fiction event for International Women's Day on tor.com. Nisi Shawl's (CW '92) story "More than Nothing," and Kameron Hurley's (CW '00) story "Our Faces, Radiant Sisters, Our Faces Full of Light!," were published as part of an exciting series of flash stories on March 8.
Andrea Hairston (CW '99) reviews Kiini Salaam's (CW '01) When the World Wounds in LA Review of Books.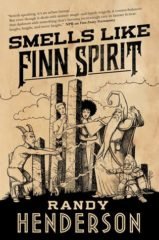 Randy Henderson's (CW '09) third novel, Smells Like Finn Spirit, was published by Tor Books in March and is now available at bookstores everywhere.
"Auspicium Melioris Aevi," by J. Y. Yang (CW '13), was published in Uncanny Magazine in March.
Cae Hawksmoor's (CW '16) story "Civitas Sylvatica" appeared in Reckoning, a journal of creative writing on environmental justice, in March.
Sandra M. Odell's (CW '10) story "Meat" appeared in Pseudopod at the end of March. Her story "The Absolute Temperature of Outer Space" appeared in Cast of Wonders in the same month.
"Stay," by K. C. Ball (CW '10), appeared in Podcastle in March. The story was read by Tina Connolly (CW '06).
---
Looking for news from past months? You can find it at the Alumni News Archive.