Alumni News

Welcome to the October edition of the Clarion West Alumni News! We have great reading (and some great listening!) for you this month.
There are still spaces open in two One-Day Workshops this fall: Rewriting and Revisioning taught by Cat Rambo on November 20, and Integrating Character, Plot, and Worldbuilding taught by David D. Levine on December 4. Register today for these two intensive workshops.
If you, or someone you know, is interested in applying to the 2017 Clarion West Summer Workshop, this is a great time to start polishing your work to apply. You can read our introduction to the application process (including an answer to the question "what the heck should I put into my application essay?") in our article about how, why, and when to apply to the workshop.
Volunteer opportunity: Clarion West is looking for someone who's a whiz with Adobe Illustrator to make some small but important changes to our logo. If you have Illustrator skills and would like to donate a few hours to Clarion West, please email communications@clarionwest.org.
As always, we want to hear from our alumni! If you have news to share, drop a line to alumni@clarionwest.org. If you don't receive a reply within two days, try again — our spam filters occasionally eat email.
Awards
Usman T. Malik (CW '13) won the British Fantasy Award for Best Novella for "The Pauper Prince and the Eucalyptus Jinn." Usman was also featured in a Clarion West video where he talked about bringing what he learned at Clarion West back to Pakistan.
Greg Beatty (CW '00) won third place in the City of Rockingham, Western Australia Short Fiction Awards. The contest involves writing short stories in response to a painting.
Publications
Usman T. Malik's (CW '13) story, "Laal Andhi," appeared in September in Nightmare Magazine.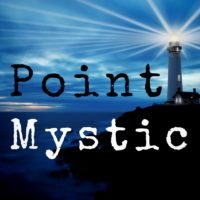 Christopher Reynaga (CW '08) has a podcast series that will be launching in October. Point Mystic is a radio show in search of the stories behind magic, mystery, and the unexplained. The teaser episode that will become available this month (September) features appearances by Clarion West instructor Joe Hill and MTV's Martha Quinn. The first season launches October 31. You can follow the show and find out more at www.PointMystic.org.
"The High Lonesome Frontier," by Rebecca Campbell (CW '15), has been published by tor.com.
T. Jane Berry's (CW '16) story, "How to Survive in Room 105," was published in PodCastle.
Also on PodCastle in September was Sandra M. Odell's (CW '10) story "Telling Stories."
Lawrence Schimel (CW '91) has been keeping busy in Madrid. His poem, "Many Moons Ago," was just reprinted in the anthology Watcher of the Skies: Poems About Space and Aliens edited by Rachel Piercey and Emma Wright. His translation of Sofía Rhei's "Bluebeard Possibilities" was reprinted at SF In Translation. His translation of a middle grade novel about a pirate crew that discovers that reading is the best treasure will be published in October: The Treasure of Barracuda by Llanos Campo. His translation of Lola Robles' book Monteverde: Memoirs of an Interstellar Linguist will be published by Aqueduct Press in November. Two stories he translated will appear in the Spanish Women of Wonder anthology: "Sea Changes" by Lola Robles, and "Terpsichore" by Teresa P. Mira de Echeverría.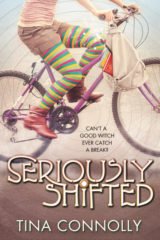 Tina Connolly's (CW '06) novel, Seriously Shifted (sequel to the Norton-nominated Seriously Wicked), about reluctant teen witch Cam, comes out on November 1, 2016, with 300% more witch hijinks! She also has a few book tour stops — check out her website for more information.
Julia Wetherell (CW '15) has had two recent publications: "Into the Starfish Heart" appeared in Luna Station Quarterly's September issue, and "My Ex-Girlfriend's Ex-Girlfriend" appeared in The Wild Hunt in July.
Alex Kane (CW '13) executive produced a Star Wars documentary that is now available to view on Amazon Video: The Prequels Strike Back: A Fan's Journey.
"Th Fifth Lttr" by S. Qiouyi Lu (CW 16) appeared in Daily Science Fiction in September.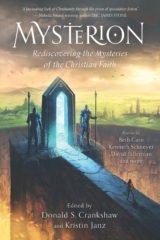 Kristin Janz (CW '08) and her husband, Donald S. Crankshaw, have edited and independently published an anthology of Christian-themed speculative fiction. Mysterion: Rediscovering the Mysteries of the Christian Faith is now available in paperback and ebook from all the major online retailers.
Judy McCrosky's (CW '96) collection, Lifting Weights, is out now from Thistledown Press.
Evan J. Peterson's (CW 15) essay, "The Rocky Horror Picture Show and four decades of queer sci fi punk," appeared on BoingBoing in September.
The anthology, Untethered: A Magic iPhone Anthology, has stories by two alumni: "Real Selfies," by Jon Lasser (CW '16) and "Specific Wisdom," by Kris Millering (CW '09).
Brian Conn (CW '04) has a story in Year's Best Weird Fiction, Vol. 3.
Bryan Camp's (CW '12) first novel, The City of Lost Fortunes, will be published by John Joseph Adams Books in 2018.
The Carp-Faced Boy and Other Stories, a collection by Thersa Matsuura (CW '15), will be published in November 2016 by Independent Legions Publishing.
---

Welcome to the September edition of the Clarion West Alumni News! Our fall One-Day Workshop series are now open for registration:
We're already preparing for Summer Workshop application season! More information about applications for 2017 will be released in the coming months. If you know a writer who might want to apply for the workshop, we have an article on our website that goes over when, why, and how to apply.
Alumni, we want to hear from you. Send personal and publication news to alumni@clarionwest.org. We'd love to feature pictures of meetups of CW class members as well—feel free to send them to us.
Publications
Curtis C. Chen's (CW '14) story, "Like a Ghost I'm Gonna Haunt You," was published in August in Daily Science Fiction. He was also the content editor for the August edition of "Puzzled Pint," a free monthly worldwide event. The puzzles were Star Trek themed, to celebrate the show's 50th anniversary, and are now available online for anyone to play and share at the Puzzled Pint website.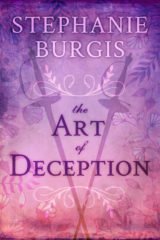 "The Art of Deception," a novelette by Stephanie Burgis (CW '01), has been selected as a finalist in the 2016 WSFA Small Press Short Fiction Awards. It was originally published in the Australian anthology Insert Title Here, and is now also available as a standalone ebook. Her second historical fantasy novel for adults, Congress of Secrets, will be published by Pyr Books in November. This book is a sequel to her novel Masks and Shadows, published earlier this year and now available for purchase at your local bookstore.
"Atavistacular," by Marlee Jane Ward (CW '14), will be appearing in Andromeda Spaceways Inflight Magazine Issue 64.
Tegan Moore's (CW '15) story, "Epitome," was published in the September issue of Asimov's Science Fiction, and her story, "How High Your Gods Can Count," was featured in Strange Horizons in May. She is also learning how to whistle.
Amy Wolf (CW '92) has sold her fantasy series, The Cavernis Trilogy, to Red Empress Press. All three books will be published in 2017. She also has a story forthcoming in the Arthurian anthology, After Avalon.
Lora Gray (CW '16) has a short story titled, "Shadow Boy," in the September issue of Shimmer.
Jude-Marie Green's (CW '10) story, "A Superlative For Goodbye," appeared in Ad Astra in August.
Alexander Berman (CW '14) wrote and directed a digital pilot for Disney Channel, "Virtual High."
Sandra Odell's (CW '10) story, "Iridescent," was published in Triangulation: Beneath The Surface.
"The Gatherer of Sorrows," by J. M. Sidorova (CW '09), will be published in the anthology Science Fiction by Scientists in September.
Caroline M. Yoachim (CW '06) was interviewed for John Scalzi's blog series "The Big Idea." Her story,"Exquisite Corpse," was published in Daily Science Fiction in August.
Appearances
Curtis C. Chen (CW '14) will be appearing at a pair of events in San Francisco on September 10. He will be at Borderlands Books with Patrick Swenson (CW '86) at 1 p.m. and at Writers with Drinks that evening. See the Macmillan site for more details on times and locations.
Nisi Shawl (CW '92) is going on book tour with her novel Everfair. She will be appearing in cities across the United States—see tor.com for her schedule, and come out to see her.
Meetups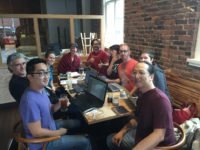 Seattle-area Clarion West alumni met up in August for drinks and critiques. Around the table, from left to right: Yang-Yang Wang (CW '14), Tod McCoy (CW '10), Meghan Sinoff (CW '06), Vicki Saunders (CW '09), Randy Henderson (CW '09), Betsy Aoki (CW '16), Evan Peterson (CW '15), Tegan Moore (CW '15), and Curtis C. Chen (CW '14).
If you've met up with classmates or other Clarion West alumni, we'd love to see pictures! Send them to alumni@clarionwest.org and we'll publish them in the Alumni News.
---
Looking for news from past months? You can find it at the Alumni News Archive.
Send us your news
If you've attended Clarion West, we want to hear all about your accomplishments! Alumni news will be posted on this site on a monthly basis. We're interested in:
Book releases
Sales and publications
Awards and nominations
Appearances
Teaching engagements
Births, deaths, marriages, and all sorts of other life passages
Don't be shy – this is your chance to let everyone know what's happening! Send your news to alumni@clarionwest.org, and be sure to include your class year in your email. Deadline for the monthly news is the first of the month. Any news received after the beginning of the month will go into the next month's Alumni News.
Past News
Looking for news from past months? You can find it at the Alumni News Archive.