Here at Clarion West, we're busy preparing for Summer Workshop application season. If you know a writer that might want to apply for the workshop, let them know that applications open in early December, and the application fee is discounted for early applicants. See the Summer Workshop page for more details.
We have two more Fall One-Day Workshops still open for registration:
Register today—these are both going to be fantastic workshops.
Holiday shopping season is approaching! Head over to our Facebook page to learn about an easy way to support Clarion West through your online purchases via Amazon Smile. You can also purchase a gift certificate to a One-Day Workshop for that special writer in your life (or for yourself!). Contact oneday@clarionwest.org for details.
As always, we want to hear from alumni!  Send your news, personal and professional, to alumni@clarionwest.org.
Awards
Alex Filipowicz (CW '16) was a top-5 finalist in Omnidawn's Fabulist Fiction Contest.
Anil Menon (CW '04) is on the shortlist for the Hindu Prize for his novel Half of What I Say.
Publications
Tor.com has acquired two novellas by Margaret Killjoy (CW '15). The first novella, "The Lamb Will Slaughter the Lion," will come out in ebook and trade paperback in 2017. Margaret also recently had a story appear at tor.com: "Everything that Isn't Winter."
E. Lily Yu (CW '13) has had several stories come out recently: "The Gardener and the King's Menagerie" in Bracken; "Paul Flitch's Slap-Bang Fight with Mister Delusio" in Daily Science Fiction in September; "The Witch of Orion Waste and the Boy Knight" in Uncanny; and the forthcoming "Darkout" in Cyber World, edited by Joshua Viola and Jason Heller. Cyber World also features stories by Cat Rambo (CW '05) and Nisi Shawl (CW '92).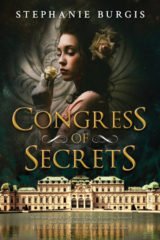 Stephanie Burgis (CW '01) has just had her novel Congress of Secrets published by Pyr.
Adele Gardner's (CW '04) novelette, "Zoey Loves Zombies," appeared in the anthology Less Than Dead, and her story "The Witches' Bridge" appeared in the anthology Virginia Is for Mysteries, Volume II. In addition, four of her speculative poems have appeared in 2016: "Boots's Boy," in Star*Line; "My Superwoman" in Devilfish Review; and "Starshine" and "Peelings" in Scifaikuest. One literary poem, "The Lake at Evening," appeared in the print journal Blueline. Adele has also had some audio editions of her work appear recently: "Wolf Call," a story other CW '04 alumni might remember in its first-draft form as "The Wolf in Me," is available as a podcast from Third Flatiron Publishing.
Two poems by Adele and her father, Delbert R. Gardner, for whom she serves as literary executor, appeared in StarShipSofa: "The Meek Shall Inherit . . . (The Earthworm Speaks)" by Delbert R. Gardner and "God's Cat" by Adele Gardner. Adele has also had five photographs in art shows so far this year, one of which won honorable mention. In addition, Adele is in the process of redesigning her website, www.gardnercastle.com, which should be revamped online by the end of October.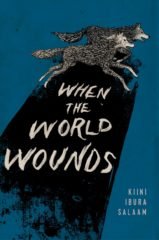 When the World Wounds by Kiini Ibura Salaam (CW '01), a collection of short stories, just debuted and is now available for purchase at your favorite local bookseller.
Evan Peterson's (CW '15) poem "Kishotenketsu for Mars" appeared in the Seattle Review of Books in early November.
Lawrence Schimel (CW '91) has had several new translations appear recently. His translation of Argentine author Teresa P. Mira de Echeverría's "Terpsichore" appeared at Strange Horizons as a special bonus content during their recent fundraiser. His translation of Mexican writer Raquel Castro's "Last Night I Didn't Dream at All" appears in the special Nightmares issue of UK magazine LITRO, and his translation of Spanish author Pilar Adón's "Aerial Plants" appears in the special Tribute to Stephen King issue of Palabras Errante.
He translated six different pieces appearing in November 2016 at Strange Horizons as part of their special tie-in issue for the Eurocon being held in Barcelona this year: the novelette "Gracia" by Susana Vallejo"; a short story titled "Esmeralda" by Tamara Romero; and the poems "Microtherapy" by Sofía Rhei, "Short Icelandic Saga" by Antonio Rivero Taravillo, and "Supernatural Tongue" by Estíbaliz Espinosa. He also translated an interview for that same issue between Elia Barceló & Ricard Ruiz Garzón.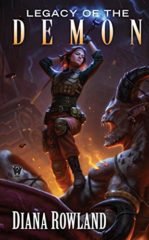 Diana Rowland's (CW '98) new novel Legacy of the Demon was published in October.
S. Qiouyi Lu (CW '16) has a story in the forthcoming anthology Fitting In: Historical Accounts of Paranormal Subcultures.
Katrina S. Forest's (CW '09) anthology, The Poisoned City and Other Stories, launched on Amazon in October.
Anne Toole (CW '11) has a short story, "Lions on the Mississippi," in the anthology Altered States of the Union.
Neile Graham (CW '96) has three poems in The Cascadia Subduction Zone's April issue, now available to read in PDF. Her poem, "Spell for the Gleaning of Water," was published as the first poem in the inaugural edition of Twisted Moon Magazine.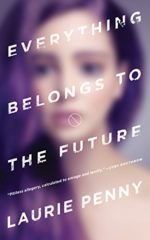 Laurie Penny's (CW '15) novel Everything Belongs to the Future is now available at your local bookseller.
Chinelo Onwualu (CW '14) has a story in West Branch Wired titled "The Night Market."
Michael R. Underwood (CW '07) has launched Genrenauts Season One Collection, collecting the first season of his serial Genrenauts in one volume.
Greg Beatty's (CW '00) poem "Prayer Causes Stars" was reprinted in The Best of Abyss & Apex, Volume 2.
---

Welcome to the October edition of the Clarion West Alumni News! We have great reading (and some great listening!) for you this month.
There are still spaces open in two One-Day Workshops this fall: Rewriting and Revisioning taught by Cat Rambo on November 20, and Integrating Character, Plot, and Worldbuilding taught by David D. Levine on December 4. Register today for these two intensive workshops.
If you, or someone you know, is interested in applying to the 2017 Clarion West Summer Workshop, this is a great time to start polishing your work to apply. You can read our introduction to the application process (including an answer to the question "what the heck should I put into my application essay?") in our article about how, why, and when to apply to the workshop.
Volunteer opportunity: Clarion West is looking for someone who's a whiz with Adobe Illustrator to make some small but important changes to our logo. If you have Illustrator skills and would like to donate a few hours to Clarion West, please email communications@clarionwest.org.
As always, we want to hear from our alumni! If you have news to share, drop a line to alumni@clarionwest.org. If you don't receive a reply within two days, try again — our spam filters occasionally eat email.
Awards
Usman T. Malik (CW '13) won the British Fantasy Award for Best Novella for "The Pauper Prince and the Eucalyptus Jinn." Usman was also featured in a Clarion West video where he talked about bringing what he learned at Clarion West back to Pakistan.
Greg Beatty (CW '00) won third place in the City of Rockingham, Western Australia Short Fiction Awards. The contest involves writing short stories in response to a painting.
Publications
Usman T. Malik's (CW '13) story, "Laal Andhi," appeared in September in Nightmare Magazine.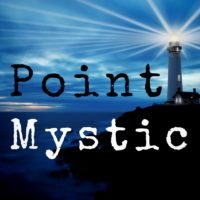 Christopher Reynaga (CW '08) has a podcast series that will be launching in October. Point Mystic is a radio show in search of the stories behind magic, mystery, and the unexplained. The teaser episode that will become available this month (September) features appearances by Clarion West instructor Joe Hill and MTV's Martha Quinn. The first season launches October 31. You can follow the show and find out more at www.PointMystic.org.
"The High Lonesome Frontier," by Rebecca Campbell (CW '15), has been published by tor.com.
T. Jane Berry's (CW '16) story, "How to Survive in Room 105," was published in PodCastle.
Also on PodCastle in September was Sandra M. Odell's (CW '10) story "Telling Stories."
Lawrence Schimel (CW '91) has been keeping busy in Madrid. His poem, "Many Moons Ago," was just reprinted in the anthology Watcher of the Skies: Poems About Space and Aliens edited by Rachel Piercey and Emma Wright. His translation of Sofía Rhei's "Bluebeard Possibilities" was reprinted at SF In Translation. His translation of a middle grade novel about a pirate crew that discovers that reading is the best treasure will be published in October: The Treasure of Barracuda by Llanos Campo. His translation of Lola Robles' book Monteverde: Memoirs of an Interstellar Linguist will be published by Aqueduct Press in November. Two stories he translated will appear in the Spanish Women of Wonder anthology: "Sea Changes" by Lola Robles, and "Terpsichore" by Teresa P. Mira de Echeverría.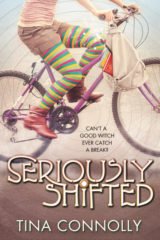 Tina Connolly's (CW '06) novel, Seriously Shifted (sequel to the Norton-nominated Seriously Wicked), about reluctant teen witch Cam, comes out on November 1, 2016, with 300% more witch hijinks! She also has a few book tour stops — check out her website for more information.
Julia Wetherell (CW '15) has had two recent publications: "Into the Starfish Heart" appeared in Luna Station Quarterly's September issue, and "My Ex-Girlfriend's Ex-Girlfriend" appeared in The Wild Hunt in July.
Alex Kane (CW '13) executive produced a Star Wars documentary that is now available to view on Amazon Video: The Prequels Strike Back: A Fan's Journey.
"Th Fifth Lttr" by S. Qiouyi Lu (CW 16) appeared in Daily Science Fiction in September.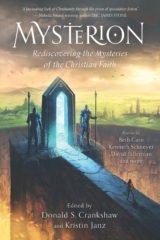 Kristin Janz (CW '08) and her husband, Donald S. Crankshaw, have edited and independently published an anthology of Christian-themed speculative fiction. Mysterion: Rediscovering the Mysteries of the Christian Faith is now available in paperback and ebook from all the major online retailers.
Judy McCrosky's (CW '96) collection, Lifting Weights, is out now from Thistledown Press.
Evan J. Peterson's (CW 15) essay, "The Rocky Horror Picture Show and four decades of queer sci fi punk," appeared on BoingBoing in September.
The anthology, Untethered: A Magic iPhone Anthology, has stories by two alumni: "Real Selfies," by Jon Lasser (CW '16) and "Specific Wisdom," by Kris Millering (CW '09).
Brian Conn (CW '04) has a story in Year's Best Weird Fiction, Vol. 3.
Bryan Camp's (CW '12) first novel, The City of Lost Fortunes, will be published by John Joseph Adams Books in 2018.
The Carp-Faced Boy and Other Stories, a collection by Thersa Matsuura (CW '15), will be published in November 2016 by Independent Legions Publishing.
---
Looking for news from past months? You can find it at the Alumni News Archive.