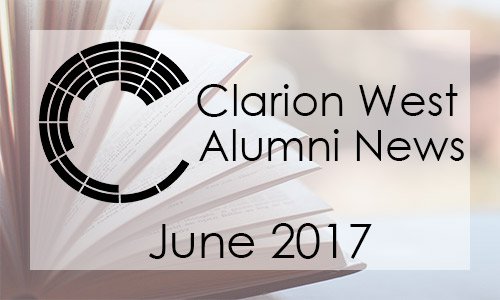 Welcome to the June edition of the Clarion West Alumni News! The Summer Workshop is about to begin, and Clarion West's staff and volunteers are all working hard to prepare for the workshop and students. If you would like to help keep the Class of 2017 fueled and caffeinated, visit our Amazon wish list. Everything purchased from the list goes to stock the house.
You can also be a part of the workshop this summer by joining or supporting the Clarion West Write-a-thon! The Write-a-thon is a great chance to get some extra writing motivation this summer while supporting Clarion West. Visit the Write-a-thon page for more information and to register.
Awards
Andrea Hairston's (CW '99) novel Will Do Magic for Small Change is a finalist for the 29th Annual Lambda Literary Awards for LGBTQ speculative fiction.
David Levine's (CW '00) first novel, Arabella of Mars, won the 2016 Andre Norton Award. It has been shortlisted for the Compton Crook Award and the Oregon Book Award, and it appeared on the Locus Recommended Reading List. It will be reissued in mass market paperback on May 30, and the sequel, Arabella and the Battle of Venus, will be released in hardcover on July 18. His story, "Wavefronts of History and Memory," is a nominee for 100 Year Starship's Canopus Award.
Carolyn Ives Gilman (CW '89) and Dominica Phetteplace (CW '07) are both finalists for the Theodore Sturgeon Memorial Award.
The 2017 Locus Award finalist list is out, and includes several Clarion West alumni:
In Science Fiction Novel: Daniel Abraham (as half of James S. A. Corey) (CW '98), for Babylon's Ashes
In First Novel: Curtis Chen (CW '14), for Waypoint Kangaroo
In First Novel: David D. Levine (CW '00), for Arabella of Mars
In First Novel: Nisi Shawl (CW '92), for Everfair
In Novella: Kij Johnson (CW '87), for "The Dream-Quest of Vellitt Boe"
In Non-Fiction: Kameron Hurley (CW '00), for The Geek Feminist Revolution
The Shirley Jackson Awards finalist list has two alumni on it: Kij Johnson (CW '87) for her novella, "The Dream-Quest of Vellitt Boe," and Indrapramit Das (CW '12) for his novelette, "Breaking Water."
Shannon Fay (CW '14) has been nominated for an Eisner Award (in the Best U.S. Edition of International Material—Asia category) for orange: The Complete Collection, vols. 1–2 (by Ichigo Takano, translated by Amber Tamosaitis, adaptation by Shannon Fay, published by Seven Seas).
The longlist of nominations for the 2017 Sunburst Award for Excellence In Canadian Literature of the Fantastic has been published, and includes several alumni:
Rich Larson (CW '14), for "All That Robot Shit"
Helen Marshall (CW '12), for "Caro in Carno"
Michael Matheson (CW '14), for "Until There is Only Hunger"
Rich Larson (CW '14) won the Asimov's Reader Award for his story "All That Robot Shit," and the 2017 Roswell Award for his story "Fifteen Minutes Hate."
Publications
Caroline M. Yoachim's (CW '06) story, "Carnival Nine," was published in May in Beneath Ceaseless Skies.
"A Heart, An Egg, A Lock of Hair" by Kelly M. Sandoval (CW '13) appeared in Daily Science Fiction in May.
Tod McCoy's (CW '10) poem "Sparking the Matter" appeared in the May/June edition of Asimov's.
Steve Miller (CW '73) and Sharon Lee's latest book, The Gathering Edge, was published in May by Baen. This is the twentieth book in their acclaimed Liaden Universe series.
Amy Sisson's (CW '00) novelette, "Places We Call Home," appeared in the May 2017 issue of Perihelion, in both online text and podcast format. She began writing this story at Clarion West in 2000, but the only thing that remains from that very rough draft is the opening paragraph and the main character's name. She also has two stories forthcoming: "Ménagerie in Motion" in Syntax & Salt, and "Jackpot Time" in Devilfish Review.
Mimi Mondal (CW '15) is a co-editor on Luminescent Threads: Connections to Octavia Butler. This book of essays, letters, and articles exploring and celebrating Butler's influence on speculative fiction includes work by Stephanie Burgis (CW '01), Christopher Caldwell (CW '07), Cat Rambo (CW '05), Nisi Shawl (CW '92), Jeremy Sim (CW '11), and Rachel Swirsky (CW '05).
The first chapter of Alex Kane's (CW '13) new book, Star Wars: Knights of the Old Republic (2018, Boss Fight Books) is now up at Glixel.
Maura McHugh (CW '06) has a midnight movie monograph, Twin Peaks: Fire Walk With Me, now available to pre-order from Electric Dreamhouse Press. She also has a story, "Colours," in the comic book anthology Outside. Her story was illustrated by John Riordan, and the anthology was edited by Amir Naaman and Doron Hamburger.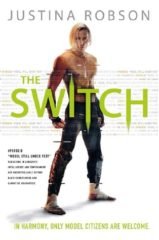 Justina Robson (CW '96) has a new book out: The Switch.
Eugene Myers' (CW '05) new book, 1985: STORI3S FROM SØS, was published in May and is available exclusively at Barnes and Noble. This book collects three original stories—"SOS," "DoubleThink," and "1985."
"Ravana's Children," by Ian Muneshwar (CW '14), was published in PodCastle in May.
Appearances
Steve Miller (CW '73) and Sharon Lee will be the Writing Guests of Honor at ConFluence in Pittsburgh, August 4-6, 2017. Steve will be giving a talk about writing workshops and why or why not an individual writer might want to attend.
Instructor news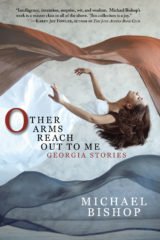 Michael Bishop, who has taught for Clarion West twice, has some new publications out. His story collection Other Arms Reach Out to Me: Georgia Stories, with an introduction by award-winning academic Hugh Ruppersburg, will appear in June from Fairwood Press/Kudzu Planet Productions. His novelette, "Gale Strange," will appear in the July/August issue of Asimov's Science Fiction, and his novel Transfigurations will appear in November 2017 from Fairwood Press/Kudzu Planet Productions, featuring an introduction by Joe Sanders.
Passings
Ama Patterson (CW '99), a SF writer and attorney, died on May 1, 2017. She was 56. Her obituary in Newsday includes quotes from her classmates Andrea Hairston (CW '99) and Sheree Renee Thomas (CW '99).
Her classmate Joe Sanders (CW '99) remembers her:
Here is the first thing that you need to know about Ama Patterson in the summer of 1999: she was much, much more talented than the rest of us. The technology she imagined was more original, believable, and frightening. The fear she embedded in the conflicts that her characters faced was both recognizable and unconventional, so we recognized as valid their fear and had no defenses in place against it, as we had never seen anything quite like it ourselves.
I can't speak for anyone else, but I can say that I only had to make my way a few lines into any new story that Ama turned in before I knew that what I was reading was better than anything I was going to write.
Here is the second thing that you need to know about Ama Patterson in the summer of 1999: she was such a wonderful, accepting, joyful person that you couldn't bring yourself to resent her for being so much more talented than you were. She read others' work with abandon, with the utter conviction that she was going to enjoy it. Had she been a competitive person, I could have resented her, but she believed in me, in all of us, with no reason to do so.
She was as talented as she was generous. Is there higher praise?
Trent Walters (CW '99) had this to say:
Ama was among the sweetest of us. Her laugh was memorable the trill, the cascade, the shaking shoulders. She and I shared a love of Casandra Wilson and wasted an afternoon listening to her smoky, bluesy voice. Ama's literary voice had its own charm that should have brought her at least minor acclaim, but her chosen genre favors the prolific, and she was anything but. Hopefully, a chapbook of her prose becomes available someday, so that others can be wowed and sense the awe that exploded in our brains when we first read her amazing sentences. We thought she'd take the genre by storm. But maybe she was too quiet, deferring her talents to others. Oh, Ama, we miss you.
---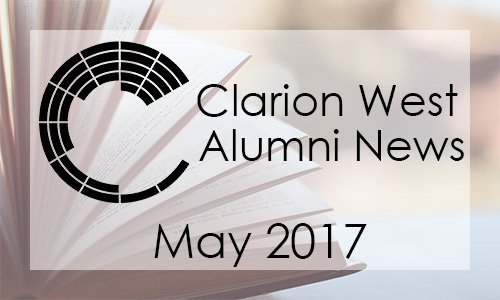 Welcome to the Clarion West May Alumni News! Here at Clarion West, we're getting ready for the Summer Workshop, putting all the details in place and anticipating meeting the students when they arrive next month. If you're in the Pacific Northwest, please join us for the Summer Reading Series, where you can meet our distinguished instructors and hear them read from new work.
The Clarion West Write-a-thon is coming, and whether you're a graduate, a supporter, or a friend of the workshop, we're inviting you to write alongside the students this summer. The Write-a-thon is our global community event and our major fundraiser, and we love seeing everyone's profiles and progress!
We also have some exciting announcements about the Write-a-thon coming soon, including some fantastic Tuckerizations from Ian McDonald. Stay tuned for more information.
Awards
Many congratulations to our alumni who are finalists for the Hugo and Campbell awards!
Best novella: Kij Johnson(CW '87) for "The Dream-Quest of Vellitt Boe"
Best novelette: Carolyn Ives Gilman (CW '89) for "Touring with the Alien"
Best related work: Kameron Hurley (CW '00) for The Geek Feminist Revolution
Best semi-prozine: GigaNotoSaurus, edited by Rashida Smith (CW '05)
Best series: James S.A. Corey, half of whom is Daniel Abraham (CW '98) for The Expanse. The Syfy show based on The Expanse is also a finalist for Best Dramatic Presentation for the episode "Leviathan Wakes."
Sheree Renée Thomas's (CW '99) novel, Sleeping Under the Tree of Life, was named on the 2016 James Tiptree, Jr. Award "Worthy" Long List.
Octavia Cade (CW '16) is a finalist for the 2017 Sir Julius Vogel Awards (New Zealand's fandom award) in two categories: for her novella, "The Convergence of Fairy Tales," and in fan writing for her columns on food and horror in The Book Smugglers.
Dominica Phetteplace (CW '07) was awarded a Steinbeck Fellowship from San José State University in April.
Publications
Sheree Renée Thomas's (CW '99) novelette, "Aunt Dissy's Policy Dream Book," was published in Apex in April. She was also interviewed by Andrea Johnson for the same issue, which was guest edited by Maurice Broaddus. In that issue you can also find a podcast that Sheree recorded, as well as a story by Walter Mosley.
Her short story, "The Dragon Can't Dance," was translated by Alejandra Guarinos Viñals into Spanish and published by 2709 Books in Afrofuturo(s), featuring a foreword by Carlos Bajo Erro.
Louise Marley (CW '93) has a story, "Relics: a fable," in the anthology Alternative Truths (B Cubed Press). The anthology is edited by Bob Brown and Irene Radford, and features tales of possible futures in post-election America.
Anathema: Spec from the Margins is a new triannual online magazine that launched in April.  Michael Matheson (CW '14) is the editor in chief, and Chinelo Onwualu (CW '14) is the non-fiction editor.  Their first issue features a new story by S. Qiouyi Lu (CW '16), "A Complex Filament of Light."
S. Qiouyi Lu's (CW '16) story, "An Abundance of Fish," appeared in Uncanny Magazine in April.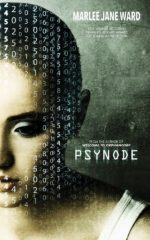 Marlee Jane Ward's (CW '14) second book, Psynode, was published in April by Seizure.
Uncanny Magazine's May issue includes several Clarion West alumni: "Read Before Use" by Chinelo Onwualu (CW '14), "Missive from a Woman in a Room in a City in a Country in a World Not Her Own," by Mimi Mondal (CW '15), and "What to expect from the Hadron Collider as a college roommate" by Betsy Aoki (CW '16).
Curtis Chen's (CW '14) second novel, Kangaroo Too, was given a starred review in Publisher's Weekly.
Michael Sebastian's (CW '15) article "The Weird in Music" was published in Gamut in April. Issue 4 of Gamut also includes work by S. Qiouyi Lu (CW '16).
An English translation of Lawrence Schimel's (CW '91) picture book Will You Read My Book With Me?, illustrated by Thiago Lopes, was published this month by Epigram Books in Singapore. He has also recently translated The Wild Book by Mexican author Juan Villoro. The novel will be published by Restless Books as the lead title of their new YA imprint, Yonder.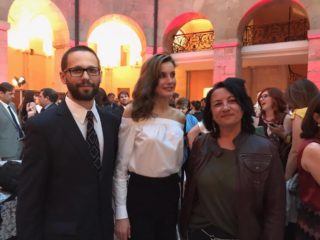 He also recently attended the Premios SM awards in Spain in April. The prizes are handed out every year by Her Majesty the Queen of Spain as part of her efforts to encourage and promote reading. Pictured (from left to right) are Lawrence, Queen Letizia of Spain, and Llanos Campos, author of The Treasure of Barracuda, which won the Barco de Vapor prize in 2014. Lawrence translated The Treasure of Barracuda into English for Little Pickle/Sourcebooks last year.
Issue 3 of Liminal Stories includes stories by two alumni: "Lares Familiares, 1981," by Rebecca Campbell (CW '15), and "The Falling Game," by Ian Muneshwar (CW '14)
Sandra Odell's (CW '10) story, "In His Armor Clad," was published in Pantheon Magazine.
The Librarians and The Mother Goose Chase, by Greg Cox (CW '84), a novel based on the television show The Librarians, was published in April by Tor Books.
"And In That Sheltered Sea, A Colossus," by Michael Matheson (CW '14), was published in April in Shimmer.
Christopher Caldwell (CW '07) has a story out in Fiyah: "The Beekeeper's Garden."
Caroline Yoachim's (CW '06) flash story, "Shadow Station," was published in Nature in April.
Susan Palwick (CW '85) has a new story out in Lightspeed: "Remote Presence."
Amy Wolf's (CW '92) novel, A School for Dragons, was published in April by Red Empress Publishing.
Meetups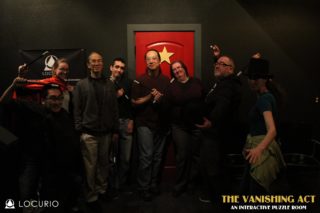 Curtis Chen (CW '14) met up with two of his Clarion West instructors in April.  He convinced Ian McDonald to join him and his wife for the Locurio puzzle room in Seattle. Their team solved the puzzle room and posed for a triumphant picture afterwards.  He also met up with Charlie Jane Anders, the other American author invited to the first Melon HK conference in Hong Kong. Curtis reports that they had a fascinating time at the cross-disciplinary, international event in one of the most futuristic cities in the world.
Left to right: Yang-Yang Wang (CW '14), Casey Blair, Ted Chiang, Raffi, Curtis Chen, DeeAnn Sole, Ian McDonald, Meg Rebecca Sinoff (CW '06).
---
Looking for news from past months? You can find it at the Alumni News Archive.