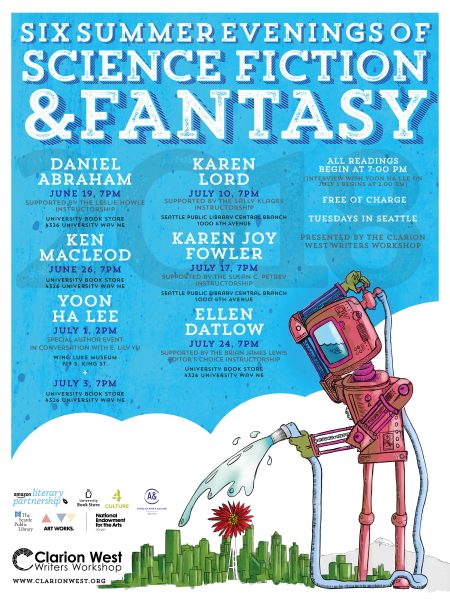 For each of the six weeks of its summer workshop, Clarion West presents an evening featuring that week's instructor reading their best new work which could include selections from recently published books, unpublished stories, or novels in progress. The featured reader also answers questions about writing, teaching, editing, and other topics.
Join Clarion West in 2018 for programs on Tuesday evenings starting at 7:00 p.m. at the University Book Store, 4326 University Way NE in Seattle (unless otherwise specified).
June 19: Daniel Abraham
Daniel Abraham writes as the James half of James SA Corey (The Expanse series), MLN Hanover (The Black Sun's Daughter series), and his own name (The Long Price Quartet, The Dagger and the Coin series, etc.) for a total of twenty-four books and over thirty short stories, novelettes, and novellas. He has also adapted the works of George RR Martin as graphic novels (Skin Trade, Fevre Dream, A Game of Thrones) and written a six-issue comic book in the Wild Cards universe (The Hard Call). He has been nominated for the Nebula, Hugo and World Fantasy awards, and won the Locus and International Horror Guild awards. He is a writer and co-executive producer on the Expanse television series.
June 26: Ken MacLeod
Ken MacLeod was born in Stornoway, Isle of Lewis, Scotland and lives in West Lothian. He has Honours and Masters degrees in biological subjects and worked in IT. He is the author of sixteen novels, from The Star Fraction (1995) to The Corporation Wars: Insurgence (Orbit, 2016) as well as many articles and short stories. His novels and stories have received three BSFA awards and three Prometheus Awards, and several have been short-listed for the Clarke and Hugo Awards.
July 1 Author Interview: Yoon Ha Lee
Clarion West is partnering with the Wing Luke Museum to bring this special author interview on Sunday, July 1st at 2pm. The interview is free and open to the public and will be held at the Wing Luke Museum downtown located at 719 South King Street. Meet science fiction and fantasy author Yoon Ha Lee, best known for his space opera series, "Machineries of Empire," and his short fiction. Also a poet and interactive game author, Lee will be interviewed about his craft and life philosophies by local author E. Lily Yu, winner of the 2012 John W. Campbell Award for Best New Writer and the 2017 Gar LaSalle StoryTeller Award.
July 3: Yoon Ha Lee
Yoon Ha Lee's first novel Ninefox Gambit, published in 2016, was shortlisted for the Nebula, Hugo, and Clarke awards, and its sequel, Raven Stratagem, came out in June 2017. His piece "Effigy Nights" was a 2014 finalist for the World Fantasy Award for best short story. He lives in Louisiana with his family and an extremely lazy cat, and has not yet been eaten by gators.
July 10: Karen Lord
7pm at the Seattle Public Library Central Branch, 1000 4th Ave.
Barbadian author and research consultant Karen Lord is known for her debut novel Redemption in Indigo, which won the 2008 Frank Collymore Literary Award, the 2010 Carl Brandon Parallax Award, the 2011 William L. Crawford Award, the 2011 Mythopoeic Fantasy Award for Adult Literature and the 2012 Kitschies Golden Tentacle (Best Debut), and was nominated for the 2011 World Fantasy Award for Best Novel. She is the author of the science fiction duology The Best of All Possible Worlds and The Galaxy Game, and the editor of the anthology New Worlds, Old Ways: Speculative Tales from the Caribbean.

July 17: Karen Joy Fowler
7pm at the Seattle Public Library Central Branch, 1000 4th Ave.
Karen Joy Fowler is the author of six novels and three short story collections. She has written literary, contemporary, historical, and science fiction, and won two Nebulas and two World Fantasy Awards. Her most recent novel, We are all completely beside ourselves, won the 2013 PEN/Faulkner award and the California Book Award, and was shortlisted for the Man Booker in 2014. She lives in Santa Cruz, California where she is currently pretending to write a new book.
July 24: Ellen Datlow
Ellen Datlow has been editing science fiction, fantasy, and horror short fiction for over thirty-five years as fiction editor of OMNI Magazine and editor of Event Horizon and SCIFICTION. She currently acquires short fiction for Tor.com. In addition, she has edited more than ninety science fiction, fantasy, and horror anthologies. She has won multiple World Fantasy Awards, Locus Awards, Hugo Awards, Stoker Awards, International Horror Guild Awards, Shirley Jackson Awards, and the 2012 Il Posto Nero Black Spot Award for Excellence as Best Foreign Editor.
The University Book Store is an accessible space with elevator access to the upstairs reading space, and chairs that can be moved to accommodate wheelchairs and other mobility aids. If you have questions about the accessibility of these events, please contact communications@clarionwest.org.
The Clarion West Summer Reading Series is sponsored by Amazon.com, the National Endowment for the Arts, King County 4Culture, Seattle Office of Arts & Culture, the University Book Store and the Seattle Public Library.
The 2018 Clarion West Write-a-thon has been sponsored by Bill Speidel's Underground Tour, Third Place Books, and Brick & Mortar Books.
In addition to the Clarion West Summer Reading Series, every year the University Book Store hosts dozens of other readings of interest to fans of speculative fiction. Check out their events calendar for further information.