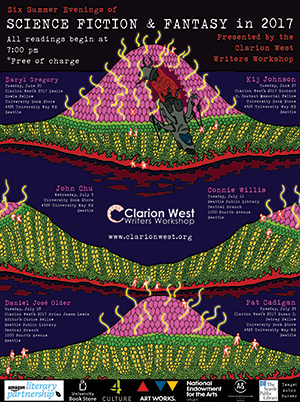 For each of the six weeks of its summer workshop, Clarion West presents an evening featuring that week's instructor reading their best new work which could include selections from recently published books, unpublished stories, or novels in progress. The featured reader also answers questions about writing, teaching, editing, and other topics.
Join Clarion West in 2017 for programs on Tuesday evenings starting at 7:00 p.m. at the University Book Store, 4326 University Way NE in Seattle (unless otherwise specified).
Note: Because The University Book Store is closed on July 4, John Chu's reading will be at 7:00 p.m. on Wednesday, July 5, 2017.
June 20: Daryl Gregory
Daryl Gregory writes genre-mixing novels, stories, and comics. His next novel, Spoonbenders, will be published by Knopf. Recent work includes the novel Harrison Squared and the novella We Are All Completely Fine, which won the World Fantasy and Shirley Jackson awards, and was a finalist for the Nebula, Sturgeon, and Locus awards. His novels include Afterparty, Raising Stony Mayhall, The Devil's Alphabet, and the Crawford-Award-winning Pandemonium. Many of his short stories are collected in Unpossible and Other Stories.

June 27: Kij Johnson
Kij Johnson has won Hugo, Nebula, World Fantasy, and Sturgeon Awards for her enticing yet disturbing novels and stories. A 1987 Clarion West graduate, she is Associate Director of the Center for the Study of Science Fiction at University of Kansas, where she also teaches creative writing and leads an intensive novel-writing seminar. Her knowledge of how technique supports art is unsurpassed.
July 5: John Chu
John Chu is a microprocessor architect by day, a writer, translator, and podcast narrator by night. His fiction and translations have appeared or are forthcoming at Boston Review, Uncanny, Asimov's Science Fiction, Clarkesworld, The Big Book of SF, and Tor.com, among other venues. His story "The Water That Falls on You from Nowhere" won the 2014 Hugo Award for Best Short Story.
July 11: Connie Willis – at the Seattle Public Library Central Branch, 1000 4th Ave
Connie Willis is an internationally-known science fiction author and the winner of an unprecedented total of eleven Hugo Awards and seven Nebula Awards. She is the first author to have ever won both awards in all four fiction categories. She has also won numerous Locus Awards and was named by Locus as Best Science Fiction Author of the Nineties. Willis is the author of Doomsday Book and many other acclaimed novels, but she is probably most famous for her short stories, including "Fire Watch," "Even the Queen," and "The Last of the Winnebagos." Her novel Crosstalk will be published in October 2016.

July 18: Daniel José Older with musician Gabriel Teodros – at the Seattle Public Library Central Branch, 1000 4th Ave
Music begins at 6, reading begins at 7
Daniel José Older is the bestselling author of the Bone Street Rumba urban fantasy series and the novel Shadowshaper, which was shortlisted for the Kirkus Prize, the Andre Norton Award, the Locus, the Mythopoeic Award, the International Latino Book Award, and named one of Esquire's 80 Books Every Person Should Read. He co-edited the Locus and World Fantasy nominated anthology Long Hidden: Speculative Fiction from the Margins of History. Daniel has guest edited at Fireside Fiction, Catapult, Crossed Genres, and Fantasy Magazine, and served as a judge for the Scholastic Art and Writing Awards, the Burt Award for Young Adult Caribbean Literature, and the PEN American Award.
Local musician and Clarion West '16 alumnus Gabriel Teodros will play music before Daniel Jose Older's reading at 7. Get to SPL early and cool off with some fantastic tunes!
July 25: Pat Cadigan
Pat Cadigan sold her first professional science fiction story in 1980 and became a full-time writer in 1987. She is the author of fifteen books, including the two Arthur C. Clarke Award-winning novels Synners and Fools. She has also won the Locus Award three times, and won the Hugo Award for her novelette, "The Girl-Thing Who Went Out For Sushi," which also won the Seiun Award in Japan. Cadigan has been a speaker at universities, literary festivals, and cultural gatherings around the world.
The University Book Store is an accessible space with elevator access to the upstairs reading space, and chairs that can be moved to accommodate wheelchairs and other mobility aids. The Seattle Public Library Central Branch is also an accessible space. If you have questions about the accessibility of these events, please contact communications@clarionwest.org.
The Clarion West Summer Reading Series is sponsored by Amazon.com, the National Endowment for the Arts, King County 4Culture, Seattle Office of Arts & Culture, the University Book Store and the Seattle Public Library.
In addition to the Clarion West Summer Reading Series, every year the University Book Store hosts dozens of other readings of interest to fans of speculative fiction. Check out their events calendar for further information.