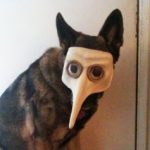 About Me
| | |
| --- | --- |
| Display Name | Adam R. Shannon |
| Twitter Handle | @adamrshannon |
| Website | adamrshannon.com |
What I Write
Writing Sample

From "Sparrowmind" – unpublished short story

"We don't often fly in rain," the sparrow said.

I sat in the paved back yard under a burnished sky. The sparrow perched on the edge of a wooden planter box choked with dried stems. "It's not raining," I pointed out.

"Not yet. Soon."

I imagined the droplets clinging to its wingtips, clouding the oildrop eyes. "You don't like how it feels?" I asked.

"We love it," the sparrow replied. "We love it too much. We know it's wrong, but we love the feeling of the air between the droplets. It leads us up to a place where the wind is sharp and thin, and we are torn apart in ecstasy."

"You've never done this?" I asked.

"Never," it answered. "But I will, someday."

"Then how do you know what you'll feel? Maybe it'll hurt, and you're just imagining that you'll like it."

The sparrow shook its feathers into a loose mane. "We wait our entire lives to ascend," it said. "Ecstasy is the end of waiting."

What I Write

I'm a proud and enthusiastic member of the Clarion West class of 2017. I heart Team Eclipse.

I write a broad range of speculative fiction, from near-future science fiction to stuff that probably would best be classified as weird.

Publications

"On the Day you Spend Forever With Your Dog" (Apex, December 2018) appeared in Best American Science Fiction and Fantasy and was Sturgeon Award finalist. Upcoming work in Nightmare and the anthology Glitter + Ashes.
My Write-a-thon Goals
Writing Goals

I'm working on a novel, and during the write-a-thon I'm going to be working like crazy on that novel.

By the end of week 1, though, I need to revise and resubmit a story to an editor who has taken an interest in it.

Fundraising Goals

Clarion West was a life-changing experience for me. I was so fortunate to be able to attend that I want to do my part and give back.

Stay tuned for some incentives I can offer to donors.