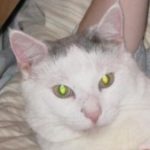 active 3 months, 4 weeks ago
Change Display Name
| | |
| --- | --- |
| Display Name | Adele Gardner |
About Me
Writing Sample

Excerpt from "Lake Heart" by Adele Gardner, published in Deep Magic, Dec. 2016, https://www.amazon.com/Deep-Magic-December-Jeff-Wheeler-ebook/dp/B01LX0D3E5/

The boat circled faster, riding the edge of the whirlpool.  Yancy clung to the dragon kite.  She could feel his fright even as he pumped for purchase with those fragile wings.  The kite piped, I'll save you, Mistress!  Amid the sleet, the kite dove in and pecked the monster with his flapping beak.

The whirlwind moaned.  The waterspout slammed the boat.  As the vessel caved, Yancy dove beneath the waves.  Distorted by water, she heard her dragon box screaming in agony as the monster ripped it to shreds.

What I Write

I write in/for a wide variety of genres, formats, & age levels.  Fantasy & science fiction, literary, mystery, poetry & short stories, children's, & more.

Website
Publications

Cat-loving cataloging librarian Adele Gardner (http://www.gardnercastle.com) has a poetry collection (Dreaming of Days in Astophel) as well as 281 poems and stories published in venues such as Pedestal Magazine, Daily Science Fiction, Legends of the Pendragon, NewMyths.com, Strange Horizons, James Gunn's Ad Astra, and more. Gardner is a two-time third-place winner in SFPA's Rhysling Awards and a third-place winner in the Balticon Poetry Contest of the Baltimore Science Fiction Society. Adele lives and writes under her middle name to honor her father, mentor, and namesake, Delbert R. Gardner, for whom she serves as literary executor.
Write-a-thon Goals
Writing Goals

Update 7/22: I've completed a flash piece just the right length for the CW call!  And submitted it!  Also still plugging away on other writing goals, including my novel.

————

Update 7/6: I've completed three new flash pieces, but all are too long for the CW call.  I am reverting to working on two novels–one fantasy, one mystery–but will return to the project. Meanwhile I'm happy to report I've been keeping up with my ongoing goal of 17 and 1/2 hours of creative writing a week.

——————

Update 7/2: I have been working on a variety of flash fiction stories for the CW alumni challenge, which has slowed my novel progress but sure is fun.  Thus far I've completed three new flash stories that I like, but none are yet short enough for the CW call.

———————

Dear Sponsors!  Thank you so much!  I'm so excited that you've chosen me!  Please pardon my silence if I haven't yet responded.  I don't have the internet at home, and am probably scribbling away in a notebook right now, surrounded by cats or flowers.  Talk to you soon!  P.S.  My goals this year are simple: to continue to make progress on any of the many book projects in which I'm currently engaged.  I will finish at least one book by the end of 2018.