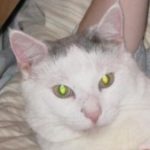 Active 8 months, 1 week ago
About Me
| | |
| --- | --- |
| Display Name | Adele Gardner |
| Website | |
What I Write
Writing Sample

Excerpt from "Lake Heart" by Adele Gardner, published in Deep Magic, Dec. 2016, https://www.amazon.com/Deep-Magic-December-Jeff-Wheeler-ebook/dp/B01LX0D3E5/

The boat circled faster, riding the edge of the whirlpool.  Yancy clung to the dragon kite.  She could feel his fright even as he pumped for purchase with those fragile wings.  The kite piped, I'll save you, Mistress!  Amid the sleet, the kite dove in and pecked the monster with his flapping beak.

The whirlwind moaned.  The waterspout slammed the boat.  As the vessel caved, Yancy dove beneath the waves.  Distorted by water, she heard her dragon box screaming in agony as the monster ripped it to shreds.

What I Write

I write in/for a wide variety of genres, formats, & age levels.  Fantasy & science fiction, literary, mystery, poetry & short stories, children's, & more.

Publications

Cat-loving cataloging librarian Adele Gardner (http://www.gardnercastle.com) has a poetry collection (Dreaming of Days in Astophel) as well as over 400 poems, stories, illustrations, and essays published in venues such as Pedestal Magazine, Daily Science Fiction, Legends of the Pendragon, NewMyths.com, Strange Horizons, James Gunn's Ad Astra, and more. Gardner is a two-time third-place winner in SFPA's Rhysling Awards and a third-place winner in the Balticon Poetry Contest of the Baltimore Science Fiction Society. Adele lives and writes under her middle name to honor her father, mentor, and namesake, Delbert R. Gardner, for whom she serves as literary executor.
My Write-a-thon Goals
| | |
| --- | --- |
| Writing Goals | Wildly creative: I'm setting myself free to work toward completing several book projects at various age levels; some of this work is writing, some illustrations. Grand total of 21 hours a week! This is a tough goal to meet, since I am working full-time outside the house. |
| Fundraising Goals | Be safe, be well, and enjoy your lives! |