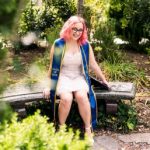 Active 8 months, 3 weeks ago
About Me
| | |
| --- | --- |
| Display Name | Lauren Ring |
| Twitter Handle | @ringwrites |
What's New
| | |
| --- | --- |
| My Progress | Coming into the final week! I've finished six flash pieces between 800-1500 words, two longer short stories between 3000-5000 words, and a chapter and a half of my novel. This has been an amazing experience and if you've been thinking about supporting Clarion West, now is the time! |
What I Write
Writing Sample

What I Write

Quiet speculative fiction, fabulism, and sci-fi with a focus on the human element. I tend to write about lesbians, summer heat, silence, and perspective.

Publications

"Heart of Gold" – Pseudopod, 2020

Forthcoming short fiction in Helios Quarterly and in Glitter + Ashes from Neon Hemlock Press.
My Write-a-thon Goals
| | |
| --- | --- |
| Writing Goals | My goal is to write at least 250 words per day, whether on short fiction or on the second draft of my cosmic horror heist novel. |
| Fundraising Goals | Anything helps! |