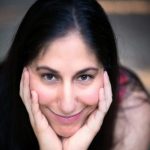 active 8 months, 4 weeks ago
About Me
| | |
| --- | --- |
| Display Name | A. T. Greenblatt |
| Twitter Handle | @AtGreenblatt |
| Website | |
What's New
My Progress

I finished the novelette! It's the roughest of rough drafts, but I'm not going to be staring at a blank page anymore when I revise.

Currently, I started revising a short story that I drafted a year ago when I was scared by the political situation of this country. Sadly, it's still just as relevant today.
What I Write
Writing Sample

    It was easy to tell that trouble arrived when the stranger in bright green shoes appeared at the town's dance. Especially because the dance was secret. Old and private. The dancers, the ironworkers and lumberjacks didn't appreciate an audience. It wasn't for outsiders to know that the same hard men and women who stared down steel eyed lynxes and solicitors alike with icy glares could move with freedom and grace, in time to the music. Sometimes when you give so much of yourself up for others, you fiercely guard the part you keep for yourself.

    I'm rushing ahead, already.

    Bast was the first to spot the stranger with green shoes. He wasn't particularly strong or good at staring down his enemies being the Stronggate's shoemaker. But he had a knack for spotting trouble. He saw her standing at the corner of the square, her bold shoes gleaming in the lamplight, and stopped still among the current of dancers. One by one the others noticed too and slowed, until someone turned down the music and all went still.

What I Write

Mostly short stories, almost always in the speculative fiction vein. I try to teach myself a new skill with every piece, so consequently I've become the queen of revisions.

" She has a knack for creating protagonists that readers can genuinely root for, and puts those characters into situations where finding the right path is not always easy or clear." – Caroline M. Yoachim from this interview

Publications

Stories published in 2019 are:

I also have stories forthcoming in Fireside and an essay in Disabled People Destroy Fantasy.
My Write-a-thon Goals
| | |
| --- | --- |
| Writing Goals | Finish the novelette I'm working on. Revise another short story. |
| Fundraising Goals | A recipe from me, catered to your tastes. |