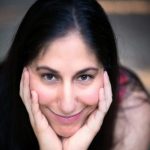 active 10 months, 1 week ago
About Me
| | |
| --- | --- |
| Display Name | A. T. Greenblatt |
| Twitter Handle | @AtGreenblatt |
| Website | |
What I Write
Writing Sample

Here's the opening from one of the stories I'm going to revise in the next few weeks:

The lakeside painter is lying, but no one seems to care.

It's a beautiful lie, even Elodie will admit that. There are two lovers on the pier with the painter, sitting for their portrait and she's honest about the way the light of the setting sun catches their hair, the way the breeze ripples their clothes, how they lean into each other. She gets so many details right that even Elodie doesn't notice what's missing at first.

The painter has left the lovers' faces blank. She's glossed over the tension in their shoulders. She's included the families in the distance, trying to have a carefree night by the lake, but she didn't include the long cracks in the ground.

Or the uprooted plants. Or the fallen lamp posts.


What I Write

Mostly short stories, almost always in the speculative fiction vein. I try to teach myself a new skill with every piece, so consequently I've become the queen of revisions.

" She has a knack for creating protagonists that readers can genuinely root for, and puts those characters into situations where finding the right path is not always easy or clear." – Caroline M. Yoachim from this interview

Publications

Stories published in 2018 are:

Graffiti Guardians – Mythic Delirium – Issue 4.4 – April 2018

And Yet– Uncanny Magazine – Issue 21 – March 2018

I also have stories forthcoming in Fireside, Disabled People Destroy SF, and Broad Knowledge: Women Up to No Good. I have fiction featured in Beneath Ceaseless Skies, Strange Horizons, Flash Fiction Online, as well as other fine magazines.
My Write-a-thon Goals
Writing Goals

I have two short stories that badly need revision and a new novelette to write.

Fundraising Goals

$1-$25: A post card from me, full of thanks.

$25-$99: A picture of my puppy modeling your book/magazine or wearing some silly costume props.

$100 or more: A beta read of up to 6k words or a list of 10 books I recommend based on your tastes.