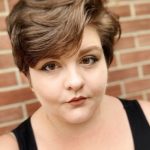 About Me
| | |
| --- | --- |
| Display Name | Sarah Boudreau |
| Twitter Handle | alesserwriter |
What I Write
What I Write

I write fabulist short stories that examine loneliness, isolation, and the domestic. Right now, I'm working on a novel about a mother and her two daughters who live in a luxury mixed-use development with a strange, magical underbelly.

Publications

Up the Neck (2017)  –  Profane Journal – Finalist for the Stony Brook Short Fiction Prize

The Birdhunter (2017) – fiction – Little Fiction – Finalist for The Best of the Net 2018 – Nominated for a Pushcart Prize

Edge People (2017) – nonfiction – Columbia Journal

Spacewalk (2018) – nonfiction – Big Truths

The Drive South (2018) – fiction – Longleaf Review – Longform Fiction's Pick of the Week (April 2018)

Victoria Park Found Dead at 45 (2018) collaborative new media piece – shortlisted for the New Media Student Writing Prize – will be archived by the British Library as part of their Emerging Formats project

"Astrocetology" (2020) Hunnybee Lit, reprinted in fresh.ink

I am also the producer and co-founder of MFAngle, a podcast about the MFA experience. This project is sponsored by VT Publishing.
My Write-a-thon Goals
| | |
| --- | --- |
| Writing Goals | I'd like to create 20,000 words of readable, I-could-show-this-to-other-people-without-embarrassment prose. |