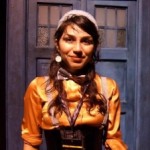 Active 4 years, 8 months ago
About Me
| | |
| --- | --- |
| Display Name | Allison Solano |
| Twitter Handle | |
| Website | |
What I Write
Writing Sample

I pinned David Ritter down on the waxed floor of Liberty High, shoving handful after handful of sand down his throat.
"Say it again!" I screamed, he opened his mouth, sea dust spilling out. Though muffled, I heard his words:
"Your sister is-"
I rammed my fist into the back on his skull. His eyelids fluttered as his pupils rolled back. With one hand, I opened his left eye with pinching fingers. With the other, I let sand fall onto his exposed iris from my open fist.
"I will pour into you," I whispered. "Until there is nothing left."
The principal grabbed me firmly by the shoulder.
"That's enough, Ms. Cadvil."

The principal made me empty my pocket in the schoolyard. She didn't understand the handfuls of sand that emerged, but she was sure it was a factor. I touched the wound on my head. I realized with disappointment, it didn't bleed. No matter. I could always pick at my scabs or make new cuts where blood would seep from me like seawater.
The sand was thirsty. I could not leave it wanting.

What I Write

I like to write weird things. Comics, TV,
films, anything as long as it's weird.

Current projects include:

"The Gas Station at the End of the Universe," an original TV pilot about a woman cursed to work at a gas station half at the end of the universe, half
in Bakersfield CA.

"My Brother's War," a short film about a teenage girl working through the death of her brother, an ISIS solider, by writing a comic book.

"Doc Yeti Fuck'son," a web comic about a Yeti PI.
My Write-a-thon Goals
Writing Goals

-rewrite TV pilot "Days of Night"
-edit "The Scars on Him"
-edit "Bitter Skin"
-submit at least three stories
-write 500 words a day

Fundraising Goals

Between $5 and a million. I like to keep my goals wide.