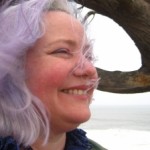 active 9 months, 4 weeks ago
About Me
Writing Sample

Dusty Pink Ribbons

"How many ballet shoes do you have?"  Bluejay holds up a bouquet of frayed satin, goes down on one knee as though proposing. The bouquet is bound at the shanks by pink ribbons much stronger than they look. Elastics bob and droop around Jay's fingers like grey-tinged leaves.

Claire used to have a poster hanging on the back of her door, of a dancer en pointe balancing atop an egg. Impossible feat, a trick of photography, but Claire hadn't known that growing up. All she saw was a challenge to balance her weight on egg and toe, to achieve the impossible.

She flexes a bare foot against the floorboards, pushing up through the ball to demi-pointe. The muscles in her arch bunch. She could do it even now. Balance on toe. On egg. Without shoes.

She could do the impossible.

Jay swings the bundle around by the ribbons like a flail. From satin bouquet to weapon. In The Nutcracker, Marie killed the Rat King with a slipper. Most people forget that the sugar-spun fairy tale begins with a death, like most fairy tales do. "So, pack, sell, or trash?"

The shoes are worn to uselessness, the boxes soft and shanks broken. "Trash. No. Wait." Claire draws out a single shoe, tugging the tangled ribbons free of the others. The shoe smells of dust and rosin. Time has erased the scents of sweat and blood. Memory has faded on what character she danced in the shoe. Marie, maybe, or Sugar Plum. It's a performance shoe, not practice. A shoe like this once killed a king. Fitting talisman for her current mission.

"Go ahead and toss the rest," she says, and chucks the pink slipper into her field kit. You follow the script, you dance the choreography just as you're told, and only the tyrants get their just desserts. For everyone else, it's sugarplum dreams and caviar wishes.

They never teach you that revolutions don't work that way.

What I Write

Alyc Helms fled her doctoral program in anthropology and folklore when she realized she preferred fiction to academic writing. She dabbles in corsetry and costuming, dances Scottish Highland and Irish Ceili at Renaissance and Dickens fairs, gets her dander up about social justice issues, and games in all forms of media. She sometimes refers to her work as "critical theory fanfic," which is a fancy way to say that she is obsessed with liminality, gender identity, and foxes. She's a freelance RPG writer for Green Ronin, a graduate of Clarion West 2012, and her short fiction has appeared in Beneath Ceaseless Skies, Daily Science Fiction, Crossed Genres, and Lady Churchill's Rosebud Wristlet. She has two published novels, The Dragons of Heaven and The Conclave of Shadow, with Angry Robot Books.

Website
Twitter Handle

@alychelms

Publications

The Conclave of Shadow, by Alyc Helms. Angry Robot, July 2016.

The Dragons of Heaven, by Alyc Helms. Angry Robot. June 2015.

"The Blood Carousel," by Alyc Helms. Lady Churchill's Rosebud Wristlet. June 2015.

"A Screech of Gulls," by Alyc Helms. Beneath Ceaseless Skies, #168. March 2015.

"A Song of Sixpence," by Alyc Helms. Crossed Genres. 6/1/2014.

"And The," by Alyc Helms. Daily Science Fiction. 11/4/2011.
Write-a-thon Goals
Writing Goals

I have been in revision limbo on my Italianate secondary world fantasy. My one and only goal is to get that finished and get it out to my agent. August 15 is my target date.

Here's the brief pitch:

Once, the port of Benechiaro was a city of light, a bastion of learning, and an opportunity for the daring to make their fortunes, but the Grande Courtesan of the sea has aged past her prime, and now politics and privilege rule the day. A young nobleman-in-exile stumbles into this viper's nest when he discovers a plot to pillage the city, but do the pirates act alone, or is the attack part of a larger conspiracy involving the city's own aristocracy? I blog about it in detail here.

"A Screech of Gulls," in Beneath Ceaseless Skies #168, is a short story about loss, memory, and small heroisms set in this world.

Fundraising Goals

I would like to secure at least 20 donors at $5 per donor, for a total of $100.

Funding Rewards:

I am terrible at updates. This I have realized. Therefore, I'm not promising updates. Instead, if you fund me then I'll include you in the acknowledgements whenever the book gets published, as a thanks for urging me toward the finish line.