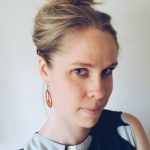 Active 10 months, 3 weeks ago
About Me
| | |
| --- | --- |
| Display Name | Ann Langley |
| Twitter Handle | alangleyyy |
What I Write
Writing Sample

They live in the town above the river, those girls do, beyond the rising waters. Haven is what the people call it, and it has sat there for a hundred years or perhaps two in that place between the crimson mud flats and the cracked ground, crouched on steel girders above land that shifts and changes. Haven's factories run day and night, spitting smoke into the air and oil onto the ground. It is a stinking, belching town, terrible in many ways and some say beautiful, too. In the evenings those girls sneak out and up, climbing Haven's stairs until they reach the terraces. They are sisters, and they like to look at the shape of the oil leaking across the land, scrawling long and black and winding into nothing…

What I Write

Speculative short stories, novels, and poetry inspired by gods and monsters.

About writing and life for Luna Station Quarterly.