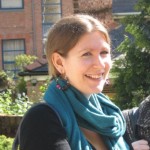 active 5 months, 1 week ago
About Me
Writing Sample

She was six when she first learned that her Grandma was the Great Detective, just after the bad time, after Grandma took her home from the hospital and gave her sweet mochi and said, 'It's just us now, Yumi-chan.'

Mayumi thought everyone's Grandmas could find the lost things, the things dropped on the way to school or hidden in the backs of wardrobes. She thought everyone's Grandmas constantly watched reruns of The Adventures of Sherlock Holmes from the BBC dubbed into Japanese and knocked on strangers' doors to return thin bands of gold or crumpled photographs. Sometimes Grandma made people happy, but sometimes they were sad, and Mayumi didn't understand why.

This was before she knew about the alien.

– 'The Great Detective', Strange Horizons, Sept 2014

What I Write

I write beginning of lots of things, but not enough endings.

Twitter Handle

@Sarah_L_Brooks

Publications

My fiction has appeared in Shimmer, Interzone, Unlikely Story, and Strange Horizons, under my pen name Sarah Brooks.
Write-a-thon Goals
| | |
| --- | --- |
| Writing Goals | My goal is to write twenty thousand words of the novel I have been planning for a very long time, but failing to write. |
| Fundraising Goals | Any donations to support Clarion West will be gratefully received. |