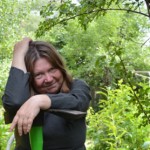 Active 2 years, 7 months ago
About Me
| | |
| --- | --- |
| Display Name | Blythe Woolston |
| Twitter Handle | |
| Website | |
What's New
My Progress

Progress is a unidirectional word. There may be declines, regressions, stasis.

July 12: Two weeks went !Poof  One thing happened: I asked for sponsors and actually got them. Writing-wise, I will be able to meet my own goals, which is to have the two stories "ready" enough I could have brought them to the table at CW, but life-wise? Sheesh. Things are hopping, and I'm really bad at whack-a-mole.

June 29: Progressaroo on the horse story. Not done, but you know, I carve every word out of mountain air. Nothing on poor Margaret. Three new poems for the Nancy & Gloria fiasco: Here's part …

There were complications in the meadows:

two pink calves died.
They must have cudded—
braken fern or death camas—or crawled into a patch
of ticks and been sucked weak.
The bones and teeth and bubbled-shut eyes
drowned in Little Blue Creek.

Whatever they might have brought
at auction
they were worth nothing now.

June 22: 10K+ index completed, but "partial circumcision by crow" was deleted during authorial review. Not brutally, with an apology. 241 words of Nancy & Gloria. Thought about poor Margaret. A horse named Annie died, euthanized after someone cut her tongue out.
What I Write
Writing Sample

Margaret Fuller's Ghost:

The Eternal Tragedy of Sarah Margaret Fuller, Marchioness Ossola
This is a verified history.

Her Captain died of smallpox off Gibralter. But the brig, Elizabeth, her sails limp, then chattering, kept on, covering all those nautical miles until the wind jammed her against the rocks off Fire Island.

Her cargo included a book, a baby, and the best-read mind on Earth.

What I Write

indexes for other writer's books, mostly

things that pass for novels in certain lights and circumstances

Publications

"Agapostemon" Reckoning 1, 2017
"The Bone Dowsers" Sandstone, 2016
MARTians Candlewick, 2015
"The Second" in VIOLENT ENDS Simon Pulse 2015
Black Helicopters Candlewick 2013
Catch & Release Carolrhoda Lab 2012
The Freak Observer Carolrhoda Lab 2010
My Write-a-thon Goals
Writing Goals

• finish a story about a murderous quarter horse

•finish a thing about Margaret Fuller's ghost I started at Clarion 2012. I poked it today, and IT LIVES! Anywho, the writing sample is the first lines of it.

Fundraising Goals

I'd like at least five supporters to give $5 to Clarion. I will send you either the Margaret or the horse story to you on July 28th, the day the write-a-thon ends.