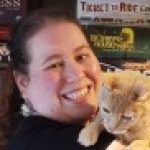 Active 9 months, 3 weeks ago
About Me
| | |
| --- | --- |
| Display Name | Gabi |
| Twitter Handle | @brandyssea |
| Website | |
What I Write
Writing Sample

Chapter One

            I was eighteen when my brother, King Lukas, gave me the best news of my life: I was going home.  For the past six years, my brother, his wife, their two boys, a ghost court, and I had been living in exile in the mountainous kingdom of Ahsana.  While I had grown accustomed to the land-locked castles and valleys of my sister-in-law's homeland, I missed the glittering seas and unfettered prairies of my childhood.  I couldn't believe I was finally getting to return to the realm of my golden memories.

            Lukas summoned me while I was at practice in an old-fashioned banquet hall, complete with minstrels' balcony and deep-set windows.  Outside the windows, made of the sensible, plain glass found in every alcove in that palace, the fading sunlight was tinted green by the canopy of trees encircling the royal grounds.  I had closed my eyes against the nauseating color, fighting my hatred of this place.  I focused, instead, on my lesson.  My agility master, Richard, was teaching me how to drop from a height without making a sound. We'd been building up to this for the past two weeks, with him teaching me about dropping straight from any height, how to roll when I landed on my ankle, so I didn't break it, and how to spring back up as if I'd never dropped at all. I had finally figured out that the trick was to dangle from just my fingertips before dropping, when we were interrupted.  The messenger was a small boy, maybe seven, and I knew him well.  He had dark hair, like his mother had, and eyes as brown as the decaying wood we used in our fireplaces.  He was dressed in my brother's livery, or as close a likeness as we had cobbled together, while hiding here, far from our homeland.  He was the son of a serving woman I had left behind in Sorcha.  She had become quite the skilled spy for us and, in return, I had maintained his safety and education.

What I Write

I write about strong females who are thrust into a world for which they think they're prepared, and then they're not.  I like to write fantasy and science fiction and I enjoy reimaging favorite tales, such as fairy tales and classics like The Secret Garden.  I also enjoy noir and poetry.  I've been working on a trilogy of novels since 2016.

Publications

I have had one short story published in Baker University's Watershed Literary Magazine: Needles; A Re-telling of Sleeping Beauty.  I have also won Poetry.com's Writer of the Month for two consecutive months in 2006.
My Write-a-thon Goals
| | |
| --- | --- |
| Writing Goals | My goal is to use this opportunity to return to writing and to find a way to write through writer's block and through general plot-blocks within a story.  I hope to learn how to end a book in a satisfying way. |