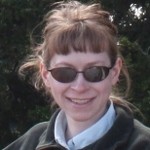 active 11 months, 1 week ago
Change Display Name
| | |
| --- | --- |
| Display Name | Brenta Blevins |
About Me
Writing Sample

"My swollen heels already throbbed when my T-shirt flickered, erasing its frenetic neon Shinjuku-shopping-district-meets-Vegas-casino scheme. It reverted to the agency's monotone corporate logo. I tapped the diagnostics seam and got 'SEARCHING FOR CONNECTION.'
…
My shirt fell blank, as gray as an empty slate. Not even a 'YOUR AD HERE.'
…..Of course this was Monday."

"Strategies for Optimizing Your Mobile Advertising," Analog, June 2015 (1000th issue)

Twitter Handle

BrentaBlevins

Publications

My fiction has appeared in Analog, Daily Science Fiction, and ChiZine.
Write-a-thon Goals
Writing Goals

I will write revise and submit one piece/week.

Fundraising Goals

I gratefully accept donations of any amount to support Clarion West, a wonderful organization dedicated to helping writers.

If you donate $25 or more, I will Tuckerize you into a manuscript and will endeavor to let you know when this story is published (the wheels of publication grind slowly).