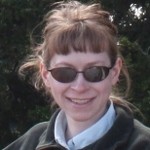 active 5 months, 1 week ago
Change Display Name
| | |
| --- | --- |
| Display Name | Brenta Blevins |
About Me
Writing Sample

"My swollen heels already throbbed when my T-shirt flickered, erasing its frenetic neon Shinjuku-shopping-district-meets-Vegas-casino scheme. It reverted to the agency's monotone corporate logo. I tapped the diagnostics seam and got 'SEARCHING FOR CONNECTION.'
…
My shirt fell blank, as gray as an empty slate. Not even a 'YOUR AD HERE.'
…..Of course this was Monday."

"Strategies for Optimizing Your Mobile Advertising," Analog, June 2015 (1000th issue)

What I Write

My writing trends toward considering the future: emerging technologies, augmented reality, communication, privacy, and how work will change as a result of these.

Twitter Handle

BrentaBlevins

Publications

My fiction has appeared in Analog, Daily Science Fiction, and ChiZine.
Write-a-thon Goals
Writing Goals

Week 1: Identify writing goals (writing, revision, submission). The best To Do Lists start with "Write To Do List."

Week 2-5: Work to complete those goals.

Week 6: Submit things still in need of submission after weeks 1-5.

Fundraising Goals

As a Clarion West '12 graduate, I gratefully accept donations of any amount to support Clarion West, a wonderful organization dedicated to helping writers.

If you donate $25 or more, I will Tuckerize you into a manuscript and will endeavor to let you know when this story is published (the wheels of publication grind slowly).

I may be offering some additional incentives.