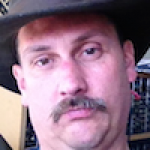 About Me
| | |
| --- | --- |
| Display Name | Brian McNett |
| Twitter Handle | bmcnett |
| Website | |
What's New
My Progress

I've hit the 14,000-word mark in my work-in-progress, which still may not be sufficient to meet my goal of 40,000 words by the end of the write-a-thon. I'm looking for forms of daily motivation and support to up my word-count.

In terms of sponsors, I'm not appearing to attract many, and need to up my game. Up my game even more? Yes.  I'm told I often need a push, and this is true. I often DO need someone to stand behind me and push. I'm made of matter, and hence have inertia and do not roll under my own power. What is this "walking" of which you speak?
What I Write
Writing Sample

"Are you ready to place your orders," Lieu Chao asked.
A voice from across the table said "Me and the boys will order as a group. That's Dizzy, Doc, Danny, Chu, Milt, and myself."

"Separate checks for the rest? Don't worry, Preston, you're meal is complimentary tonight. Paid in full." Lieu Chao beamed.
Cab Calloway and His Orchestra, leastwise the six members seated at the table, ordered a range of interesting noodle dishes on family plates with intent to share.
"You can do that?" Preston asked.
"Oh yes," Delrick answered, "It's one of the joys of this style of restaurant."
Nikola Tesla ordered next. His was a very large bowl of beef and rice noodle soup, said to be popular in Cochinchina. He had a lengthy, animated, informative discussion entirely in French, with Lieu Chao about cuts of beef, and whether the steak could be served on the side to be added to the hot broth later, and on the French influence upon Indochinese cuisine.
Mattie and Maddie ordered after Tesla. "Thai roasted crickets, please," said Mattie.
"BBQ Style," Maddie added, "With sweet Thai chili dipping sauce."
"Excellent choice my dears," Lieu Chao said.
"I didn't see that on the menu," Preston commented.

"Secret menus are a thing at joints like this one," Delrick replied, "Cognoscenti know the kitchen, and what they can do."
Sandra ordered next. "Lao Duck and Mushroom Larb with Omelette Noodles," She said.
"The… er.. 'Japchae' for me," said Clemens.
Baron Samedi sat up straight in his chair. "I will 'ab de Ultimate Shanghai 'ot Sauce Noodles, sir. The 'ottest your cooks can make. I wish to fry every single sensory organ tonight, and collapse my brain into an infinitesimal dot." He chuckled. "You only lib but once, no?"

What I Write

I write weirdness. Alchemically-summoned Paracelsian gnomes? Check. Voodoo Loa Vintage Hearses? Check. Nikola Tesla and Mark Twain touring the US in a Steampunk alternate past where Marie Leveau is the newly-elected mayor of New Orleans, and multiple zombie Abe Lincolns walk the streets of the French Quarter Chinatown? Check. Hypersentient capuchin monkeys who speak Portuguese? DAMN STRAIGHT THAT'S A CHECK. Time-traveling KKK vampires? Author-approved cameo by Harry Turtledove? Yup. Check.

Oh, and did I mention, this is not only silly but reasonably hard SF, with only one central "thing" not supported by physics?
My Write-a-thon Goals
| | |
| --- | --- |
| Writing Goals | Goals this year: NOVELLA! Write it. Polish it. Second draft. Off to a publisher. This year has been really weird, and you know what that means… |
| Fundraising Goals | Raise all the funds! See above… 40,o00 words. Please sponsor me all the sponsors. |