Brontë Christopher Wieland
---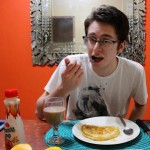 Active 4 years, 8 months ago
About Me
| | |
| --- | --- |
| Display Name | Brontë Christopher Wieland |
| Twitter Handle | @beezyal |
| Website | brontewriting.wordpress.com |
What I Write
Writing Sample

Me and Tycoon waited a minute or two to see if Gustavo's corpse would rise to drive us the rest of the way to school, but we knew he was too lazy and he hated us anyway, so we got off. No police had shown up yet.

The Man Beneath the Bus was still there. His howl had shrunk to a whimper and his pelvis had shrunk to the thickness of a dollar bill, but he was there. More there than Gustavo. Tycoon walked to the Man Under the Bus and just stood there biting his nails.

"What are you doing? Come on, let's go."

"I wanna see his guts spill out when they lift the bus." I hadn't thought of that.

"No, we have to get to school." If we didn't get to school on time, they'd call home.

(excerpt from "A Personal History Gathered during an Era of Buses, Bus Drivers, and Dead Abuelitos")

What I Write

I frequently write short stories using SF and magical realism to evoke the world I want to see. From my perspective, my writing doesn't have common, repeated themes, although I often find myself writing about fairytales, language, culture, and their intersections. I do venture outside SF as often as the story and voice dictate.

Publications

"Flat Nose, Empty Head" – http://www.hypertextmag.com/2015/04/14/flat-nose-empty-head/

"I Found Solace in a Great Moving Shadow" – http://www.flashfictiononline.com/main/article/i-found-solace-in-a-great-moving-shadow/

Various stories are forthcoming from the venues I've just submitted them to, I'm sure.
My Write-a-thon Goals
Writing Goals

My goals this summer are modest. I'll be traveling the entirety of the six weeks. I will write 10,000 words toward a novella or a series of related short stories.

Fundraising Goals

The majority of people who see this page are unlikely to be in a position to contribute greatly. I would love to earn $150 for the program this summer.

For every $30 raised, I'll post 500 words (in order) of the ongoing work. I'll update on Fridays.