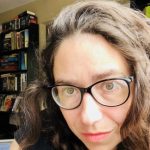 active 7 months, 2 weeks ago
Change Display Name
| | |
| --- | --- |
| Display Name | Rebecca Campbell |
About Me
Writing Sample

from "An Incomplete Catalogue of Miraculous Births, or, Secrets of the Uterus Abscondita" (Shimmer 41, January 2018)

New Mexico and the Trinity Test Site. In July, a young man climbs a hundred-foot ladder to where the Gadget, armed, awaits its early-morning detonation. He has been assigned babysitting duties in case of sabotage, though he is not sure what he is meant to do if anyone tries to approach his tower. The summer night seems to have arranged its own defense, anyway, and a storm blows in all thunder-struck, lightning-hatched. He spends the night alone, reading by the light of his TL-122-A, the dull yellow center of its beam illuminating half a page at a time, first one comic book then another, until—long before dawn—its narrow circle dims. After that it is only in sudden lightning strikes that he sees the whole page at once: the Human Torch, Captain America, Superman defeating fascists. All back-issues he'd picked up in the commissary.

Outside in the darkness and storm—so dark he cannot see the ground, only the wild and disordered air—the Gadget broods; it seems to him gravid and still, except when a high wind causes the whole tower to groan and sway and another handful of rain drenches the window, its drops caught in freeze-frame flash by lightning.

He is excruciatingly aware of the Gadget, and what lies within it, what chain reactions, what potential. It might be an entirely new world. Or an end to the old world. Or nothing at all, an empty egg, unviable despite their best intentions.

What I Write

I write short fiction that's kind of literary and kind of SF/F/H. I was surprised by the horror designation, actually, because I'm one of those jumpy people who gets scared by movies & stories. I have been told, though, that some of the stuff I write is unsettling.

I attended Clarion West in 2015.

Website

whereishere.ca

Twitter Handle

@canadianist

Publications

"An Incomplete Catalogue of Miraculous Births, or, Secrets of the Uterus Abscondita." Shimmer. 2018

"The Fall of the Mundaneum." Beneath Ceaseless Skies. 2017.

"On Highway 18." The Magazine of Fantasy and Science Fiction. 2017.

"Lares Familiares, 1981." Liminal Stories. 2017.

"The High Lonesome Frontier." Tor.com. 2016.

"I Just Think It Will Happen, Soon." Interfictions Online: A Journal of Interstitial Arts. 2015.

"Unearthly Landscape by a Lady." Beneath Ceaseless Skies. 2015.

"The Glad Hosts." Lackington's. 2015.

"Lilacs and Daffodils." Interzone. 2014.
Write-a-thon Goals
Writing Goals

2100 words a week of short fiction.

June 17 – 23: 2826 words
June 24 – 30: 2389 words
July 1 – 7: 2480