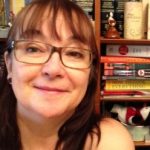 active 1 year, 1 month ago
About Me
| | |
| --- | --- |
| Display Name | Cat Girczyc |
| Twitter Handle | @Cat_WritesSFF |
| Website | |
What's New
| | |
| --- | --- |
| My Progress | I've spent a lot of my time writing short stories this year. I still have a novel to finish, and it's at 92,803 words at the moment, so I'm hoping to finish it!  I'm working on various short stories, too. |
What I Write
Writing Sample

A couple of hours later, after listening to her admittedly lame story, the Management sent Isidora home.
"People don't just evaporate in front of the fridge in an upscale downtown office tower with fabulous views!" said the CEO and President, Bobby, in a flash of bravado.
Isidora said, "I wish I was mistaken, but am fairly sure that Cooper and the Offshore guy are no longer there."
Eugenia in HR recommended Isidora phone the cheerful number on the message board for the EAP (Employee Assistance Program) and get connected to a mental health expert.  For one thing, there were no unaccounted for local Offshore guys. They were all home, asleep because they were still on Indian time and had done their stand-up via webex with their team at midnight and knocked off at 8 a.m. as per usual on the other side of the world.
Cooper was definitely not around, but Anton, his Russian Team Lead said that Cooper had been there and was probably out on an appointment, most likely visiting a recruiter because Cooper was a very ambitious guy and didn't know when he had it good.
Isidora said she really didn't think that to be true – besides what sort of a recruiter would snatch someone from the kitchen using a new and totally untested technology?
At this point, Anton and his group of Russian programmers all laughed and said that was impossible because they would know if there was such a technology – and it would have taken the smartest, definitely not Cooper! Then an argument broke out, thankfully in Russian, about who was the actually the smartest.  Isidora rolled her eyes a considered calling the cheerful EAP number.
Even Christopher, the nicest Team Lead couldn't help.  He did say that he'd call Yvonne, Cooper's wife and talk to her.  If Cooper really had disappeared, she needed to know when it happened.
Isidora didn't know what else to do, so she took Management's advice and went home early.  She took the bus and then walked to her house.  It was summer and the sky was blue and full of those wispy clouds that herald great weather.  Unfortunately, all Isidora could think about was the wisps of steam that smelled like burnt peppermint and what Yvonne would think when Cooper didn't return tonight.  Cause Isidora was pretty certain he'd been kidnapped.

What I Write

Cat Girczyc is a professional television writer with 15 produced TV scripts. Since a downturn in the local film industry turned this single mom into a full-time technical writer, she's pursued prose and poetry. In 2016, Polar Borealis Magazine published "The Cup". In 2017, two poems appeared in Tesseracts 20: Compostela. One of the poems was on the Aurora Award Ballot. Also in 2017, the Vancouver Sci-Fi Anthology published the story "Night Market" which is scheduled to reprint soon.
In 2018, Polar Borealis published the poems "Forgiveness" and "Dangerous Gods". In 2019, Polar Borealis #9 published the poem, "Law of Love", and issue #10 reprints "The Pleiades Cat".

Publications

See website for TV show credits. Also, search Catherine Girczyc on IMDB
Published poems & SF short stories in various magazines.
My Write-a-thon Goals
Writing Goals

Goal is to write between 2500 and 5000 words per week.  I need to finish my novel which is at 92800 words. I also have several short stories in the hopper that need to be finished and refined.

Fundraising Goals

Anyone who contributes will get naming rights to one character, good or evil, in my upcoming novel!

Hope to help the Clarion West organization with donations from my friends and contacts!