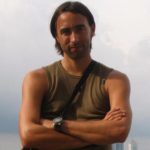 Active 3 years, 10 months ago
About Me
| | |
| --- | --- |
| Display Name | Christopher Reynaga |
| Twitter Handle | |
| Website | |
My Write-a-thon Goals
Writing Goals

I'm hard at work on the season finale of season 1, and the launch of season 2 of my podcast radio show Point Mystic. I'm also working on finishing my latest novel project.

Click here to subscribe to Point Mystic.

or visit: PointMystic.org

For news and updates, check out the twitter feed at: https://twitter.com/PointMystic

Fundraising Goals

Clarion West was the amazing experience that launched my career as a storyteller. Please give so that others that need help may have the same help achieving their dreams.