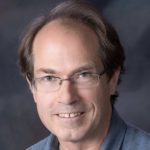 active 1 year, 1 month ago
About Me
| | |
| --- | --- |
| Display Name | Chris Willrich |
| Twitter Handle | @WillrichChris |
| Website | |
What's New
| | |
| --- | --- |
| My Progress | I have quite a bit done on the Gaunt and Bone novella, "Eyetooth," and I have a "draft 1/2" now that hits the major scenes but doesn't have everything fully developed. Also, I have a general idea on the "Shadowdrop" sequel and a working title, "A Manslaughter of Crows," but not much to report on that one yet. Thanks to my mighty donors for keeping me going! |
What I Write
| | |
| --- | --- |
| What I Write | I write fantasy, usually in a sword-and-sorcery style, and science fiction of various kinds. My most popular characters have been Persimmon Gaunt and Imago Bone, a pair of fantasy rogues whose adventures range from fighting homicidal mermaids, to confronting a nihilistic god at the edge of the world, to trying to settle down and raise a family. My most recent stories (not Gaunt and Bone) are "Shadowdrop" in Beneath Ceaseless Skies #261 and "Fragments from the Library of Cygnus X-1" in the July/August 2019 Asimov's. |
My Write-a-thon Goals
Writing Goals

I want to get a new Gaunt and Bone fantasy novella finished and submitted (for a free Gaunt and Bone story see http://www.lightspeedmagazine.com/fiction/the-mermaid-and-the-mortal-thing/) and also get a sequel drafted for my story "Shadowdrop" (see http://www.beneath-ceaseless-skies.com/stories/shadowdrop/)

Fundraising Goals

Any amount is welcome. Thanks for your support.

If you contribute to my writeathon campaign I want to Tuckerize your cat! (Or you, or with their permission some other human being.) Don't worry, Tuckerizing is painless. "Tuckerizing" is named for the writer Wilson Tucker, who often dropped cameos of real people into his work. On a first-come, first-served basis I will offer cameos for one story or the other, and since one of the stories will be very cat-centric, you might consider Tuckerizing a cat. In the setting of "Shadowdrop" black cats in the city of Archaeopolis have human-level intelligence and unusual powers, while other types of cats are basically just the everyday cats we know and love. I'm sure we can adapt the cat of your choice in a fun way, whether black cat or otherwise. If I run out of space to Tuckerize your chosen felines or people, I will make sure to work something into future projects.

Thanks!