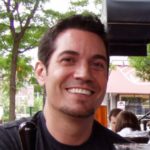 active 1 year, 3 months ago
Change Display Name
| | |
| --- | --- |
| Display Name | Clayton Kroh |
Updates
My Progress

I've been writing! That may not sound huge, but I've been suffering from some severe writing paralysis for a long time—so long that my creativity atrophied. I'm working on rehabilitating that creative muscle, and it's tough.

I traveled to the Iowa Summer Writing Festival this July for two workshops, one a weekend long and the other a week. I really needed the boost from associating with other writers and immersing myself in an extended writerly environment. I wrote during the time based on a variety of prompts. No complete stories, but bits and pieces of some that I may develop into full stories.

Now I'm back to focusing on meeting my 10,000 word goal for the write-a-thon. I'll meet it.
About Me
Writing Sample

How she'd made him suffer since, in the thousand sharp ways that are revealed to a wounded wife. She spoke no words when they rose from bed in the mornings, nor when they lay down at night; when he touched her with a gentle hand seeking to console, she turned to wood. Dishes, tins, and cups upbraided him when she slammed them on the dinner table, and on Sundays in church he sang his hymns alone. Louise's days became mechanical, and dual-purposed: one, to grind the clock hands from one day to the next with work and duties that she knew, and two, to mill her weak-willed husband into powder. Only during that hour each day at her baby girl's grave did her life briefly chime.

What I Write

Fantasy, science fiction, horror, and game content.

Website

claytonkroh.com

Twitter Handle

claytonkroh

Publications

"The Yankee at the Sitting-Up"
Weird Tales Magazine #347 | November-December 2007
Flash Fiction Online | March 2017 (Reprint)

"Baby Girl"
Penumbra, February 2013

"Emonberry Red"
Magic: The Gathering, DailyMTG.com, February 5, 2014

"Thank the Gods"
Magic: The Gathering, DailyMTG.com, April 30, 2014
Write-a-thon Goals
| | |
| --- | --- |
| Writing Goals | Write 10,000 words to rehabilitate creativity and re-establish productive writing habit. |