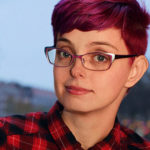 active 1 year, 4 months ago
Change Display Name
| | |
| --- | --- |
| Display Name | Corinne Duyvis |
Updates
My Progress

3 July: This week was a mix of writing new material, cannibalizing the old version for scenes to tweak and incorporate, and filling my notebook with thoughts on my protagonist's character arc, which I had to rethink three times this week. I finally have it, though. (I think.) (I hope.) Progress stalled a little bit because of that last part, but today I picked up where I left off, and I have some exciting scenes ahead, so I'm looking forward to seeing how much I get done this week.

26 June: The first week is over! After not touching the manuscript for well over a month, I slowly dipped my toes into the water again and got reacquainted with the story. I edited several chapters, finally reached the massive mid-book gap where I tore out 50k+ words, and wrote ~3000 words of new material. From this point on, I'm going to be writing almost exclusively new material for several weeks, so I'm trying to shift into rough-drafting mode. Stay tuned~
About Me
What I Write

SF/F novels, primarily YA.

Website
Twitter Handle

corinneduyvis

Publications

The occasional short story (published in venues such as Strange Horizons, the Defying Doomsday anthology from Twelfth Planet Press, and the upcoming Pilgrim Playwright Genie Guard anthology from FSG Books), as well as three novels:

Guardians of the Galaxy: Collect Them All (Marvel, 2017)

On the Edge of Gone (ABRAMS Books, 2016)

Otherbound (ABRAMS Books, 2014)
Write-a-thon Goals
Writing Goals

Make significant progress on editing my current WIP: A modern YA fantasy novel riffing off the Chosen One trope.

Specifically, I need to do a full rewrite of about 2/3rds of the book. At minimum, I'm hoping to finish drafting all this new material. At best, I hope to also finish smaller plot/character tweaks and line edits, getting the book ready for my critique partners.

We'll see how it goes!

Fundraising Goals

Raise at least $100.

Anyone who donates $25 or more gets a swag pack with bookmarks, bookplates, and miscellaneous fun stationery; anyone who donates $50 or more gets a novel query + first chapter critique.