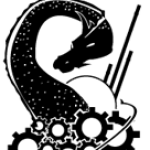 Active 4 years, 10 months ago
About Me
| | |
| --- | --- |
| Display Name | Steven Lugo |
| Twitter Handle | @LugoStev |
| Website | |
What I Write
Writing Sample

"I'm driven by something more powerful than instinct."

Surprised, perhaps amused, the ibis reared back. "And what is more powerful than that, insect?"

"A dream. A dream is more powerful."

"Why don't you tell me about your dream, and I'll determine if I shall eat you or not."

(From "Fables", 2014)

Publications

Fiction:

* "Out There It Will Be Different" Farspace 2, 2010
* "Rag-and-Bone Man" Kaleidotrope, 2011

Other:

* Local blogger, Worcester Telegram & Gazette, 2008
* Finalist in Mike Carey Writing Competition (RIP Murky Depths) 2010
* Various articles @ Comics For Heroes, 2013

* Blogger @ Ink's My Thing, 2014 – present.
My Write-a-thon Goals
| | |
| --- | --- |
| Writing Goals | Begin writing Timeless Kid, for real this time; keep blogging at Ink's My Thing; write those WYRM reviews. |
| Fundraising Goals | Any amount for a good cause. |