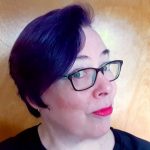 About Me
| | |
| --- | --- |
| Display Name | C.S. Peterson |
| Twitter Handle | @CSPeterson |
| Website | cspetersonauthor.com |
What's New
My Progress

Week 1:

11 hours of generative writing!

3037 usable words!

Week 2:

13 hours of generative writing!

2851 usable words!
What I Write
Writing Sample

Excerpt from the essay "The Wild Raging Girl: thoughts on the little Ms. Badass trope"

The character of Minya in Strange the Dreamer by Laini Taylor is one raging girl who cannot escape. Her fury has stunted her physically, keeping her in the body of a child even as she ages toward adulthood. Minya, hides in the abandoned citadel for years, raising the four infants she saved from genocidal slaughter, but she is consumed with guilt. She repeats her "eternal, inadequate apology" saying over and over "They were all I could carry."

Minya's supernatural gift is to trap ghosts at the point of death and enslave them. This is a story of complex and terrible emotions across an intergenerational history of abuse and trauma. The four children she saved want to live a life out of the shadows. The humans living below want relief from generations of anguish and shame. Minya cannot move beyond the moment she heard infants being slaughtered. Her gift is torturing ghosts, and isn't that what vengeance is at its heart? Using the ghosts of the past to punish the present?

Minya is trapped, and because she has no way out of that moment, neither does anyone else in the story. Powerful characters ignore the less powerful, use or abuse them at a whim. And who has less power than a little girl? But powerful characters disregard the wild, raging girl at their peril. As Kyle Stephens has said just this week, "Little girls don't stay little forever."

What I Write

Essays, reviews, interviews, and musings on speculative literature at FictionUnbound.com.

SciFi/Fantasy/Horror short stories, mostly on the themes of "the absurd and perfect fragility of life."

Publications

Essays and Interviews:

Dead Dogs and Final Girls: An Interview with Stephen Graham Jones

"The Sparrow" at 20 Years: A Space Theodicy w/Theodore McCombs

The Wild Raging Girl: thoughts on the little Ms. Badass trope
My Write-a-thon Goals
Writing Goals

My goal is to write ten hours of new stuff every week. That's two hours, M-F, of generative writing.

Fundraising Goals

A generous scholarship made it possible for me to attend the workshop in 2019. I'll be thrilled with any amount you offer and it will be helping talented emerging writers!

$1

 I'll tweet my thanks to you with lots of emojis.

$5

The aforementioned thank you tweet and I'll email you pictures of my new puppy Sam (9 week old rescue from Roswell NM. He is the cutest! And has seen aliens – though he doesn't talk about it much)

$10

 The aforementioned thank you tweet, puppy pic, and a microfiction from me incorporating the name, creature, and geological formation of your choice.

$100

The aforementioned thank you tweet, puppy pic, microficiton, and a critique of your short story (up to 5,000 words).