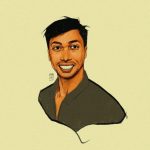 Active 5 months, 4 weeks ago
What's New
My Progress

JULY 24: My Nalo Hopkinson Writing Prompt appears in Bookbed. READ IT HERE
JULY 23: I was contacted by someone seeking to include an old poem in an anthology of food inspired literature! AND… I sold a story to a paying market!
JULY 22: Added 700 words to the WIP.
JULY 21: Got to writing that story for the week 5 prompt. Write 2000 words but need to trim the fat (info-dump).
JULY 20: Reading Exhalation by Ted Chiang for inspiration.
JULY 19: Added 600 words to the WIP, did our week 4 workshop as  a small group.
JULY 18: Submitted to a market after some revisions.
JULY 17: Attended the Remembering Octavia Butler, I really appreciate how sci-fi/fantasy molds point of view. Didn't get much writing done.
JULY 16: Not a good day. 150 words and scrapped the trajectory to chapter 4 because I need to extend 3 by a bit. Compensating for words I did not do yesterday. Added 400. But will still aim for 500 later.
JULY 15: Added 1000 words to the WIP, added 200 words to the Nalo Hopkinson Prompt.
JULY 14: A rejection letter. And 2000+ words added to the WIP
JULY 13: My Eileen Gunn Prompt ficlet appears in Bookbed. Inspired by Varo's Exploring The Source of the Orinoco River. Began the Nalo Hopkinson prompt. I need to add more stimuli.
JULY 12: We did our small group for the Tina Caroline Prompt
JULY 11: Finally caught up to the material I wrote as the first beginning hahaha. 500ish words.
JULY 10: Wrote a meet cute scene between old friends. 519 words.
JULY 9: Read a few essays on craft which pushed me to make three plot seeds. Not a very productive day. Anxiety at a high.
JULY 8: I sold a story! Yay! Added a few hundred words to the WIP. Mostly poetry exchanges where the characters try to hide their discourse from policing agents. Not as many words but definitely more challenging.
JULY 7: Added 446 to the WIP, I can still write later. I think
JULY 6: Wrote the Eileen Gunn writing prompt. 999 words. Care to read?
JULY 5: Added 600 words to the WIP. Two rejection letters. :/
JULY 4: Submitted to a market.
JULY 3: Added 300 words to a WIP. Slow day.
JULY 2: I have been wrestling with a transition between two chapters, and you know what solved it? I erased needless exposition. Is that progress? Hell yeah… but -2000 words on my WIP.
JULY 1: Worksopped our Eileen Gunn prompt with my small group.
JUNE 30: Wrote 1000 words of absolute rubbish hahaha
JUNE 29: Made an outline for the week 2 Write-A-Thon Prompt. Submitted to 3 markets!
JUNE 28: Did a cover reveal!
JUNE 27: Added 1000 words to the WIP.
JUNE 26: Got two rejection letters but submitted to another market. Yay! I wrote a teeny tiny story. Wanna read it? Here: Added 900 words to a WIP
JUNE 25: Watching the Clarion Conversations: Stories of the Fantastic and the Strange; added 800 words!
JUNE 24: Had a crit session with my small group for the Andy Duncan Writing Prompt
JUNE 23: Added 700 words with the help of the "Teach your Internal Editor Who's Boss" sprint with Brooks Pecks
JUNE 22: Did 600 words for a Writing Prompt from Andy Duncan that would fit into my WIP.
JUNE 21: Added 500 words. Slugfest hahaha.
JUNE 20: OK… 1000 words… we can catch up. There is a rejection letter in my inbox. :/ Come on ego, we can do this.
JUNE 19: Played D&D. 🙁 All day. 🙁 One of my character sketches of a tagalog Anito appears in Eternal Haunted Summer Here
JUNE 18: My mom's birthday and accomplished nothing but get fat on birthday food.
JUNE 17: 600 more words.
JUNE 16: Wrote 700 words for another WIP. I feel bad that the long form made no progress. Ugh. Submitted to a market.
JUNE 15: Adding 1000 words to make up for the 500 I didn't do two days ago
JUNE 14: Submitted to a market. Added 500 words.
JUNE 13: Getting inspired by the GaimanxSchwab conversation on TorCon2020. Wrote ZERO WORDS because I played D&D for 8 hours. Ugh
JUNE 12: Another rejection letter. Watched the Brandon Sanderson stream via TorCon. Anther 500 words… yay!
JUNE 11: Another rejection letter! Yay! Finished a draft for an Erotica call for subs hahaha. First time for everything.
JUNE 10: I got one acceptance letter and one rejection for flash fiction submissions. I added 500 words to the WIP. I submitted to solarpunk short story competition.
JUNE 09: I have updated my writing sample to show an anecdote of Chapter 3, where the protagonists stumble upon a workshop where the woodworkers are mutilated monsters
JUNE 08: So far, I have done outlining the book and written one chapter I am happy with and four chapters that are more world-building than progressing the plot/character development, so those need work. The link to the outline is listed as my WEBSITE
JUNE 06: Tentatively titled "An Orphan's Price," my novel work in progress explores wealth, power, and class and how the ruling classes perpetuate the abuses in society by trickling wealth and/or power among the lower classes to pit them against each other.
What I Write
Writing Sample

Liksi and Gilas nodded at passersby that noticed the newcomers to town. They nodded back, Liksi smiled and she elbowed Gilas to do the same. When they passed four fisherfolk sharing a small jug of sweet coconut sap wine, the exchange turned into an invitation. "Have a drink, eat some abnoy."

It sounded pleasant enough except that it was a challenge. Abnoy was a savory cake made from chopped onions and rotten duck eggs. One man, sunburnt and wiry, started a soliranin. "Tatlong gabi na sa lawà…" (Been staying in the fishpens for three nights)

The second man, just as sunburnt but much younger, maybe just a few years older than Gilas and Liksi, continued the romantic rhyme, "Nang magbantay ng payimpin…" (To stand guard over fish pens."

The broad-shouldered and ropey armed woman in their group continued with the ironic turn. "Ngunit ang kaba't galimgim:" (But my fear and homesickness)

They turned to Liksi and Gilas to finish the rhyme. Liksi replied. "Nasa bahay ang buwayá." (That the crocodile is at home.)

The four locals feigned a sigh of remorse as Liksi lost that game. The man who did not participate in the rhyme handed Liksi a wedge of abnoy dipped in vinegar and chili. He poured her a small cup of lambanog to wash down the rotten egg.

Liksi put the small piece of abnoy in her mouth and chewed. She swallowed and immediately drank the lambanog to keep the stink out of her nose.

"That was a really nice image." The fisherwoman gestured to be poured a drink.

'Too bad buwaya doesn't rhyme with lawa." The starter of the poem asked for drink too. The fourth among them, the tagatagay filled their cups up and they raised their cup to toast a victory over the newcomers.

The young man among them poured himself a drink. "How would you have ended it?"

The wiry one hummed in introspection. " Nasa bahay ang maysala?" (The sinner is at home)

"That's terrible! It doesn't have a solid image like hers does!" The tagatagay laughed and chided.

"At least it rhymes." The wiry one humphed.

"How about… Ang buwaya'y gumagalà?! (The crocodile roams!)" The woman said.

The other three cheered her on.

Gilas raised a finger. "Binuwaya ang palanggà." (The beloved has been taken by a crocodile.)

All four of the locals oohed and aaahed. The wiry one said, "That is definitely better."

"An improvement, I admit." The woman nodded.

Liksi then pointed at herself them Gilas. 'I am Liksi and this is Gilas, our master just got into town yesterday."

The tagatagay volunteered their names without gesturing to whom which name belonged to. "Dipabinin, Samot, Golo, and Payapa."

Instead each one raised a hand as their name was mentioned to claim ownership, the wiry one, the woman, the youth and the tagatagay. They voices weaved into each other. "Welcome, welcome, nice to meet you."

Gilas threw a knowing smile at Liksi, she intentionally lost that game to build rapport.

What I Write

Last 2018, I won the Scholastic Asian Book Award for Wing of the Locust. It is coming out this October 2020. It is about a young homely slave boy who aspires to escape the drudgery of his existence by learning to control insects in an agricultural society based on pre-Hispanic Philippines. Young adult fantasy with post-colonial/decolonial intent. You can read a a character sketch of a Tagalog Anito I wrote for Eternal Haunted Summer in WEBSITE. Every now and then, the contents of WHAT I WRITE will change to reflect what I have written to advance the story.

I do dabble in shorter fiction, realist, horror and sci-fi.

Publications

Eternal Haunted Summer |
https://eternalhauntedsummer.com/issues/summer-solstice-2020/ginoong-panay/ |June 19, 2020
· Ginoong Panay (Flash Fiction); Editor Rebecca Buchanan

Lit Love: Loveyourself Inc. | http://www.loveyourself.ph/2020/05/lit-love-feb-fair-death-traps-zombie.html | 2019
· Feb Fair, Death Traps, Zombie Apocalypse, and my Anxiety (Creative Non-Fiction); Editor Mark Dela Rosa

The Best Asian Short Stories | Kitaab Int. PTE. LTD | 2019
· Artifact from the Parent (Short Story); Editors Hisham Bustani and Zafar Anjum

Philippines Graphic | https://philippinesgraphic.net/2019/10/20/dalang-hati-luwal-hati/ |Philippine Daily Inquirer | October 13, 2019
· Dalang Hati, Luwal Hati (Short Story); Literary Editor Alma Anonas Carpio

OMBAK Vol. One | http://ombak.org/issue | Ombak Press | 2018
· The Promise of Sinaing na Tulingan (Short Story); Editor Aden Ng

Fantasy: Filipino Fiction for young adults | UP Press | 2018
· The Hunt for The Fleas of Maculot (Short Story); Editors Dean Francis Alfar and Kenneth G. Yu

Philippines Graphic | Philippine Daily Inquirer | march 6, 2017
· Full of Nothing But Air (Short Story); Literary Editor Alma Anonas Carpio

Sustaining the archipelago | ust press | 2017
· Quietly Happening and Octopus (poems); Editor Rina Garcia Chua

ANI 39 | Cultural Center of the Philippines | 2016
· Porifera and Octopus (Poems); Editor Herminio S. Beltran

Liwayway | Manila Bulletin | February 29, 2016
· Jongla (tula); Editor G. Perry C. Mangilaya
My Write-a-thon Goals
Writing Goals

I am trying to write a sequel to Wing of the Locust. I am going to write 3 to 4 chapters, each chapter about 3000 to 4000 words each. To do this, I am going to write about 500 words a day.

Fundraising Goals

$(any) – I will tweet my thanks with a mention of your twitter handle

$20 – I will name a major character after you by searching for its etymological root and translating that to Filipino/Tagalog

$50 – I will read one of your stories and I will provide constructive feedback of at least 150 words

Any amount gives you access to my WIP as a commenter! You might affect the outcome of this story! If you insult my WIP, I might even kill you in fiction(REDSHIRT! A possibility we must both agree on)!

100$ or more I will DM/GM you a game of Dungeons & Dragons or Dungeonworld via Discord.