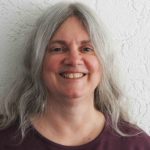 Active 8 months, 4 weeks ago
About Me
| | |
| --- | --- |
| Display Name | Cynthia Ward |
| Twitter Handle | @cynthia_ward |
| Website | |
What I Write
Writing Sample

Opening of The Adventure of the Incognita Countess (Aqueduct Press, January 2017)

London
9 April 1912

M summons me to his office at Whitehall Court and assigns my first solo mission.

"Your covert assignment," M elaborates, "is unbeknownst to everyone save myself and a few other individuals at the very highest levels of government." He slides a dossier across the glacial expanse of his desk. "Make sure this gentleman returns safely to Washington, DC."

I open the dossier. It concerns Major Archibald Butt, a prominent American official. The photographs show a rather stout, fit-looking gentleman with grey-threaded dark hair and a trim moustache. With his smooth face and prominent jaw, he looks younger than his mid-­forties, and he's handsome in his U.S. Army dress uniform. A quick scan of the intelligence typescript reveals a distinguished record, which has culminated in admirable professional and personal situations: Butt is military aide and close friend to the American president, William Howard Taft.

"You're to protect Major Butt," M says. "The cover story is that he bears documents from the Pope to the United States, which in fact he does. But he also bears secret documents of critical importance to British relations with the U.S."

I look at M. "'Critical importance?'" I raise my brows. "Have we begun sharing our breakthroughs in Martian science?"

Since the failed Martian invasion of England in 1902, our government has devoted enormous resources to unlocking the secrets of the alien technology. It's only in the last few years that we've mastered the heat-ray; the rest continue to elude us.

"We'll never share Martian technology," M frostily responds, missing my humour. "The documents in question involve a breakthrough in submarine technology."

I smile. "I wouldn't have thought the Bruce-Partington plans all that valuable at this late date."

This time, M perceives my jest. He reacts as he commonly does, with a frown. "This is fresh information from Germany. Our foe has recovered the Nautilus."

My humour fades. "There's dashed bad luck."

M's eyes narrow at my language; but he says only, "You have a gift for understatement." He shifts slightly. "We believe our agents have gained all the technological information the Germans have extracted to date by 'reverse engineering' Prince Dakkar's long-lost submarine. We're sharing only a portion of this information with the Americans, of course, but that makes your mission no less critical."

"Understood," I say. "I deduce Major Butt isn't to know he's under my protection."

M scowls. "No one is to know."

"Does the major have bodyguards he knows about?"

"We haven't been informed, but expect he does. Of course, whether they're men or monsters, their existence doesn't make your mission any less critical." M leans back, examining my face. Finally, he says, "You're young for an operation of this importance. But you're fully trained, and you've unique abilities. We have every confidence in you, Miss Harker."

"Thank you, sir."

"Now." M rises, and I follow suit. "You've time to study the dossier, visit the Quartermaster Division, and pack your personal effects," he tells me. "Be at Waterloo Station tomorrow morning. The First Class boat train departs at 9.45 a.m." He unthaws enough to smile, though the ice doesn't leave his pale grey eyes. "Your mother and I will see you off, Lucy."

M isn't just the head of the Empire's Secret Service Bureau. He's my stepfather.

"It's crucial," he adds, "that you look like just another passenger."

I restrain my impatience at his condescension.

"You won't find it in the dossier," M says, "but you've a second responsibility."

I wonder if he will now remind me of my one paramount and perpetual duty to the Empire, which I've ably executed since I was thirteen years old. "What is it, sir?"

"Keep your eyes open for any suspicious behaviour, and act as you deem necessary."

This isn't what I expected, but it's still so bloody obvious, my impatience slips free. "Don't I always?"

"Of course. But — here." M produces a second Manila folder. "This will clarify."

Opening the folder, I find tickets for a First Class boat train and passage on a White Star liner, which departs Southampton on its maiden passenger voyage tomorrow. I recognise the name of the steamer. It's the first civilian craft to use Martian technology. With its heat-ray fired boilers, analytical navigation engine, and improved design, the steamship is unsinkable. But that doesn't mean the technology of the RMS Titanic is unstealable.

What I Write

I write science fiction, fantasy, horror, nonfiction, and a bit of suspense fiction.

Publications

I've published stories in Analog, Asimov's, Black Cat Mystery, Nightmare, Weird Tales, and elsewhere. With Nisi Shawl, I coauthored Writing the Other: A Practical Approach (Aqueduct Press). My short novels featuring Dracula's dhampir daughter, The Adventure of the Incognita Countess et seq., are available from Aqueduct.
My Write-a-thon Goals
| | |
| --- | --- |
| Writing Goals | I met previous years' goals regarding previous novellas featuring Dracula's dhampir daughter, Lucy Harker, and The Adventure of the Incognita Countess, The Adventure of the Dux Bellorum, and The Adventure of the Naked Guide are now available from Aqueduct Press. This year's goal is to finish the final draft of the fourth and final of Miss Harker's adventures.  Its working title is The Adventure of the Golden Woman. |