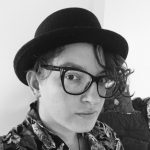 Active 8 months, 4 weeks ago
About Me
| | |
| --- | --- |
| Display Name | Deborah Happ |
| Twitter Handle | deeeehapp |
| Website | |
What I Write
Writing Sample

IF I TOLD YOU MY MOTHER CURSES EVERYTHING SHE HATES ABOUT ME, WOULD YOU BELIEVE ME?
Deborah Happ
My grandmother was half-native, in the sense that my great-grandmother was native, and she had these powers to see the future and interpret dreams. Female intuition that comes from the earth, see? But not my mother. My mother curses.
First it was my hair. I always wanted to paint it and she never let me. One day I did and the next day there wasn't anything left. The strands fell on the pillow one by one, creating a splendid blueberry-purple bird's nest.
Then it was the bed sheets I bought. White. My mother told me not to buy white. White stains. On its first wash, my bedsheets came out plagued of all the filth, old hair and pieces of dead insects that were accumulated in the washing machine.
I fell in love with my first vase of red mini-roses. My mother told me not to leave her on the window during thunderstorms. I was stubborn. She can take it. I can take it. The next morning I found the earth spilled on the sidewalk around a broken vase and flowers that did their best to survive the sixteenth-floor fall.
Food spoils.
Plates I choose myself brake one by one.
I can never have fun without getting a hangover.
The first time I slept with a man that my mother would certainly never approve, I had to get an abortion.
I can never make a decision against her will without finding some sort of annoyance. I am sure they are curses.
But let me tell you a secret, friend. Come close, I must say this very quietly. If I told you that I, too, curse everything I hate about other people, would you believe me?

What I Write

I'm a horror writer! And I love a dark comedy.

Publications

I was published on several online platforms in Brazil, such as Revista Raimundo, Gueto, Mitografias, and Faísca Mafagafo. I'm on my way to publish some more internationally.