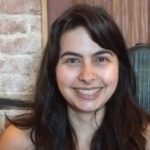 active 1 year, 1 month ago
About Me
| | |
| --- | --- |
| Display Name | Dominica Phetteplace |
| Twitter Handle | @fetaplace |
| Website | |
What I Write
Writing Sample

All the men I have sealed were handsome artists.  They were beautiful, they created beautiful things.  I have no beauty, I create nothing.  Ben writes me love letters on highway overpasses.  Eric writes fiction about disappointed, dark haired girls.  James, current boyfriend, my future former love, does data visualization.  He munges his data until the plots approximate the contours of my face.  His spreadsheets seem to know everything about me except the contents of my heart.
There are others, I forget their names even as they stalk me on Twitter.  I will write their names down.  I will make a list.  I will free them one by one.
(from "Spells Are Easy If You Have The Right Psychic Energy," F&SF, July/Aug 2016)

What I Write

I write about magic, the future and girls who never give up.

Publications

Analog, Asimov's, F&SF, Clarkesworld, Lightspeed, Escape Pod. Occasionally, a literary journal. One time, a Pushcart Prize.
My Write-a-thon Goals
Writing Goals

I have various secret projects that I'm working on. I'm also trying to expand the horizons of my imagination and fail in new and interesting ways.

Fundraising Goals

Just trying to raise money for an organization I love. I went to Clarion West in 2007 and it changed my life. This is an urgent time, especially for science fiction. No other genre of literature is as capable of shaping the future.

Backers at any level will get weekly updates on my explorations and inspirations. Backers at the $20 level or higher will get postcards.