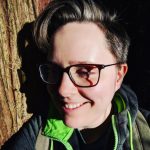 Active 9 months, 3 weeks ago
About Me
| | |
| --- | --- |
| Display Name | EA Crawley |
| Website | |
What I Write
Writing Sample

Snippet #1:    

     The rules for the medical staff at Holloway Sanatorium for the Insane were quite simple: first, assume that all mental illness stems from the Otherworld; second, do not, therefore, engage with the fae; third, model at all times the proper behavior of an English gentleman.

     Dr. Nevill E. Thomas, pacing his office in shirtsleeves and a wilted collar, passing from hand to hand the golden faerie coin that he used to summon his guide from the Otherworld, was really something of a cock-up, then, if one went strictly by the rules.

     In fact, it was worse than it looked.

###

Snippet #2:

I clutched the soil and propelled my canes skyward by another inch, but my eyebuds still fell short of the balcony windows. There were benefits to being a hedge rose instead of a climber–hardiness against the winter, protection of beloved humans–but I figured that could all hang for what it was worth when it came to news from inside the house.

     I settled down onto my bud union and twitched my canes in irritation. "Well, damn you, what of the baby?"

     The jewel-toned hollyhocks and nasturtiums, the begonias and chrysanthemums shivered at my tone, craning their stems and stalks for information. Futile. Not even Ivy, who the lady of the house had forbidden from climbing beyond the sandstone bricks of the first floor of the mansion, could provide us a view. It was all up to Linden, and that fool tree knew it.

What I Write

For the write-a-thon, I'll be focusing on archival fantasy, which is what I'm calling a traditionally researched historical narrative that integrates a fantastical twist for the sake of storytelling…and for fun. It's a combination of the things that interest me as a reader, writer, and academic historian, as well as—I hope–a compelling addition to both historical method and creative writing.

I also write historically inspired (sometimes urban) fantasy, paranormal, and romance with special attention to the natural world, character-driven narratives, witty banter, and fastidious cravats.
My Write-a-thon Goals
Writing Goals

Finish research for my archival fantasy novel and create a full outline with embedded documents.

Revise and submit three short stories.