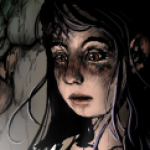 Active 6 years, 10 months ago
About Me
| | |
| --- | --- |
| Display Name | Edith Hope Bishop |
| Twitter Handle | @ehbishop |
| Website | |
What I Write
Writing Sample

Near Lynton:
Sea Stacks

Long ago, when the creatures of the world were large and wild, the story goes that two giantesses walked the shores of the Pacific NW in search of their children. The children had strayed from home and the mothers called to them as the weather turned and the rain began to fall. At last they found the tracks of their children, leading into the sea, and in their despair they stepped out into the water, even as the wind howled and lightening struck. They would not move, even when their husbands came and called for them, even when the storm subsided. There they stayed, looking, waiting, crying for what was lost. As the ages passed their backs curled. Their feet sank into the silt. Their hair grew long and green and matted. They collapsed on their hands and knees, still with eyes fixed to the horizon, and slowly turned to stone. They are still there today, like the wife of Lot, monuments to love.

What I Write

Valerie and Elian have spent their childhoods together, exploring their local Pacific Northwest shoreline, finding connection through their psychic gifts, and falling in young love. As they grow up and move away from home, life circumstances begin to pull and tear at their relationship until they must face the devastating limits of their powers and love.

DRIFT is a paranormal love story set in a small coastal town in Washington state.

Publications

Working on it, people. I'm working on it.
My Write-a-thon Goals
| | |
| --- | --- |
| Writing Goals | To complete revisions of DRIFT by the end of the write-a-thon. (I'd already set my deadline for August, might as well do it for a good cause!) |
| Fundraising Goals | At least ten donors at any level. That's right, you could be one of those lucky ten. You know you want to… |