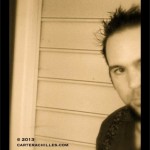 Active 5 years, 8 months ago
About Me
| | |
| --- | --- |
| Display Name | Carter Achilles |
| Twitter Handle | twitter is digital and therefor has no handles. also, @carterachilles |
What I Write
Writing Sample

He tried to hide the sigh deep inside his gold-brown pupils. "We've been over this time and again. It is a symbol. We must give them a permanent example of what they should strive to attain. But they are nascent and will need a constant reminder. A blueprint that won't wash away in the heaviest of rains. This rules out your 'sand castles.' We must do this to ensure the peace. Otherwise they will slip back into their chaotic meanderings. We will lose our foothold, our safety. We will lose all our progress."

"You mean, of course, they will lose all –their– progress," Kaliy pushed. "And even as a symbol, what will it signify to these things? It will be foreign, incomprehensible, a symbol of an alien sky."

What I Write

This is from Project R, which is not the actual title, which I am in the midst of finishing up. It is a short story, sci-fi for lack of a better description. Yes it has spaceships, galaxies, and other "scientificky" words, but it also deals with larger questions which anyone *should* be able to identify with.

ABOUT THE AUTHOR
The author is an international conundrum, shrouded in mystery, wrapped in an enigma, passed into legend, then marinated in cheap liquor, wrapped in faux prosciutto crudo, and grilled to perfection. Often served with lime on the side.

All of my works are original creations, not based on existing intellectual properties. I am, however, influenced by classic scientifiction from the 50s, 60s, and 80s — both in film and book format.

My apologies to any writers of the 80s who might object to being referred to as 'classic.' Think of it as a respectful 'classy' instead…
My Write-a-thon Goals
Writing Goals

This is my second year attempting the Write-a-thon.

I am still figuring out what the benefits of sponsoring me are, other than the spread of goodwill and my matching of your donations (up to $100).

The plan is to be able to send you some writing after all this chaos-a-thon. And hang out with the great people of this 'thon.

The title of the main story I'll be writing is:

"GET THE HELL OFF MY LAWN, YOU GOD-DAMNED FLYING KILLER ROBOTS!"

-It has a nice ring to it – CA

Fundraising Goals

Lots.