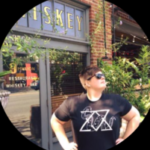 active 5 months, 2 weeks ago
Change Display Name
| | |
| --- | --- |
| Display Name | Emma Osborne |
About Me
What I Write

Mostly horror, these days! But also fantasy and SF. I like to write a bunch of different things!

Website

emmakosborne.com

Twitter Handle

@redscribe

Publications

I've had poetry out at Apex Magazine, and fiction at Shock Totem, Pseudopod, the Year's Best Australian Fantasy and Horror, The Review of Australian Fiction and various other places.

I recently had a story out at Nightmare Magazine, and have stories forthcoming at Glittership and Kaleidotrope!
Write-a-thon Goals
Writing Goals

This year I aim to write a small amount of prose or make notes for a story seed every day of the write-a-thon.

I have recently been recovering from a bout of depression, and am looking forward to taking small steps toward writing more consistently.

Thank you so much for supporting me! <3