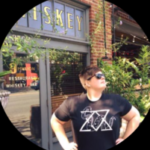 Change Display Name
| | |
| --- | --- |
| Display Name | Emma Osborne |
About Me
What I Write

Mostly horror, these days! But also fantasy and SF. I like to write a bunch of different things!

Website

emmakosborne.com

Twitter Handle

@redscribe

Publications

I've had poetry out at Apex Magazine, and fiction at Shock Totem, Pseudopod, the Year's Best Australian Fantasy and Horror, The Review of Australian Fiction and various other places.

I have a story forthcoming at Nightmare.
Write-a-thon Goals
Writing Goals

My goal this Write-a-Thon is simple. Modest by the standards of the other writers joining in.

I aim to draft a single story. Seems small! This story, however, is one that I have been rolling around in my head for years, that I have made notes for, that I have been too terrified of ruining to write.

Time to be brave in the name of Clarion West, the workshop that changed my life and that gave me my Team Arsenic family.

Thank you for your support and encouragement. It means the world.