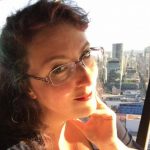 About Me
| | |
| --- | --- |
| Display Name | Arinn Dembo |
| Twitter Handle | @Erinys |
| Website | |
What's New
My Progress

Week Two complete!

I've raised $436, over 43% of my fund-raising goal, and my novel currently stands at 73,000 words. Still have seventeen days to write the next 27K!
What I Write
Writing Sample

Papaw's Power Wagon was a venerable '68 Dodge, its original sky-blue paint slowly succumbing to spots of sun bleach and a patina of deep-orange rust on the roof, hood, and bed. Papaw kept saying that he would repaint it, year to year, but somehow that never seemed to happen. He liked the rust. He had covered the bench seat with a brown and white cowhide cover that matched the rust a lot better than the original paint.

I climbed up into the cab and immediately felt anxious as I started up the engine. I had been riding in this truck since I was a toddler. The first time I held the wheel, it was bigger than I was; I sat on my grandfather's knee pretending to drive while he rolled through the spring fields.

Since I got my license, I'd taken it to the feed store once or twice for "emergencies". And by "emergencies", I mean " hot summer days when Mamaw took the station wagon to town and Papaw wanted me to sneak off to the feed store and get him a cold Coke before she got back". We both knew we were conspiring, when I drove the Power Wagon. I wasn't supposed to drive his truck, he wasn't supposed to have soft drinks. It was our secret.

But it always felt strange to be an adult behind this massive wheel. My instincts kept telling me that my legs shouldn't be long enough to reach the brake pedal, my arm shouldn't be strong enough to wrangle the shift. I rumbled out the gravel lane, but I felt more like a kid playing dress-up in her father's closet than a responsible adult.

What I Write

I'm a multi-genre author who writes primarily horror, science fiction and fantasy. My best-known work to date is in computer gaming and television, but I am semi-retired from game writing at the moment. I'm spending a couple of years focusing solely on volunteer work, personal projects and non-interactive fiction.

Publications

Novel: The Deacon's Tale (military sf)
Collection: Monsoon and Other Stories (multi-genre)
Omnibus: The Sword of the Stars Premium Lore Book

Reviews: The New York Review of Science Fiction; Computer Gaming World; Cnet Gamecenter; Entertainment Tomorrow, etc..

Poetry and Short Fiction: What October Brings: A Lovecraftian Celebration of Halloween; Deep Magic, She Walks in Shadows; Gods, Memes and Monsters, Lamp Light Magazine, Weird Tales, H.P. Lovecraft's Magazine of Horror, The Magazine of Fantasy and Science Fiction, Delta Green: Dark Theaters; Best Fantastic Erotica; Imagination Full Dilated SF..

Tabletop Games: Pathfinder, Delta Green, Puppetland, Freehold, The Pit: The Board Game, Planetary Control.

Video Games: Homeworld, Homeworld: Cataclysm, Ground Control, Arcanum: of Steamworks and Magick Obscura, Sword of the Stars (and all expansions), Fort Zombie, Sword of the Stars 2: Lords of Winter (plus expansion), Sword of the Stars: The Pit (and all expansions), Ground Pounders, Kaiju-a-Gogo, The Pit: Infinity, etc..

Television: English-language scripts for the animated series World Trigger, based on the manga by Daisuke Ashihara and aired on Primo TV. Second season of Metalions, by Youngtoys.
My Write-a-thon Goals
| | |
| --- | --- |
| Writing Goals | My goal during the Write-a-Thon this year is to finish a new novel, set in an entirely new fictional universe. I'm already at around 55,000 words on the project, and I'm shooting for 100-125K in the completed manuscript. |
| Fundraising Goals | I will connect with my supporters each week and provide glimpses into the novel, its characters, setting, and world-building. |