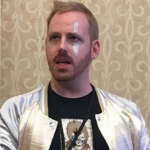 Active 17 hours, 16 minutes ago
About Me
| | |
| --- | --- |
| Display Name | Evan J Peterson |
| Twitter Handle | @evanjpeterson |
| Website | evanjpeterson.com |
What I Write
Writing Sample
What I Write

I went into Clarion West as a writer of fiction, nonfiction, and poetry. Most of my speculative fiction is on the darker side, usually weird, often funny, sexy, and disquieting at the same time. I want to take my reader to an uncomfortable place and usually leave them there.

Publications

The PrEP Diaries: A Safe(r) Sex Memoir (2017 Lethe Press), nonfiction

Drag Star! (2019 Choice of Games), interactive fiction RPG

The Midnight Channel (2013 Babel/Salvage Press), horror poetry

Ghosts in Gaslight, Monsters in Steam: Gay City 5 (2013 Gay City Health Project and Minor Arcana Press), Lambda Award finalist anthology of LGBT ghost and monster stories and poetry (as content editor)

Skin Job (2012 Minor Arcana Press), speculative poetry

Other work may be found in Weird Tales (during Ann VanderMeer's run as editor), Best Gay Stories 2015, The Stranger, Nightmare Magazine, The Queer South anthology, Queers Destroy Horror, Unspeakable Horror 2, and Boing Boing.
My Write-a-thon Goals
| | |
| --- | --- |
| Writing Goals | I want to write 1000+ words every day during the Writeathon, with 1-2 days off per week. This has been a great goal to keep me productive. |
| Fundraising Goals | How about $3000? That's 6 weeks x 5 days per week (30 days) at $100 per day. If I'm writing 1000 words a day, that's 30k words, or $0.10 per word. |