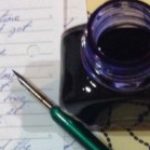 active 1 year, 1 month ago
About Me
| | |
| --- | --- |
| Display Name | Glassquill |
| Twitter Handle | @glassquill |
| Website | None |
What I Write
Writing Sample

My expected visitor accompanies my breakfast the next morning, filling my room with the scent of spiced meat, vanilla and citrus. I do not turn around when the door open. It is important to get her eyes right.

"Do you not greet your guests?"

I frown as I add thin eyebrows with careful dabs. There are delicate crows-feet when she smiles. Should I add them? To omit them would be committing falsehood. But to even hint that she ages is almost akin to blasphemy. I add faint lines near the corner of her left eye. "To call you a guest implies I have the choice of shutting my door in your face, Vadaia. I do not think I have been given that luxury."

Publications

None to date.
My Write-a-thon Goals
| | |
| --- | --- |
| Writing Goals | To complete Soul Painter in preparation for submission. |