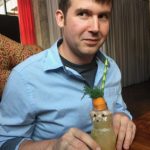 active 10 months, 2 weeks ago
About Me
| | |
| --- | --- |
| Display Name | Gordon B. White |
| Twitter Handle | @gordonbwhite |
| Website | |
What's New
My Progress

Week 3 – I finished edits on my story "The Meatbag Variations," although I have an 'author's preferred' text of 6200 words and a 'market-read' text at just under 4000 words.

I also got news that I sold two stories!  First, my week 5 Clarion West story "That Parts of Him That I Can Help With" to Mad Scientist Journal for Dec. 2018 publication.  Second, my pre-Clarion story "Birds of Passage" to CM Muller's Twice-Told: A Collection of Doubles (coming Feb. 2019).

With that, I also put the finishing touches on a draft of a debut fiction collection – 18 stories (inc. 1 original) just under 60k words – and sent it to a couple of open submissions with publishers in my genre.  The wait time is 3-6 months (or more!), so I'm hopping back into short fiction this week, trying to get an alpha draft of a new story, although with a busy work week of 10 hr days and some weekend work, I'm not sure how far I'll get.

Week 2 – I finished an ~7000 word new story currently titled "The Buchanan Boys." I'd been working on it for about a month (among other projects), and had used John Truby's "The Anatomy of Story" to outline it before drafting.  It's off on submission to an anthology, so we'll see how that goes. It's funny, because I had originally intended it to be a very hyperreal (almost Lynne Ramsay-ish) downbeat story about a father and son under siege by horrible monsters, but somehow on the way to the final draft it became an an almost uplifting family story owing a great deal to 1988's remake of The Blob, Monster Squad, and other horror-almost-comedies of that era. We can't guess the shape of our fates, that's for sure.

I also had an unexpected 1000-word "story" tentatively titled "The Captivist" slip out of me.  I have no idea what to do with it — if I expand it, it'll lose what I love about it; if I trim it, it will be incomprehensible; if I leave it … well, we'll see.

Going into next week I have some interview and review obligations, but the main goal will be to do final edits to another story to get it from 6500 words to under 5000 for markets. I'll also need to make a plan for what to do in the coming weeks.

Week 1 – This week I put the (many) finishing touches on a story that was once called "The Orchid House" and now has another ridiculous name.  ANYWAY, it went from an alpha draft of 7000 words to 6500 words, then down to 4800 and finally to 4000 exactly to meet market requirements.  Wow! I don't know if I improved it, or just broke it because I was tired of looking at it.  I'm like a cat, swiping stories off the counter out of boredom.

Coming up, I'm hard at work on next week's story for a "creature feature" prompt that closes on 7/1.  There's an alpha draft that currently has the puntastic title "Son and Hair," but that'll (likely change).   I wrote this with a fairly extensive outline, though, so I think the bones are good, it's just that the flesh is messy. I'm also preparing to edit a story the week after for Cemetery Dance's open call that ends 7/5, so that'll be Week 3.  That story is in a 2.0 version at 6500 words, but needs to be 5000 or less.  I'm still too in love with it to cut that much, but hopefully I'll cool on it soon.  (Reminder:  My goal is to *finish* a story a week, not necessarily conceive and craft it from whole cloth.) After that, I'm in the inchoate phase for the last three weeks.

To celebrate, tonight I'm going to the Clarion West party at the Locus Awards.  Then tomorrow, I'm going to the Locus Awards Party at the Locus Awards.  Sunday, being out of parties at the Locus Awards, I'm going to go see the new Jurassic Park movie. Unless someone wants to party.
What I Write
Writing Sample

As she ran, her feet caught on the bones of bedrock that pierced the earth's soft old skin.  The granite teeth of the ravine bit at her, the years having pulling back the soil to reveal the colossal skull of the world that had always been hiding beneath. She burst through clots of dry kindling and tore past an uprooted tree that squirmed with ten thousand legs in the gathering shadows.  Down, she ran, towards the end of the forest and the rim of the lake below.

She could not hear anything above her own thrashing, but she knew that the man was still behind her.  She knew, in her deepest heart, that he was dancing down the hill like a spider, the rest of his disguises falling off of him like the autumn leaves.

Oh please, Sarah thought or even said, please let it still be there.  Let the canoe be there and let it not be chained. Of all the things that time has made strange and taken from me, please let it have left me just this one.

-from "As Summer's Mask Slips" in Nightscript Vol. 2

What I Write

I'm an alum of Clarion West's Class of 2017.  I live in Seattle and write dark speculative fiction, usually tending towards horror or the Weird.  I do, however, sometimes publish less dark and/or more SF type stuff.  I also do a variety of nonfiction, mainly contributing book reviews and interviews to a variety of outlets.

Publications

I've appeared in a number of journals and anthologies, including Daily Science Fiction, Tales to Terrify (forthcoming), A Breath from the Sky: Unusual Stories of Possession, Nightscript Vol. 2, and the Bram Stoker Award winning anthology Borderlands 6.  A full list of publications and links is available here.

You can also find my reviews and interviews at Hellnotes, Lightspeed, and Nightmare (coming soon!).
My Write-a-thon Goals
Writing Goals

My goals are lofty:  To finish one short story or novella section every week for the 6 weeks.

I'm not aiming for any specific word count since I'm trying out a working structure based on "distraction-free time at desk" rather than specifically adding to a draft, but the goal of finishing one thing per week should keep me honest.

Can I do it?  Maybe!  I'll post updates as I go so you can keep me accountable.

Fundraising Goals

Clarion West (2017, baby!) meant a lot to me, so I'd like to pay it back and get a few donors.

I don't currently have any ideas for perks or rewards, but let me know if you have any suggestions. For example, I'm happy to name characters after you, but you have to understand that in my stories, they're likely to meet bad ends.