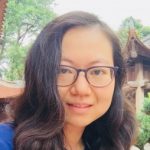 Active 10 months, 1 week ago
About Me
| | |
| --- | --- |
| Display Name | Honoree-Louise Nguyen |
| Twitter Handle | @HonoreeLouise |
| Website | honoreelouisenguyen.com |
What's New
My Progress

7/11: got 758 words out in "Co-working with Nisi Shawl." It was an awesome session!

7/6-7: 30 mins each, researching (tuberculosis) and editing respectively

7/5: my most productive day yet in terms of word counts (1035)

7/4: 228 words (I tried dictating to my phone. Was a bit off with my word count estimation then.)

7/2: Research for a new story + 184 words (1 hour)

7/1: More editing (nearly 2 hours)

6/28-29: One hour of editing each, resulting in 237 words total

6/23: I'm counting one hour of writing class

6/22: 251 words

6/21: 580 words, thanks to an hour-long sprint with Janet Jing Lu.
What I Write
| | |
| --- | --- |
| What I Write | I write in various fantasy subgenres, in novel form most of the time. The project I'm working on during the Write-a-thon is the first novel in a Vietnamese-inspired high fantasy trilogy. |
My Write-a-thon Goals
| | |
| --- | --- |
| Writing Goals | I would like to write for at least one hour or 250 words per day, whichever goal I hit first. |