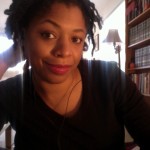 Active 5 years, 7 months ago
About Me
| | |
| --- | --- |
| Display Name | Hafidha Sofia |
| Twitter Handle | |
| Website | |
What I Write
Writing Sample

Flay led him down a short hall and into a storeroom. The storeroom was lined with shelves that held boxes, more wire, and bolts of silver fabrics, all neatly arranged. The building was old but everything inside was spotless. Flay gestured to the unlit corner of the room. There were two large mattresses laid side by side and a Modified sat on them, resting. Just sitting there, as Modifieds did when they weren't doing anything.

Juddam scratched the back of his neck. He was a little unnerved by the sight, but he'd have to get used to it.

Flay spoke in a clear, firm voice. "Up!" The Modified lifted his head. The Modified's face was square and mostly flat but for a heavy brow and flaring nostrils.

"Come on, ya lizard," Flay said in a playful tone. "Rise and shine."

Juddam's eyes widened as the Modified slowly rose and stepped toward them into the light. The Modified was near seven feet tall, and wide as the doorway. He had thick leathery skin and was completely hairless.

"Uhh." Juddam cleared his throat. "Does he have a name?"

Flay shrugged. "Paperwork said his name was 'Hammer.'"

"Are you serious?"

"It's how they do it. They just name'em for tools and parts over there. I call him Ham."

"He's enormous."

"Yeah, well he's dumb as they come. Bigger than a Bodyguard, except he wouldn't scratch an itch. He was made to work in the quarry over in Carmes – but first day on the job he got hit by a crane."

"Really?" Juddam glanced at Ham, who stood still as a rock, eyes fixed on Flay. "He looks in good shape. Where's the damage?"

Flay tapped his chest. "It's all in here. Messed up his heart pacing. They started to patch him up but once they saw how bad the heart was, they decided – phff – wasn't worth it. He couldn't pass inspection so they had to delist him."

"How soon before his heart runs out?"

Flay shrugged again. "Couldn't say. If he's not worked too hard, maybe a couple more years."

Juddam considered this. The bad heart explained the bargain price but the Mod looked impressive, and that might just be enough for now.

"How old is he?"

"This size? Phff. It takes a couple years to grow 'em this big. Yeah, he was a loss to somebody's bottom line. When I got him he was almost farm fresh, so … he can't be more than four or five."

"And his brains?"

"They work. He understands language, but you got to keep it real simple, you got to talk to him slow. He knows a little finger talking so you'll know when he's hungry. Which is always, I'm telling you now. Anyhow, they put him in the mark-down but he was there a while. I picked him up when I was doing a run over that way, won him in the Bets." Flay grinned mischievously at Juddam. "Hey kid, you should come play with me some time."

Juddam looked away. "Sorry," he said. "I couldn't be more busted if I held a royal straight at the 21s. "

Flay chuckled. "Right, right. Well. This lizard brain can be yours for a low, low price."

"Why aren't you keeping him?"

"I already told you, he eats like a damn rhino."

"That's it?"

Flay shook his head. "Look, kid, I'm being level with you. He eats a lot. I don't have enough work for him to do here to pay for all the feed, and don't got time to babysit him neither."

"So he's costing you money is what you're saying."

Flay cocked his head. "Well I'm not giving him away, if that's what you're asking."

—Excerpt from short story "My Own Man."

What I Write

Speculative short fiction, part of a collection called Stories from Lysithea.

Publications

…. I have to submit before I can be published. See Write-a-thon Goals.
My Write-a-thon Goals
Writing Goals

I'm currently working on a collection of short fiction set in the future, where genetic modification has created additional slots in the social hierarchy. The stories are overlapping, and reveal life in the city of Lysithea from the perspectives of different-yet-connected characters. My write-a-thon goal is to draft three more stories for the collection (I've written 3.5 so far) and send two of the completed stories out for publication. (I don't know where yet, but someplace.) I haven't submitted fiction anywhere since college 20+ years ago, so that's a psychological hurdle I need to get over.

Fundraising Goals

Edited: Evening of July 25: $500 GOAL HAS BEEN MET thanks to a very generous sponsor.

4th Weekly Report: July 25:
Lots of missed reports here because ACK. I am not great at this sort of thing, but I am working on this. I know if I can be *consistent* I will be much better in life for it.

But I have been consistently writing, at least. Yes, just about every day. I made a thorough update at my blog: http://lareinacobre.com/clarion-west-write-a-thon-2015/ which you can visit for more details.

But to sum up: I am $125 away from my fundraising goal! This is doable, I can just feel it. (I think that's what I'm feeling?). There is still a $50 "name a character" perk for anyone who wants to hand over that kind of cash. And for all those who donate $25 between now and the end of the write-a-thon, you will have your choice of receiving a completed short story of Lysithea or an excerpt of the speculative western that I am working on. Your choice (please specify "Western" or "Lysithea" in the payment notes box)!

Thank you to everyone for all the support. It's been such a good experience for me, and I've been very pleased with the progress my fiction writing is making.

One last week!

*************
3rd Weekly Report: June 13:
All right so I missed last week (apologies!) but we are now a week away from the start of the Write-a-thon and here's how things stand:
–Current amount raised is still $350! So I only need $150 more to meet my fundraising goal. I will bump up the fundraising efforts next week by offering some prizes; I've been lax on that because I've been focused on writing.
–Copies of my last story have been mailed by post to my first sponsors (thank you, lovely seven); I hope they all enjoy it!
–I am mid-way through a 4th story for the collection, in fact I'm planning to finish the draft today. The name provided by one of my "name a character" sponsors is already being used in this story! It was a great fit.
–I submitted a story for publication! I did this a week ago, actually. Big step for me! It is quite a time-consuming process, researching publications, reading them, and figuring out if they're good fits – and deciding if you have a shot at all. I've only submitted to one publication so far, but would like to find a few more. My write-a-thon goal is to submit two stories, so I am halfway there – I have six or seven weeks to write another story I feel good enough about to send out into the magazine world.

Thank you to all my friends, parents, husband, and my writing group for all the encouragement and constructive feedback.

-Hafidha

************
2nd Weekly Report: May 30:

Thank you! $350 has been raised so far. I am so thrilled. I am in the middle of a new story, and I've decided to send my last short story off to a publisher. While I don't have any expectation of it being published, I am happy that I've finally written a piece of fiction I feel is 'finished' enough to not be embarrassed by. So that's a milestone. And the Write-a-thon is still three weeks away – I'm getting a jump start!

Thank you to all my sponsors!

**********
1st Weekly Report: May 23
Wow! Clarion West sends write-a-thon participants a status report every Friday evening with their list of sponsors and donated amounts. Last night I got my first report. I was completely surprised to see that I had SEVEN sponsors. But when I saw the total of how much those seven people had raised, my mouth fell open – $200! My target amount! Seven wonderful people got me to my goal amount in just three days, representing a significant amount of the money raised for Clarion West so far. I almost cried!

So what next? With the write-a-thon still four weeks away, it makes sense that I should increase my target and continue seeking sponsors. After all, Clarion West will make great use of the funds.

New fundraising goal: $500 (eek! Can it be done? It seems outlandish, but I'll do my best!)

Two sponsors donated $50, so the "name a character" rewards have been spoken for. After I hear from them about the names they want to see in a story, I may make this 'reward' available again. And check back for more rewards, which I am brainstorming.

Until then, thank you to my first seven sponsors, I will be sending you a writing gift for being so awesome right out of the gate: A draft of the story I'm currently wrapping up. Look for that in about a week. Thank you so much!

-Hafidha

*********
Introduction May 19
This is my first year in the write-a-thon, and I don't know what to expect. I'd like to support Clarion West as a local institution that supports diverse spec fiction writers in improving their craft. Just this past weekend I attended a free CW co-sponsored panel event. I got a lot out of it, and it was free! This coming weekend I'm attending a one-day CW workshop on Point of View. Good stuff! Also, your donations are tax-deductible.

Writing Goal:
During the Write-a-thon (June 21st – July 31st 2015), I will draft three short stories (one every two weeks) for the collection, and submit two short stories somewhere.

Fundraising Goal
$200
Will post a weekend update.
Every sponsor will receive the weekend update and when the write-a-thon ends, I'll send you a completed short story from the collection! You can donate any amount, $5, $15, $50, $500 — and also amounts that don't have the number 5 in them.

If you want to get all fancy about it, you can also choose to donate for a "perk."

$50 – You get to name a character! — (But don't be a jerk about it! If you give the $50 and insist on being a jerk about it, I will find a way to dispense with your wretchedly-named character) Limit 2 of these for the time being, I'm not sure my blood pressure can handle more than that.

$25 – A Personalized Love poem! — Yes, I write poetry as well. For my spouse only. (Maybe I should raise the price? Maybe he'll buy more than one?)

Suggestions for more perks? Let me know! I will be mulling this over as well. Have questions about the Write-a-thon? Refer to the Write-a-thon faq: http://www.clarionwest.org/writeathon/write-a-thon-faq/ Thanks!