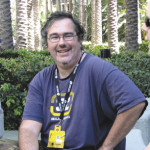 Active 3 years, 9 months ago
About Me
| | |
| --- | --- |
| Display Name | Ian McDonald |
What I Write
| | |
| --- | --- |
| Writing Sample | "Books aren't the entry drug any more. Books are the hard stuff, the crystal meth of genre." |
| What I Write | Ian McDonald was born in 1960 but has lived almost all his life in Northern Ireland, just outside Belfast. He grew up through the 'Troubles' and has hopefully seen the end of them. His first novel was 'Desolation Road' in 1988, which won a Locus Award. He's been nominated for every major science fiction award and even won a few. His novelette 'The Djinn's Wife' was a Hugo Winner in 2007. Most recent novels are 'Empress of the Sun' and 'Be My Enemy', parts 2 and 3 of the multiverse-hopping 'Everness' series for younger readers. Forthcoming for older readers, is Luna (part 1) from Tor. |
My Write-a-thon Goals
Fundraising Goals

Write-a-thon 2017. Everyone I killed last Write-a-thon loved it so much, I'm going to to do it again. For just  a $495 sponsorship, Ian McDonald will name you as a character in Luna: Moon Rising and kill you off in the spectacular. gory, unpleasant and plot-developing way. You also get some character development as well!

This is no mere Tuckerisation, this is a grade A, gold-plated, Rolls-Royce termination. The Moon knows a thousand ways to kill you, and Ian knows even more…

Every sponsorship, small or large, helps support Clarion West.