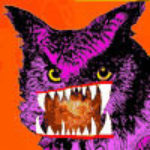 About Me
| | |
| --- | --- |
| Display Name | Cory Skerry |
| Twitter Handle | inksharkery |
| Website | |
What I Write
Writing Sample

Ben is excellent at pretending he doesn't think i'm a dumbass, as long as you don't look at his clenched hands. He moves on. "Have you had contact with the victim outside your job?"

"Never. I'd remember. His stupid face reminds me of a cartoon rooster."

We sip our coffee for a moment while Ben tries to think his way out of my absurd situation. 

When he speaks, it seems like he's musing aloud. "The police will definitely ask for security footage if they haven't already, to establish whoever stole the… the murder weapon."

A shining star in the midst of darkness. I perk up. "Are you afraid to say dildo?"

Ben rolls his eyes. "No, but that's not its purpose in this conversation—it's only relevant for its role in the crime."

I narrow my eyes and smile. "Say dildo."

"No."

What I Write

If you don't know how much of the story was real and how much was fiction, i did my job.

I usually write speculative fiction, but this year i'm working on a murder mystery about a snarky clerk at a high-end adult boutique who is accused of murdering one of her customers, so she must clear her name by solving the crime with help from her quirky co-workers.

Publications

My site is down at the moment, and therefore so is my bibliography. I'm working on it!
My Write-a-thon Goals
Writing Goals

This year, i have to make a late start; the stuff i'm working on can't be called "writing" by any stretch of the imagination. But i'll participate starting July 6. Here's the summary of the mystery novel i'm writing:

The snarkiest employee at a high-end adult boutique is questioned by the police about an unusual murder weapon. Molly can't argue that the police have good reason to suspect her–the "weapon" had her prints on it, and there's no record of it having been sold. When they tell her not to leave town, she is determined to clear her name before their slow asses get around to it. Molly runs down clues, aided (and sometimes hindered) by her quirky co-workers, but the murderer likes staying in the shadows, and the closer Molly gets, the more desperate the real killer becomes.

I was on chapter five before i had to take a break for some work/life stuff, but i'll be back July 6. As always, my sponsors get access to a secret sketchdump. 🙂

Fundraising Goals

FOR THE FIRST TIME IN THE EIGHT YEARS SINCE I GRADUATED CW, i can put something better here than "i am poor."

I don't have a specific goal, but i actually have a little spare cash! So i will match my sponsorships up to $100.