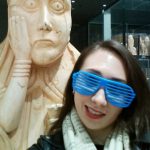 About Me
| | |
| --- | --- |
| Display Name | Iori Kusano |
| Twitter Handle | @IoriKusano |
| Website | |
What I Write
Writing Sample

Azusa Hashimoto arrived on resort colony Tolgis-Merl slightly less than two standard days after finalizing her divorce. The holobrochure for Dixie Fratelli's Tide of Your Life Restaurant and Resort was still tucked in her purse, and she'd watched it several times with increasing anticipation on the spaceflight over as she downed an array of colorful cocktails. She'd kept that advertisement with her all through the legal proceedings–in her purse, her pocket, on her bedside table–like a talisman, some fortune-slip foretelling brighter days ahead.

And it was bright on Tolgis-Merl. As a matter of fact, it was bright all the time; the colony's weather system never quite made it to night. The artificial sun dipped low in the evening to kiss the horizon, trysted with it for some hours–never fully out of view–then rose again, glowing gold. To Azusa, who had felt herself to be living under clouds both literal and metaphorical for quite some time, this was one of the resort's main lures.

– excerpt from revisions on the as-yet-untitled beach read produced for Week 6 of CWest '17

What I Write

I leave soft sci-fi miles behind. My sci-fi is fluffy and aggressively frivolous.

Publications

"Next Station, Shibuya," one of my application stories for CWest, was published by Apex Magazine in January 2017. I have further work forthcoming from Apex.

A full list of my poetry, essays, and book/game reviews is available at my blog.
My Write-a-thon Goals
Writing Goals

I will put in at least one hour in the word mines, five days per week, as I begin the process of… a novel? Oh no, that's the last thing anyone wants from me. What am I doing?

Fundraising Goals

I'd like to raise as much money as possible for Clarion West, as their generous scholarship is what enabled me to participate in 2017. I'm grateful for any sponsorship you're willing to offer, and further present the following incentives:

Donations of $1-$15 net you a Twitter shoutout.

Donations of $15-30 get you a Twitter mention AND a thank-you postcard, mailed to wherever-you-are from my home base in Tokyo.

If you donate in excess of $30, I'll do a Tarot reading for you with the Arcane Bullshit Tarot! Please note that I disclaim all responsibility for any actions you may take as a result of this reading.

You can also choose to Buy My Silence! For a $200 donation, I will stop tweeting for one (1) prearranged calendar day (midnight to midnight, please specify your time zone) of your choice.