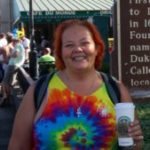 active 11 months, 1 week ago
Change Display Name
| | |
| --- | --- |
| Display Name | Jude-Marie Green |
About Me
Writing Sample

From "Miracles Wrought Before Your Eyes," published by The Colored Lens:
Springer the dog howled like a wolf when the ambulance arrived. I clapped my hands to my ears but her sorrow broke through to my heart. She was an old dog, Roberto's dog, and followed him around the grounds of the former church and theater auditorium and kitchen like a piece of his own self. When she barked, not a rare thing, Roberto laughed a bit and shushed the dog, which almost never worked. She didn't shush this time either, since Roberto was on the kitchen floor, unconscious. The ambulance was for him.

What I Write

Science fiction, fantasy, occasional horror. Character-driven, lots of gizmos and situations.

Website
Twitter Handle

@saycestsay

Publications

See my website for a not particularly up-to-date biblio. Graduate of Clarion West 2010. Winner of the Speculative Literature Foundation's Older Writer's Grant for 2013.
Write-a-thon Goals
| | |
| --- | --- |
| Writing Goals | I feel a short story a-birthin'.  I'm hoping for words, any words at all. |
| Fundraising Goals | Please give me $5. I am terrible at communicating my goals plus I have awful follow-through. But give me $5 and I will send you a postcard. Might have a story on it. |