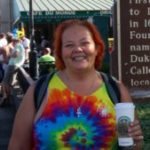 Active 2 years, 7 months ago
About Me
| | |
| --- | --- |
| Display Name | Jude-Marie Green |
| Twitter Handle | @saycestsay |
| Website | |
What's New
My Progress

July 3, 2018: I'm preparing a postcard for my week 2 sponsor (thank you!)  I found my print-out of the FOREVERINPROGRESS novel and am now embarked on 2 short stories: Generic Goddess and Hey You, Get Offa My Lawn! (working titles.)  Wish me luck.

June 26, 2018: I'm working on the first postcard story for my 1st week sponsor (thank you!)  Also, thinking about the novel: the first 3rd is a bloody romance with magic; the middle muddle is a discovery novel, and the end is a nice magical fight to the finish and the inevitable regrouping.  I wish I could shake it out like a blanket.  Thinking.

June 17, 2018: Wait, it's Write-a-thon time already?  I better snap to it.  I've planned to tear apart my FOREVERINPROGRESS novel and send out pieces as short/novella submissions.  Time to get 'er done.
What I Write
Writing Sample

http://toastedcake.com/2018/05/toasted-cake-185-jasmine-spain-by-jude-marie-green.html

Grandma smelled of mushroom steaks sauteed in garlic butter and apples soaked in brandy and when she paused in her relentless movement between cooktop and sink and fridge and pantry the Oort cloud of flour settled around her teeshirt and jeans.

What I Write

Science fiction, fantasy, occasional horror. Character-driven, lots of gizmos and situations.

Publications

See my website for a not particularly up-to-date biblio. Graduate of Clarion West 2010. Winner of the Speculative Literature Foundation's Older Writer's Grant for 2013.
My Write-a-thon Goals
| | |
| --- | --- |
| Writing Goals | I plan to disassemble a 100,000 word novel.  Wish me luck! |
| Fundraising Goals | Please give me $5. I am terrible at communicating my goals plus I have awful follow-through. But give me $5 and I will send you a postcard. Might have a story on it.  Ask previous donating people.  They got nifty postcards and forgettable prose. |