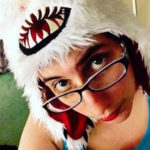 active 6 months, 3 weeks ago
About Me
| | |
| --- | --- |
| Display Name | Carlie St. George |
| Twitter Handle | @MyGeekBlasphemy |
| Website | |
What I Write
Writing Sample

It is apparently inappropriate to ask an Earthling child for their teeth, even if they have more than enough to spare and the ability to grow replacements. Poetry, Choakyut is told, is an insufficient reason to make such a request, or as the child's mother had put it: "What the fuck kind of poetry do you write?"

The good kind, Choakyut is told, is also an inappropriate response.

– Excerpt from "This Lexicon of Bone and Feathers" – Sword & Sonnet

What I Write

Fairy tales. Murder mysteries. Ghost stories. Weird genre-benders about badass and dangerous women. I subvert tropes or I embrace them whole-heartedly, and I like a little style with my substance. 2nd person is very often my jam.

Publications

"Some Kind of Blood-Soaked Future" – Nightmare (Forthcoming 2019)

"This Lexicon of Bone and Feathers" – Sword & Sonnet (September 2018)

"Three May Keep A Secret" – Strange Horizons (November 2017)

"Astronauts Can't Touch You" – Daily Science Fiction (September 2017)

"If We Survive The Night" – The Dark (March 2017)

A complete list of my published work can be found here.
My Write-a-thon Goals
Writing Goals

Last year for the Write-a-Thon, I began working on a bottle episode murder mystery I'd been thinking about for years. The unofficial pitch? Six Wakes meets Justice League Unlimited. The fanfic pitch? Queer superheroes with a heavy side of Team as Family, Angst and Humor, Trust Issues, and muuuuurder.


I had a great time working on this; unfortunately, I had to set the novel aside to work on an R&R for a different novel. With that accomplished, I'd like to use the Write-a-Thon to return to this project, see if I can sink back in and regain momentum. At present, I don't have any specific word count or chapter goals yet.

Fundraising Goals

Anything I can raise for CW is basically a win for me. Here are some of the creative-if-impractical rewards I offer, should you choose to sponsor me.

$5 – Will send you a short personality quiz, affording you the opportunity to discover what your secret mini super power is. (For instance, you might be able to hover over puddles on rainy days or you might be able to instantly tailor any clothing to fit you perfectly.)

$25 – Will watch an episode of any TV show you pick and recap/review it on my blog. (Must be able to find on Netflix, Hulu, or Amazon. Limit: 1 per sponsor. Personality quiz also included.)

$50 – Will watch any movie you pick and write a recap/review on my blog. The review will be at least 1,000 words. Alternatively, will write an essay analyzing what any film would look like if the gender roles of every character were flipped. (Must be a film I've never reviewed before—check the list here—and be under 2 hours and 15 minutes long. Limit: 1 per person. Personality quiz also included.)