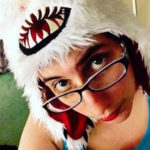 Change Display Name
| | |
| --- | --- |
| Display Name | Carlie St. George |
About Me
Writing Sample

Scarlett accidentally wakes the dead in the bottom of a coat closet, with a half-naked boy pressed against her and a bottle of tequila she's too drunk to drink. That's all it is, in the end: flesh against flesh, and a few whispered secrets. A ghost story she swore she would never, ever tell.

– an excerpt from "Three May Keep A Secret" – Strange Horizons – November 2017

What I Write

Fairy tales. Murder mysteries. Ghost stories. Weird genre-benders about badass and dangerous women. I subvert tropes or I embrace them whole-heartedly, and I like a little style with my substance. 2nd person is my jam.

Website
Twitter Handle

@MyGeekBlasphemy

Publications

"This Lexicon of Bone and Feathers" – Sword & Sonnet (Forthcoming 2018)

"Three May Keep A Secret" – Strange Horizons (November 2017)

"Astronauts Can't Touch You" – Daily Science Fiction (September 2017)

"If We Survive The Night" – The Dark (March 2017)

"Every Day is the Full Moon" – Lightspeed (December 2016)

A complete list of my published work can be found here.
Write-a-thon Goals
Writing Goals

There's a bottle episode mystery I've been wanting to write for years now. The unofficial pitch? Six Wakes meets Justice League Unlimited.

Writing goal: First week to plan and organize, and then at least one chapter per week.

Fundraising Goals

Anything I can raise for CW is basically a win for me. Here are some of the creative-if-impractical rewards I offer, should you choose to sponsor me.

$5 – A weekly email with progress updates and links to some of my favorite scenes from superhero cartoons. (I'll be posting the updates publicly on my blog, but the scenes will be an exclusive feature for donators.)
$15 – Will send you a short personality quiz, affording you the opportunity to discover what your secret mini super power is. (For instance, you might be able to hover over puddles on rainy days or you might be able to instantly tailor any clothing to fit you perfectly. Weekly email also included.)
$30 – Will watch an episode of any TV show you pick and recap/review it on my blog. (Must be able to find on Netflix, Hulu, Amazon, Dramafever, or Youtube. Limit: 2 per sponsor. Weekly email and personality quiz also included.)
$50 – Will watch any movie you pick and recap/review on my blog. Alternatively, will write an essay analyzing what any film would look like if the gender roles of every character were flipped. (Must be a film I've never reviewed before—check the list here—and be under 2 hours and 20 minutes long. Limit: 1 per person. Weekly email and personality quiz also included; however the TV review is not.)