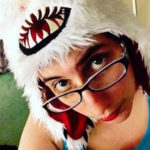 Change Display Name
| | |
| --- | --- |
| Display Name | Carlie St. George |
About Me
Writing Sample

I hopped up on his desk, taking a closer look at the shoe. "Go on," I said. "Might as well tell me the tale."

So Jimmy spun me a story about his mystery dame, his beautiful woman with bare hands and blue silk. Of course she was beautiful. They always were.

"Well?" he asked. "Solve the case?"

I flipped him the bird. "I can't tell you where your skirt went," I said. "But I can tell you where she's been."

"Better than I've got. But if you say a shoe store, I swear to Christ–"

"Not just any shoe store," I said. "You think you can just buy these slippers anywhere?"

Jimmy spread his hands, like he couldn't be bothered to think about fashion, like I knew this was a specialty item because I was a girl and not because it was common sense. "All right," he said, as he got up to make himself another cup of joe. "I give. Where do you get these singular shoes?"

I smiled. Sometimes, you just had to let life have the last laugh.

"The Godmother's," I said.

Jimmy dumped the rest of the whiskey into his coffee. For once, I couldn't judge him for that.

– Excerpt from my current WIP (Spindle City Novel)

What I Write

Fairy tales turned on their head. Murder mysteries. Stories about dangerous women.

Website
Twitter Handle

@MyGeekBlasphemy

Publications

"If We Survive The Night" – The Dark (March 2017)

"Every Day is the Full Moon" – Lightspeed (December 2016)

"The Elixir of the Not-So-Disgusting Death Smell" – Mothership Zeta (January 2016)

"The Long and Silent Ever After" – The Book Smugglers (December 2015)

"The Price You Pay is Red" – The Book Smugglers (November 2015)

"The Case of the Little Bloody Slipper" – The Book Smugglers (October 2015)

(A complete list of published works can be found here.)
Write-a-thon Goals
Writing Goals

In 2015, I published three novelettes, The Spindle City series, at The Book Smugglers (linked above). These stories are mash-ups of fairy tales and hardboiled noir and throw our heroes (Jimmy Prince, reckless P.I., and Jack, his level-headed Girl Friday) headfirst into all kinds of trouble: assassins, mobsters, illness, corruption, and their own dark pasts coming back to haunt them. Now I'm turning those stories into a novel.

By the end of the Write-a-Thon, I hope to finish at least 9 chapters.

Fundraising Goals

Any money I can raise for Clarion West sounds like a good amount of money to me. As far as incentives go:

$15 – Five-Minute Cosplay
I will take five minutes, tear through my closet and honest-to-God costume box, and dress up as best I can as any character (fairy tale or otherwise) that you request, so long as we're keeping these costumes at the PG level and not obviously offensive. (I reserve the right to do less-than-literal translations. For instance, if you ask for Daphne from Scooby Doo, I may very well do Noir Daphne.) Then I will take a picture, write up the experience, and post both on my blog. The hilarity is in the inevitable failure.

$25 – Find Your Spindle City Character
For everyone who's ever loved a personality quiz. I'll send you a short survey. When you complete it and send it back to me, I'll write you a short synopsis of your very own fairy tale inspired character living in Spindle City. Your character won't actually be in the novel itself, but think of them like an extra in a deleted scene . . . or a red shirt in a deleted scene. Spindle City is a dangerous place, after all. Not everyone gets a happy ending.

$40 – TV Review/Spunky Analysis (Limit 2 shows per donor)
I will watch and review 3 episodes of any TV show, provided I can find said show on Netflix, Hulu, Amazon, Viki, or Drama Fever. Want someone to check out that amazing TV show that everyone refuses to try? Want someone to write in detail just how BAD this one show is? I am here for your pop culture needs. (Note: this will definitely happen sometime after the Write-a-Thon.)

$50 – Movie Review/Spunky Analysis (Limit 3 per donor)
I will watch and review any* movie of your choosing on my blog. My reviews, I believe, are best characterized as funny, profane, analytical, and long—like, at least 1,000 words, but honestly, probably much longer. (Note: this will definitely happen sometime after the Write-a-Thon.)

*Exceptions
A) I won't review a movie I've already reviewed. Check out my Index of Movie Reviews to see what I've already written about, or if you'd just like to see my reviewing style before choosing this incentive.

B) Too many movies are way longer than they need to be. Please nothing over 2 hours and 15 minutes long.

C) No porn, please. It's not my thing.

D) No inspirational sports movies, either. There's only so much punishment I can take.