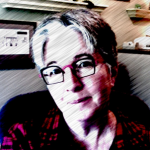 active 9 months, 4 weeks ago
Change Display Name
| | |
| --- | --- |
| Display Name | Karen G. Anderson |
About Me
Writing Sample

Captain Carthy's selkie bride—he named her Moira—quickly acquired human ways. She soon spoke quite well, with just a hint of a rural accent he assumed she'd picked up from their housekeeper. Her ankles strengthened, and she was able to walk and even dance, though she always favored lace-up boots over slippers and shoes.

When she began to go out in society, Moira was the subject of much interest. Carthy had been an eligible bachelor, and many of the ladies of town were bitter to discover he'd brought home a wife, apparently from somewhere on his travels. Moira and Carthy were reticent about her origins, each for their own reasons. As a result, the tale grew up that she was an island beauty he'd won in a pub fight in the Hebrides.

Too close for comfort, Moira thought, when she thought about it — which was rarely, because Moira was all too busy being a captain's wife. While never elegant, she developed an air of competence and satisfaction. And she doted on Carthy.

At first, her husband watched her closely for signs of longing for her native sea. Did she let her errands draw her near the harbor, where Carthy's ships were moored? He saw no sign of it. In fact, quite the opposite. Moira actively avoided the harbor and even refused strolls on the scenic esplanade. When the family (they soon had a boy and a girl) vacationed, Moira was the one asking to go inland.

What I Write

A graduate of the Viable Paradise workshop (2013), I write (as K.G. Anderson) urban fantasy, space opera, alternate history, Weird West tales, near-future science fiction, poetry and mystery.

Website
Twitter Handle

writerway

Publications

My recent short fiction includes: "The Light of Two Moons" online at Ares Magazine; "Patti 209" in Alternative Truths; "My Job Is Hell" online at Every Day Fiction; "Unraveling" in Triangulation: Beneath the Surface; "Rowboat" online at Metaphorosis Magazine; "Grief" in Second Contacts; "His Last Victim" in The Mammoth Book of Jack the Ripper Stories; "Escape from the Lincoln County Courthouse" in Story Emporium.
Write-a-thon Goals
Writing Goals

During the 6-week Write-a-thon I will outline and draft an urban fantasy novel.

Fundraising Goals

Support Clarion West's students! Your donation through a Write-a-thon page such as mine makes it possible for Clarion West continue to offer substantive student scholarships, to attract the top instructors in the field, and to adhere to nonprofit best practices that ensure the organization's sustainability.

This year I am delighted to offer to those of you who donate through my page at the $50 level or above one of the most exciting speculative fiction anthologies of 2017: Alternative Truths, edited by Bob Brown and Phyllis Irene Radford. 24 science fiction writers had 100 days to think about Trump; the stories we produced have received more than 50 rave reviews on Amazon and a 5-star rating. Alternative Truths includes my story "Patti 209" along with short fiction by Louise Marley, Adam Troy-Castro, Jim Wright, Marleen S. Barr, Daniel M. Kimmel, Rebecca McFarlane Kyle, Janka Hobbs, and Blaze Ward.

Please give generously to support the Clarion West Writers Workshop and the speculative fiction writers and editors of the future.