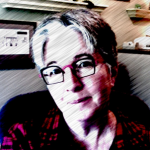 Active 9 months, 3 weeks ago
About Me
| | |
| --- | --- |
| Display Name | K.G. Anderson |
| Twitter Handle | @writerway |
| Website | |
What's New
| | |
| --- | --- |
| My Progress | Welcome to the Clarion West Write-a-thon and my 10th year doing it. My past Write-a-thon efforts have brought in between $200 and $700 a year — and I'm hoping this year I can raise at least $500. Help me celebrate all my amazing writer friends from the Clarion West community and and help us all pay it forward for the Clarion West classes of 2021 and beyond. Donate $50 or more through my page this year and I'll send you a copy of Galaxy's Edge #41 with my story "Where the Train Goes". |
What I Write
Writing Sample

From the opening of a work in progress, The Grave View:

Snowflakes eddied aimlessly beneath the streetlights at entrance to the old Grantland cemetery. One of the wrought-iron gates stood slightly ajar and a frosted gravel path vanished into the graveyard's darkness. Nick Dembroski ducked inside. Safe in the shadow of the cemetery wall, he watched as a black sedan crept cautiously down Linden Street. Snow tires skidded and red brake lights flashed as the car slowed, groaned into the turn, and disappeared behind the bank.

Nick let out his breath, a rasp loud in the silence of the snowfall. He shivered hard and shrugged snow from the shoulders of his fake-leather jacket. Melting snow dampened the canvas of his new high-top kicks—he'd misjudged the weather. Fumbling a crumpled pack of cigarettes from his new jeans, he shook it, then shook it again, until a bent cigarette appeared. With thin, cold fingers he put it to his mouth and brought up the cheap lighter. It flamed and Nick pulled at the filter tip until he could taste the bitter comfort. He settled back against a worn granite headstone beneath a twisted pine and waited.

The stillness of the snow-shrouded graveyard and the dead silence of the surrounding town unnerved him. The only sign of life was the snow, coming down harder now, the flakes sharp against his face.

Fuck, it's cold. Nick pushed himself away from the damp stone, then stumbled as the slab shifted behind him. He leapt aside just as the old monument thudded onto the frozen ground. The silence seemed to accuse him. Nick's heart pounded.

"Didn't do it," he muttered, glancing around to make sure there were no witnesses. Then he bent down to inspect the damage. The fallen gravestone looked intact. The glow from the streetlight spilling over the cemetery wall showed a worn inscription. Nick squinted.

James Talcott Grant (1782-1799) Beloved Son

"Sorry, man."

The buzz of his cell phone made Nick jump. He whipped it from his jacket pocket. A text message glowed: I'm here.

The cemetery gates were open now. A man stood in silhouette beneath the streetlight. Nick realized that the snow had stopped.

About fucking time, he thought. He pocketed the phone, pitched the smoldering butt, and took a step toward the silent figure.

Something cracked. Then heat and pain ripped through Nick's chest. His knees buckled. He drew a ragged breath and pitched forward, sprawling flat over the fallen headstone.

Now it was not two centuries but just two feet of frozen ground that separated Nick Dembroski and James Talcott Grant. Both had died just short of their 18th birthdays.

What I Write

A graduate of the Viable Paradise and Taos Toolbox workshops, I write urban fantasy, space opera, alternate history, horror, Weird West tales, near-future science fiction, poetry and mystery.

Publications

Recent publications:

"Heroes of the Bridge" in The Colored Lens
"Invasion 101" in Space Opera Libretti
"Where the Train Goes" in Galaxy's Edge #41
"I Know How You'll Die" in Weirdbook #41
"The Judge's Chair" in Two Hour Transport Anthology 2019
"Politics As Usual" in Alternative Truths III: Endgame
"Captain Carthy's Bride" in Terra! Tara! Terror!

Available to read or listen to online:
"Patience" in Allegory Magazine
"Wishbone" (audio) in the Third Flatiron podcast
"Rowboat" (audio) at StarShipSofa
"Escape" at Luna Station Quarterly
"The Light of Two Moons"at Ares Magazine
"Unraveling" (audio) at Far Fetched Fables
My Write-a-thon Goals
Writing Goals

I'm doing it again! During the 6-week Write-a-thon, I aim to complete and submit six short stories. I have several promising stories that need revision and polishing, and this is a great opportunity to get those out on submission. Send encouragement and support!

Fundraising Goals

Clarion West is a community-powered writing program! I'm doing the Write-a-thon this year to encourage my friends to help Clarion West so the workshop can continue to offer substantive student scholarships that enable talented writers from around the world to come to our Seattle program.

Donate through my page at the $50 level or above and I'll send you a copy of Galaxy's Edge #41 with my coming-of-age story "Where the Train Goes."

Please give generously this year to support the Clarion West Writers Workshop and the speculative fiction writers and editors of the future. Give me a shout with any questions about my writing or my work in the Write-a-thon.