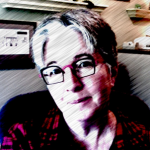 Change Display Name
| | |
| --- | --- |
| Display Name | K.G. Anderson |
About Me
Writing Sample

Jac Wuo had come to hate Henge. All of it: the planet, most of his colleagues, and especially the silent boulders they were studying to no result.

No one in the research station would be surprised when they woke up and found his suicide note on their datapads.
"Leaving this hellhole," he typed. Jac squinted appraisingly at the draft. It had his usual brevity, with the right touch of bitterness. Yeah, they'd believe it. He hadn't been too popular these past few years. Several people might even be glad to see the last of him. And Alaina, that bitch, would be delighted by the news when she arrived.

Jack chuckled. He tilted his head back and ran his fingers through his long black hair. It was his one vanity even with the grey coming in at the temples. Fifty-six years old, he thought. Twenty-five years of my life wasted on this gods-forsaken planet.

Not at all what he'd envisioned when he'd been selected from the Space Station's engineering labs to join the expedition of the century.

—Excerpt from "Patience," in Reading 5 x 5 (Metaphorosis Press)

What I Write

A graduate of the Viable Paradise and Taos Toolbox workshops, I write urban fantasy, space opera, alternate history, Weird West tales, near-future science fiction, poetry and mystery.

Website
Twitter Handle

WriterWay

Publications

My recent short fiction includes: "Patience" in Reading 5 x 5; "The Right Man for the Job" in More Alternative Truths: Stories from the Resistance; "Everything is Fixed Now" in Welcome to Dystopia; "Delicious" in Triangulation: Appetites;  "The Light of Two Moons" online at Ares Magazine; "Patti 209" in Alternative Truths; "My Job Is Hell" online at Every Day Fiction; "Unraveling" in Triangulation: Beneath the Surface; "Rowboat" online at Metaphorosis Magazine; "Grief" in Second Contacts; "His Last Victim" in The Mammoth Book of Jack the Ripper Stories; "Escape from the Lincoln County Courthouse" in Story Emporium.
Write-a-thon Goals
Writing Goals

During the 6-week Write-a-thon I aim to complete and submit six short stories.

Fundraising Goals

Clarion West is a community-powered writing program! Your donations to Clarion West through Write-a-thon pages such as mine make it possible for the workshop continue to offer substantive student scholarships, to attract the top instructors in the field, and to adhere to nonprofit best practices that ensure the organization's sustainability.

This year I am delighted to offer to those of you who donate through my page at the $50 level or above a copy of the anthology More Alternative Truths: Stories from the Resistance, with stories, poems and essays by Lou J Berger, David Brin, Adam-Troy Castro, Esther Friesner, Manny Frishberg, Philip Brian Hall, Rebecca McFarland Kyle, Vonda N. McIntyre, John A. Pitts, Irene Radford, Mike Resnick, Elizabeth Ann Scarborough, Edd Vick, Jim Wright, Jane Yolen and many others — and my story "The Right Man for the Job."

Please give generously this year to support the Clarion West Writers Workshop and the speculative fiction writers and editors of the future. Don't hesitate to contact me with any questions about my writing or my work in the Write-a-thon.