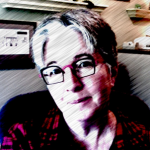 active 6 months, 3 weeks ago
About Me
| | |
| --- | --- |
| Display Name | K.G. Anderson |
| Twitter Handle | @writerway |
| Website | |
What's New
| | |
| --- | --- |
| My Progress | In 2007 I made my first Write-a-thon donation, through the page of my friend Jack Bell. In 2008 I sponsored Eileen Gunn. In 2010 I created my first Write-a-thon participant's page, and I've been involved in Write-a-thon fundraising ever since (including a few years on the Clarion West board). After attending Viable Paradise in 2013, I sold my first short story in 2014 — and raised more than $400 for Clarion West through the Write-a-thon. Since then, my Write-a-thon efforts have brought in between $200 and $700 a year — and I'm hoping this year will be well over $500. Help me celebrate my first professional-level story sales: to the Terra! Tara! Terror! anthology and to a well-known magazine that will publish my story this summer. If you donate to the Write-a-thon though my page before that July publication date, I'll send you a copy of the magazine. |
What I Write
Writing Sample

"It seemed like a good idea at the time," Mom said. She looked across the dinner table at Dad for help. He was working as usual, scrolling on his tablet. "Roger?"
He finally looked over at me and sighed.
"Your mother and I were ignorant," he said. Wow. For once, Dad was actually admitting fault. He explained that, like most prospective parents, they'd met with a counselor and had their embryo's genetic material improved using robust DNA selected from the databanks. "We thought we were making the best choice by giving you popular, well-tested genes. We wanted you to be healthy and happy. We just wanted you to fit in."
I put my elbows on the table, and buried my face in my hands. "I can't stand it. You made me nobody."
"Cait, we were immigrants!" My mom leaned forward, elbows on the table, her dinner forgotten. "We'd been on a waiting list to get out of Mardour for years. We knew that if we were accepted for immigration to Savania we'd have only one child license. That meant only one child. So we wanted you to be perfect."
"But not to stand out," Dad cut in. He rationalized, "We made you pretty, and healthy, and smart."
"But not so pretty, or healthy, or smart that the Savanians would be envious." Mom's voice rose, trembling. "We didn't want…trouble."
— read the rest of "Unnoticed" at Factor Four Magazine's website.

What I Write

A graduate of the Viable Paradise and Taos Toolbox workshops, I write urban fantasy, space opera, alternate history, horror, Weird West tales, near-future science fiction, poetry and mystery.

Publications

Recent publications:

"I Know How You'll Die" in Weirdbook #41
"The Judge's Chair" in Two Hour Transport Anthology 2019
"Politics As Usual" in Alternative Truths III: Endgame
"Captain Carthy's Bride" in Terra! Tara! Terror!

Available to read or listen to online:

"Escape" at Luna Station Quarterly
"The Light of Two Moons" at Ares Magazine
"Unraveling" at Far Fetched Fables (podcast)
My Write-a-thon Goals
Writing Goals

I'm doing it again! During the 6-week Write-a-thon, I aim to complete and submit six short stories. I have several promising stories that need revision and polishing, and this is a great opportunity to get those out on submission. Send encouragement and support!

Fundraising Goals

Clarion West is a community-powered writing program! I'm doing the Write-a-thon this year to encourage my friends to help Clarion West so the workshop can continue to offer substantive student scholarships, attract the top instructors in the field, and adhere to nonprofit best practices that ensure the organization's sustainability.

Donate through my page at the $50 level or above and I'll send you a copy of Endgame. This brand-new anthology of near-future political SF and fantasy from B Cubed Press includes Louise Marley's eerie prescient "The First Lady Is Missing"; Debora Godfrey's hilarious "No Excuse," about the revolving door at the Attorney General's office; and my story "Politics as Usual," an account of the 2020 elections. (Wait'll you find out who wins.)

Please give generously this year to support the Clarion West Writers Workshop and the speculative fiction writers and editors of the future. Give me a shout with any questions about my writing or my work in the Write-a-thon.