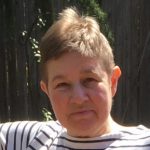 Active 9 months, 3 weeks ago
About Me
| | |
| --- | --- |
| Display Name | Kate Schaefer |
What's New
My Progress

I'm starting this Write-a-thon by reading The City We Became, by N. K. Jemisin. Nora taught at Clarion West a few years ago; her students were darn happy with her week. I've read her first trilogy; for some reason, I haven't yet read the second trilogy even though it won a great whacking heap of awards. It's sitting on my bookshelf causing me minor guilt with its unread words, but I'm skipping those books for now and moving on to this one.

P

Finished the Jemisin and moved on to Robert Jackson Bennett's City of this and that trilogy; a comfort re-read. Kind of an odd choice for comfort, because there are so many deaths in these books, but at least I already know there's a satisfying ending. Not a happy ending, exactly, but satisfying, which is about all I can ask for right now. I don't think Bennett has any connection to Clarion West, but I like his books. I'll go for someone who is actually in the Write-a-thon for my next reading choice.

P

I shifted to short stories and read the current issue of Fantasy and Science Fiction, ending up with a story by Clarion West alumna and Write-a-thon participant Natalia Theodoridou.
What I Write
| | |
| --- | --- |
| Writing Sample | Migraine takes hold. Its teeth grip your head, and you have no control. It may grip lightly, just a grab and hold, teeth only marking the skin, not breaking it, not even bruising, or it may clamp down all the way through the skull as if we're talking cartilage, not solid bone, but you're not the one who knows or says or does anything; migraine is the king, the god, the thing controlling you for a few minutes, hours, days, until it's done. You don't own that clock, baby. |
| What I Write | I write when I have to. |
My Write-a-thon Goals
| | |
| --- | --- |
| Writing Goals | I am not a successful writer, but I am usually a very successful reader. Just as I did last year, I intend to buy and read several books during the Write-a-thon, many of them by other Write-a-thon participants. During the lockdown, I have been a less-successful reader than normal. I've been reading news obsessively, particularly during the protests, and turning to gardening and sewing books rather than fiction. I want to get back to fiction; I want to see more stories about the way things could be, whether for good or for ill. |
| Fundraising Goals | I'm going to tweet about every writer with writing goals and a publicly-available Twitter handle in the Write-a-thon at least once, maybe twice, to try to increase their visibility and encourage people to sponsor them. I've volunteered with Clarion West for mumblety-mump years; I've watched these writers struggle and grow, I have many of their books on my shelves, and I feel possessive about all of them, even the ones I've never met. |