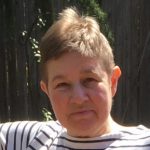 active 1 month, 2 weeks ago
About Me
| | |
| --- | --- |
| Display Name | Kate Schaefer |
What's New
My Progress

In the lead-up to the Write-a-thon, I re-read the collected works of Edward Eager. My collection of his works includes everything but Magic or Not? and The Well-Wishers. Of the rest, the strongest two are Half Magic and Seven Day Magic. I believe that was my opinion when I was ten or eleven, and it continues to be my opinion now. Eager's books have happy endings, and they're short, so  they don't weigh very much, which was essential just now, since I'm recovering from surgery.

After the pile of Eager, I read the third book in Randy Henderson's Finn Gramaraye series, Smells Like Finn Spirit. This book weighs more than the Eager books, which was a strike against it, but I was confident that it would have a happy ending, and I was right. It didn't make me laugh out loud the way the two previous books in the series did, but it did wrap up many loose ends in a satisfactory manner. Henderson attended Clarion West in 2009.

Next up was Daryl Gregory's first book, Pandemonium, published back in 2008. It's physically lighter than Henderson's book, so points for that. More points for being tightly plotted, well written, and using popular culture in a way I hadn't seen before. The only other work of Gregory's I've read is Spoonbenders, from 2017, which I enjoyed a lot. I look forward to reading the books he wrote between those two. Gregory attended Clarion in Michigan in 1988 and taught at Clarion West in 2017.

Next up, the Mueller Report, which is too heavy physically and psychologically for post-surgery reading in bed, so I'm reading it at the dining room table, one random page at a time. It's astonishing! One can open the report at almost any point and read a page full of incriminating, impeachment-worthy matter. Some pages don't have anything impeachable, because they're completely blacked out or because all the incriminating matter on those pages applies to Manafort or Flynn or Carter Page or George Papadopolous. I might not end up reading every page of this report, but I've already read a lot more of it than many Republican lawmakers.

I'm also currently reading New Suns, an anthology edited by Nisi Shawl (Clarion West, 1992). It's much more suited to reading in bed and has the additional advantage of containing short stories, so it's good for bite-size attention.

Now it's late July, and I have long since finished New Suns. I also devoured Nalo Hopkinson's Sister Mine, which had been sitting on my to-be-read shelf for quite a while. Nalo's work is always a treat. Read a stack of Asimov's and F & SF.

Been working on The Mueller Report, which I cannot read straight through like a normal book. I open it at random and read a page or two or three, depending on how much has been redacted and how outrageous the conduct covered might be. It requires a strong stomach.
What I Write
| | |
| --- | --- |
| Writing Sample | Migraine takes hold. Its teeth grip your head, and you have no control. It may grip lightly, just a grab and hold, teeth only marking the skin, not breaking it, not even bruising, or it may clamp down all the way through the skull as if we're talking cartilage, not solid bone, but you're not the one who knows or says or does anything; migraine is the king, the god, the thing controlling you for a few minutes, hours, days, until it's done. You don't own that clock, baby. |
| What I Write | I write when I have to. |
My Write-a-thon Goals
| | |
| --- | --- |
| Writing Goals | I am not a successful writer, but I am a very successful reader. Just as I did last year, I intend to buy and read several books during the Write-a-thon, many of them by other Write-a-thon participants. In the run-up to the Write-a-thon, I'm re-reading a mess of Terry Pratchett's work, because I need a bit of comfort reading right now. |
| Fundraising Goals | I'm going to tweet about every writer in the Write-a-thon at least once, maybe twice, to try to increase their visibility and encourage people to sponsor them. Where I know their Twitter IDs, I include them; if not, not. I've volunteered with Clarion West for mumblety-mump years; I've watched these writers struggle and grow, I have many of their books on my shelves, and I feel possessive about all of them, even the ones I've never met. |