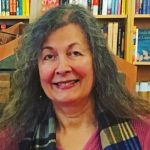 active 11 months, 1 week ago
About Me
| | |
| --- | --- |
| Display Name | Kathleen Alcala |
| Twitter Handle | katkat_alcala |
| Website | |
What's New
My Progress

Hi there – since I last participated, two years ago, the story I wrote during that time was renamed "Deer Dancer" and appeared in New Suns, edited by Nisi Shawl. Thanks, Nisi!

Since I last checked in, I have written eight pages for a talk I gave last weekend in Denver. That talk, "Voveramos a la fuente," (Let us return to the garden) will probably be published later this year in a magazine called HaLapid. Since returning home, I have written three pages of my novel in progress, for a total of fifty-three pages on the novel. That means I will donate at least that much to Clarion. It is rainy and cloudy, so I cannot go outside and see the rings of Saturn tonight. Therefore, I will work on my novel instead.

On July 17, I've now got about five pages of new text, plus about eleven poems (yes, this novel will have poems in it!) that are probably terrible, but we will worry about that later.

Was very happy to hear Ibi Zoboi last night talk about her creative work inspired by Octavia Butler's journals. She is researching them at the Huntington Library in Pasadena. I wish I had thought of that! Lucky Clarion students.
What I Write
Writing Sample

While four men stood nearby, talking to each other, Al-Mu'tamid appeared to be listening to a beautiful woman bending over his right shoulder, speaking words in a confidential voice that Suada could not hear. Al-Mu'tamid held a map before him, and the woman was pointing and gesturing at it. She was splendidly dressed in jewels and silks, and repeatedly touched the king on the shoulder as she spoke, as if to emphasize what she had to say. This must be Queen I'timad, not to be crossed, according to Hasan. This is who would really rule over Suada. There was an empty, slightly smaller chair pushed to the side, as though not much used. Over it was thrown a shawl shot through with gold thread.

What I Write

Fiction, sometimes called magical realism, essays, and nonfiction. The novel I am currently writing walks the line between historical fiction and magical realism.

Publications

Mrs. Vargas and the Dead Naturalist, Calyx Books

Spirits of the Ordinary, Chronicle Books

The Flower in the Skull, Chronicle Books

Treasures in Heaven, Chronicle Books

The Desert Remembers My Name: On Family and Writing, University of Arizona Press

The Deepest Roots: Finding Food and Community on a Pacific Northwest Island, University of Washington Press

Numerous short stories and essays. I might commit some poetry in the WIP
My Write-a-thon Goals
| | |
| --- | --- |
| Writing Goals | I am a slow writer, so maybe twenty pages. Thanks so much to my sponsor! |
| Fundraising Goals | Hmmm. I've written about fifty pages of this book. I plan to donate $50, plus a dollar per page that I write during the Write a Thon. So far, I have written three new pages. Care to match me at one dollar per page I write? If so, I will let you see how the sausage is made – I will allow donors to read up to twenty first draft pages of my novel! Ewww! I mean, Ahhh! |