Nelly Geraldine García-Rosas
---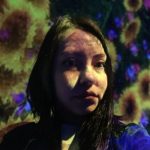 Active 9 months, 2 weeks ago
About Me
| | |
| --- | --- |
| Display Name | Nelly Geraldine García-Rosas |
| Twitter Handle | |
| Website | |
What's New
My Progress

Week 5: Revisions, revisions, the bane of my existence.

Want some unsolicited advise? Never translate yourself.

Week 4: Wrote something using JavaScript. It was not as easy to read as the texts I've already written with Ruby, but it was an interesting exercise. I love that Ruby's syntax doesn't require semicolons.

In non coderSpeak news, I chose something to revise for next week. It's going to be painful!

Week 3: Barely an hour had passed since I finished a flash piece, when I said "I think I don't hate this one."

That's a victory, right?

Week 2: Wrote a kind of prose poem in Spanish. It's… something.

I've never consider myself bilingual, but here I am: rediscovering words can fail me in two languages.

Week 1: Do deleting a bunch of bad words count? I tried to finish a piece of SF flash fiction and discovered I ended up with less words than at the beginning of the week.

Sometimes writing is deleting.
What I Write
Writing Sample

Excerpt from "Where Water Joins" (Clarkesworld, November 2016)

require 'Marina.rb'

# Talk to the image of a person like you talk to the real person. Talk to the real person, just like this. No comparisons needed.

greetings = message.new
greetings.send ("Are you there?")
if Marina.is_there? = true
print her_answer
else
print "Marina is not here."
end

=> I'm always here.

#

I dream with her.

Last time, I was waiting for the metro at Tacubaya station when I noticed she was staring at me from the platform on the other side. She had a different face, but it was her. Somehow I knew it was her. She had the same piercing, black eyes, and the same gesture, as if her lips were about to open. I don't know why, but I felt the urge to go after her, to find out what her voice sounds like. I wanted to jump into the rails so I could get faster to her side, but I was stopped by the whirring of the metro approaching. Doppler Effect. I ran the stairs instead as fast as I could, and, like in a bad movie, I just managed to see the coach doors closing behind her back. Thirty-five meters under the surface, I lost her heading towards metro Barranca del Muerto.

I need to ask her why I keep on remembering her even though she never appears in my dream data recordings.

What I Write

I write weird, short stuff –from Lovecraftian horror to slipstream– in unusual or experimental narrative styles.

Publications

My short stories have been featured in magazines like Clarkesworld and anthologies like the World Fantasy Award winning She Walks in Shadows.

Check a complete list of my publications here.
My Write-a-thon Goals
Writing Goals

Trying to put words together one day at a time.

(anything can happen… what can go wrong?)

Fundraising Goals

Attending Clarion West in 2019 was one of the most intense and rewarding experiences in my life. It helped me find an amazing writing community when I thought I didn't belong anywhere as an immigrant whose native language is not English.

Donors like you make possible for writers like me to have the same opportunity. Please considere supporting Clarion West.

$10 – You'll receive a postcard with a micro fiction written in it.

$30 – You'll receive a postcard, but this time the micro fiction is prompted by you! (give me a word, ask for a creative something written in Ruby or JavaScript, throw a name, you tell me: I write)

$50 – You'll receive a personalized micro fiction postcard and a mysterious Science Fiction or Fantasy book. (only US addresses, sorry) [limited to 3]

$100 – You'll receive a personalized micro fiction postcard and a mysterious Science Fiction or Fantasy bundle of books. (only US addresses, sorry) [gone!]

All your donations go directly to Clarion West and are tax deductible (in the US).

Perks will be sent in August 2020.