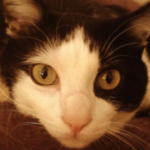 active 1 year, 4 months ago
Change Display Name
| | |
| --- | --- |
| Display Name | Kris Dikeman |
About Me
Writing Sample

"Pay attention. This is to the building, and these three for the apartment door, top to bottom, do you see?" I swung the keys around from top to bottom as I named them.

The Bright Young Thing would be staying in my apartment while I went to Boston on a buying trip. Matters between us were rapidly nearing an end, one I feared would go badly, with the type of histrionics I despise. Since she currently lived in squalid little outer borough walkup with a ridiculous number of roommates, I hoped a week in a space to herself might soften the blow.

"This for the mail box," I continued, "this for the filing cabinet. I've got all my invoices and provenances in there. I might call and ask you to look something up for me."

"Why don't you just put it all online, like a normal — "

"The rest you won't use at all. This is for my safety deposit box, these for the storage unit."

"That's where all the real treasures are, isn't it?" she asked, leaning forward. The tone was light, but the tilt of her head made her look like a hungry bird. "All the lovely antiques?" A dollop of sauce, glistening in the candlelight, dripped down the front of her gray voile blouse.

"This to the Boston storage unit," I continued, tapping it with my thumb, "and this –" I trailed off. The keys were all bunched at the bottom of the ring, save one. Thin brass, even the cut edge dark with tarnish and disuse.

What I Write

Horror and Dark Fantasy.

Twitter Handle

@krisdikeman

Publications

Strange Horizons, Lady Churchill's Rosebud Wristlet, All Hallows, Guide to Surreal Botany, Best of All Flesh, The Many Faces of Van Helsing, Sympathy for the Devil, Mad Hatters and March Hares (upcoming), Year's Best Fantasy 9…yadda yadda.
Write-a-thon Goals
| | |
| --- | --- |
| Writing Goals | I'd like to finish the short story I'm currently working on (excerpt above) and revise 1 others from the trunk, which is (Heaven help me) a story I began at Clarion West in 2005. I'd also like to finish my first hypertext story, a format that has intrigued me for a while. Anyone who sponsors me will receive a link to the hypertext story when it's finished, an exclusive first look. |
| Fundraising Goals | Just want to raise as much as I can for the cause. The workshop changed my life, and I'd like to help as many people as I can to experience it too. |